My job? Purity shaming pandas. It's great. You loom over a living, breathing, talking embodiment of the international fixation on world peace and you shout, "Why won't you fuck, you lazy motherfucker?" And then you play them some porn.
Okay, it's not actually like that.
At all.
Really, my job kind of sucks.
*
"You. Purity shame. Pandas?"
The dinner entrées have just arrived. There's a real wax candle, with fire and everything, on the table. Tinny speakers are playing pretentious string music. Wine which came from some sort of grape a hippie read bedtime stories to every night through the long summer fills our glasses. And my date is judging me. Hard.
"Why would you do that?" she asks.
Her name is Samantha. She's wearing a red dress which, if we were animals, would mean she wants to get laid. Maybe she did want to get laid, five minutes ago, when all she knew about me was that I ordered the wine made from happy grapes. Now that she knows what I am, I may not make it to dessert. I am in serious trouble. "We have to do something. They're going extinct."
She gapes at me. If I made that face, my mother would be all 'Don't do that, Jason, you look like a carp. Are you a carp?" I don't know much about carp. My job is pandas. "Can't you use artificial insemination or something?"
Because that's better. The pandas won't even fuck, but how do you think momma panda is going to feel when a few weeks after she has a weird close encounter with a zookeeper she finds out she's in the family way. Shit like that is where alien abduction stories come from, but the minute a cuddly furball with good PR is involved, the public is all over it. "Some of us think that wouldn't be the best for Fen Fen's mental health."
Samantha is not following.
"Gestation and the eventual cubs have better outcomes if the mother agreed to the act that led to the pregnancy. We're pretty sure Fen Fen would get very depressed if we inseminated her. She's basically said as much. So we're counting on Lan Lan to work some panda seduction."
I clearly should have brought worms to my date, because I spent the rest of the main course trying to pry conversation from a carp. And no, dessert did not happen.
*
It was hard enough to get those fuzzy fuckers to breed before they could talk. But some jackass had the bright idea that if we used these new neural implant things that had been developed for stroke patients, we could give panda bears the ability to speak and we could explain the gravity of their lack of gravidity. Also, they were hoping for insights into the deep wisdom of the panda, or something.
What they got was Lan Lan the fat ass complaining about the tenderness of the bamboo we feed him, and Fen Fen the would be career woman with a penchant for writing memoir. Meanwhile I, Jason Constans, the Breeding Encouragement Specialist assigned to the fat ass, am basically a glorified sex therapist turned pimp.
So yes, I spend most of my working hours wanting to punch a panda in the face. That is not unreasonable.
*
"Sorry, man," Cory, my roommate and best bud from way back in our collegiate days, says when I collapsed on our couch. "Bad date?"
I give the universal primate grunt of utter defeat.
"Was it her, or you?"
"Lan fucking Lan. It's not enough for that celibate bastard to take down his whole species. He's wrecking my life, too."
Cory hands me a beer as he plops down on the couch next to me. We've had that couch since our first place, senior year of college. It's part of the family. "Just don't tell them what you do. You don't have to open with the pandas-not-fucking thing."
"It'll come out eventually and then I'll have another Rachel. I can't do another Rachel, man." Broke my heart. We were engaged. I was living the dream, ready for the picket fence and 2.5 kids and all of it. But she just had to meet Lan Lan, and what kind of monster has daily access to those cute! adorable! overgrown raccoons and won't hook his fiancée up with an interview? Ten minutes of conversation with Lan Lan, and I was one sad sack of a dumped Breeding Encouragement Specialist.
Actually, it's unfair to raccoons to compare pandas to them. Raccoons are ambitious little fuckers, and they can sense light with their hands. That is bad ass. Fen Fen's incisive memoir aside, pandas are useless.
Cory takes a swig from his beer. "They won't all turn out to be Rachel."
"I was with her for two years. I can't waste two years again. I'm getting old. My biological clock is ticking. If they aren't going to survive finding out they're dating a panda pimp, I need to get them out of the way in a hurry and look for the one who will."
"Michael liked that I live with a panda pimp."
"Michael was a nutcase, as evidenced by his idiotic life choices, first in dating you, then in not dating you." I glance at Cory to see how he's taking the ribbing. It's only been a couple weeks since he and Mike broke up, and I'm pretty sure we're to the teasing and ragging on the ex stage, but I haven't tested it out yet.
Cory rolls his eyes and punches me in the arm. I called it right.
"Maybe we should go out and look for dates. Right now. You're getting old, too. We are on the road to becoming the dude version of platonic cat lady roommates."
He grimaces. "There's nothing wrong with cat ladies, and I've got work in the morning."
I do, too, but I'm not looking forward to it.
*
The problem with pandas, aside from everything, is all that bamboo. They're bears who eat grass. Bears. Eating woody grass. Think about that for a minute. It's basically the same as if we decided to subsist entirely on popcorn and stuck to it so hard that after a few generations our gut bacteria went, "Okay, fine, I guess we'll do something with this, but you're never going to be happy about it," and so we were tired, sleepy, useless fucks all the time. But damn if we don't like popcorn so much that we're not going to bother looking for anything else. Yum, popcorn.
Do not talk to me about the nobility and enlightenment implied by an essentially carnivorous species going vegan so hard they subsist on glorified grass. I don't care how eloquently Fen Fen writes about it. That is shit. And I would know; I've scooped plenty of her shit in my time.
*
The day after Samantha's aborted red dress, I do my zombie strut into the panda enclosure at my usual cheery dawn-o-clock in the morning, quadruple mocha caramel caffeine fest clutched in my hands. Everything is soft and quiet like things are when the sun hasn't even bothered to crawl its ass out of bed yet. Lan Lan, the fuzzy mother fucker, is curled up in his custom designed rock cave built by some Swedish company that specializes in harmonizing Feng Shui principles with Scandinavian minimalism, all while authentically replicating nature. What that means is that the cave is made out of stones that were very precisely cut and fit together like an Ikea jigsaw castle, and somebody apologized to the rock the whole time they shaped it.
I'm still tetchy about the date with Samantha, so I don't hesitate before firing up the projector and starting the day's therapy right then and there. The enclosure is immediately transformed from a finely honed replica of perfectly balanced authentic nature, into an immersive theater experience. In this particular case, we're immersed in a very authentic replica of Antarctic winter. The cave is overlaid with images of a wall of emperor penguins squinting against the wind and huddling together like the paragons of bad ass dedicated fatherhood they are.
Lan Lan opens one eye and harrumphs. "Bad date?"
"She wore red."
"Then you should be more cheerful."
"I would, except you ruined it again."
"You could quit your job," Lan Lan says. He's said that before.
"Then I'd be the guy who walked away and let the glorious panda go extinct. That's not going to win me any blushing brides, either."
"You're perverse." Then he closes his eye and goes back to sleep. I'm tempted to have them install industrial fans so we can blast him with a fraction of the Antarctic winter. Or maybe we could give an emperor penguin the neuro-enhancement hardware we'd installed in Lan Lan and Fen Fen and let a real, dedicated member of a popular and thriving species talk some sense into our pig-headed mascots of peace.
I sip at my liquid confection, waiting for the sugar to hit and make me jittery, as I watch the movie. After twenty minutes we get to my favorite part, when the wind eases up and the sun breaks through. All the dads turn their tuxedo faces up and blink at the light. They look so god damned bewildered, like they've gotten into the groove of hellacious winter misery and had forgotten it was going to end. "Oh, right, spring! That's a thing," their beady little eyes say.
Then the penguin moms come swimming in from the ocean and waddle across the ice and dad gets his first meal in six months and falls over exhausted and they've got their little chick and it's like the perfect triumph of the nuclear family on the world's largest desert and the sugar finally hits which is the only reason my eyes got misty even though I've seen this movie something like five hundred times.
"Have you ever considered that I'm not the one who needs therapy?" Lan Lan asks, his voice rumbling through his chest because he doesn't even bother to move his face from where he's buried it in his paws. Parents would shit diamonds to let their kids see that pose this close. They deserve hemorrhoids.
"Do you see what they go through? And that's just for one egg. You guys usually get twins out of the deal. Why is this so hard for you to get behind?"
"I'm not the family type. And neither is Fen Fen. There's not enough penguin footage in the world to change that."
"As far as we can tell, there isn't a single member of your species who is the family type."
"So we go extinct. Big fucking deal." His butt waggles as he shifts to get more comfortable.
"You are the living, breathing embodiment of the symbol of peace. We can't let that go extinct. What would that say about us?"
The long silence Lan Lan answers me with might be commentary if I didn't know he was too lazy to work up the effort necessary to judge us. At long last he grumbles, "Make the penguins your symbol of peace."
*
The dick thing about Michael and Cory splitting is that Cory wants to settle down and have kids as much as I do. I was honestly getting a bit jealous of him because it looked like Michael was going to be the one. My consolation was that I could be the weird straight uncle, like maybe Cory's kids could be methadone to my raging paternal instincts or something. Dude has seriously let me down by letting that relationship fall apart.
*
"Bad day at work?" Cory asks when I got home. He's already offering me a beer. All he needs is a string of pearls and he'd be a queer-guy Mrs. Beaver.
"I got sniffly over the penguins again."
He sighs, withdraws the offered beer long enough to take the top off for me, then hands it back.
"Thanks," I say, and take a long swallow. Then, "Is it cool if Kim comes over? We want to have a work confab thing, but keep it casual." Kim is Fen Fen's assigned Breeding Encouragement Specialist. Super sweet, with three-year-old twin girls who are constantly doing adorable things that get posted to Kim's Facebook page. She was married before she got the job and her approach so far consists mostly of being utterly and jealousy-inducingly happy for all the world to see. She doesn't seem bothered that Fen Fen isn't getting the hint.
"Panda pimps unite?"
"If you cook for us, we'll let you have one of the team T-shirts."
"Deal."
Cory does mysterious things to food objects in the kitchen while I bust ass cleaning up the apartment to make it presentable for company. Kim shows up with a bottle of wine and a loaf of bread.
We uncork the bottle right away and she and I hover near the kitchen island while Cory works. The bottle is nearly defeated, and Cory is serving something gloopy that smells like garlic and obesity when Kim gently steers the conversation toward work. "No, I'm serious. Fen Fen really has something good going on. She's going to be a star."
"A stand up panda act?" Cory asks as he grinds black pepper over the bowls. "Don't they only have one punchline?"
"Exactly!" Kim says. "But she uses it really well. Even Jason will like this one." She nudges me in the ribs to make sure I'm braced for it. "What does the female panda say when her sex therapist asks why she has low expectations for intercourse?"
I wince and bury my face in my hands.
Cory snickers. "Because he just eats, shoots, and leaves."
"See. Brilliant!" Kim and Cory chortle.
I give the primal ape groan of abject despair. "You're encouraging her."
"Of course I am," Kim says. "She'll come around in her own time. And when she does, I want to make sure she's as happy and fulfilled as she can be. That will lead to the best outcomes."
"Don't mind him," Cory says as he hands Kim a bowl. "He's bitter because he struck out at dinner last night."
*
Kim waits until dessert to break the news that she and her husband are trying to get pregnant again. Twenty minutes later I'm on the couch trying not to bawl while Cory sees her out. He brings me an extra slice of Marie Callender's calories-in-lieu-of-happiness pie, puts the plate on my knee, then sits down at my side. "You've got to get a handle on this."
"I'm sorry. I know. It's just…I've always wanted kids and the whole world has always been telling me I'm not supposed to care and even my job is telling me that but Kim's just, whatever, guess I'll have another one. It's not fair. I feel like I'm running out of time."
Cory picks up the fork from the plate, opens my hand, then manually closes my fingers around the fork. "Shut up. Shovel pie into your mouth until I'm done talking."
I raise an eyebrow at him, but take a bite of the pie.
"Michael and I split up – "
"Because he's an idiot," I jump in to say. Cory stabs a threatening finger toward my pie. I shut up and take another bite.
"We split up because he wasn't ready to settle down and I was tired of waiting for him."
I…hadn't known that part of it. "Oh, man, I'm sorry. You didn't say – " I stop when he slaps the back of my head. A brotherly slap, not a domestic abuse slap. A hey-dipshit-you're-supposed-to-be-eating slap.
"I'm sick of waiting around for you, too. Catch up to the 21st century. Let's have a baby."
It's a really good thing I don't follow instructions well, because otherwise I'd be strangling on a bite of Marie Callender. "I'm not gay."
"I wasn't planning to get you pregnant. We've been living together forever, we throw a mean dinner party on short notice, and we both want kids. Either you can wake up and face the facts, or you can keep getting weepy about penguins. Your call, but I'm done living with a mopey sex-pusher."
I take a moment with that.
Cory takes my hand, steers the fork to scoop up a piece of pie, then delivers it to my mouth. Which is hanging open. Apparently I learned carp impersonation from Samantha.
"Our kids don't get to play football. Concussions are serious bad news."
"Fair deal," Cory agrees.
*
So, adopting has a fuck-ton of paperwork and takes forever. At the rate we're going, we could have gestated a baby elephant. But whatever. We've got it. It's not like we're balancing an egg on our feet all winter.
I still want to give Lan Lan a black eye more often than not, but I've switched him over to some great footage of seahorse dads. It's kind of peaceful to watch them bouncing along in the water.
Fen Fen's got a Facebook page now to support her self-published memoir, so she's getting inundated with the photos of Kim's twins and her ecstatic baby bump updates. Cory and I are trying to keep pace by posting selfies with stacks of paperwork, but it's not quite the same. Not going to lie, though; it's still fucking awesome.
The new strategy for Team Panda Pimp is to conspicuously have so much fun, Fen Fen breaks down and asks for insemination, if nothing else, to get material for her next memoir. It might even work. The international symbol of world peace won't lift a paw to save itself from extinction, but humanity will bend over backward to perform test tube miracles on their behalf. There's got to be some inspiring symbolism in there somewhere.
And it really hammers home Cory's point: fucking is not required to make a family.
---
© 2019 by Anaea Lay
Author's Note:One of my very good friends is extremely frustrated by pandas, to the point where he'll happily go on at length about what a waste of space they are, and how we ought to let them go extinct.  Frankly, he has a point.  I was thinking about him while watching a documentary on emperor penguins, one thing led to another, and here we are.  This story was more on than I realized though, as demonstrated by a pair of would-be penguin dads in Berlin.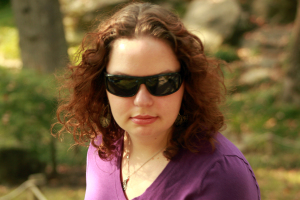 Anaea Lay lives in Chicago, Illinois where she is engaged in a torrid love affair with the city.
She's the fiction podcast editor for Strange Horizons, where you can hear her read a new short story nearly every week.  She's the president of the Dream Foundry, an organization dedicating to bolstering and nurturing the careers of nascent professionals working with the speculative arts.
Her fiction work has appeared in a variety of venues including Lightspeed, Apex, Beneath Ceaseless Skies, and Pod Castle.  Her interactive novel, Gilded Rails, was released by Choice of Games in 2018.  She lives online at anaealay.com where you can find a complete biography and her blog.  Follow her on Twitter @anaealay.
---
If you enjoyed the story you might also want to visit our Support Page, or read the other story offerings.