written by David Steffen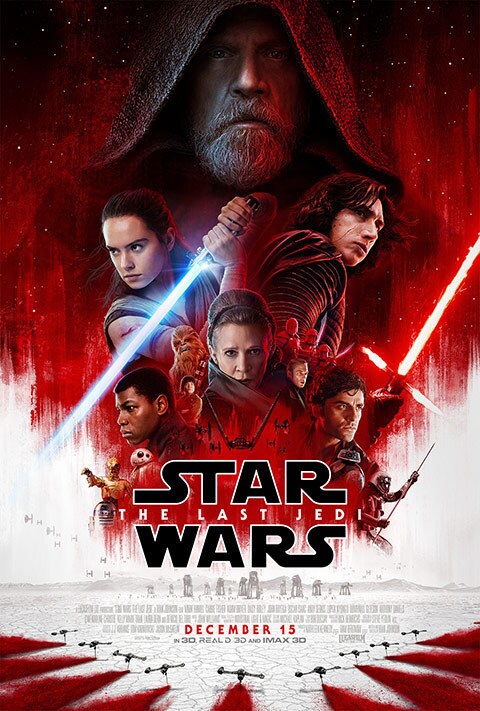 The Last Jedi is Episode VIII of the main number Star Wars series, picking up soon after the events of The Force Awakens, and with many of the same characters as well as some new ones.  Rey has just arrived at Luke Skywalker's secluded hideout to ask for training.  The First Order has broken the New Republic, so that all that's left of the republic is very limited resources and people, and the First Order has taken over rule of much of the inhabited planets.  Kylo Ren continues to be a main figurehead of the First Order, even as young and inexperienced as he is, and he answers to Supreme Leader Snoke, his Sith master.
I quite enjoyed this latest entry in the Star Wars series, probably one of my favorite installments yet, in large part because it builds on the fun and adventure and strong characters of the previous versions, but it plays with expectations in interesting ways.  We have all been trained by past movies to expect that certain plot elements will be present, and when they're present they will invariably turn out a particular way.  I'm not terribly opposed that style, especially for a movie like Star Wars that's primarily meant to be fun and exciting, but at the same time it is refreshing to have those expectations played with.  I loved what they did with the Rey/Luke interaction, there were lots of fun epic battles, I loved what they did with the Rey/Keylo interaction, and I particularly loved the new character Rose Tico, a rebel maintenance worker who befriends Finn.  It was great to see Leia back, even though I was waiting to see how they were going to handle the story given the death of Carrie Fisher.
One thing that surprised me was that it seemed like there was a lot more comedy in this volume than in previous movies in the series, which I found a pleasant surprise.
I have heard some people say they didn't like the movie for this reason or for that reason, usually citing plausibility reasons.  You can like or dislike a movie for whatever reason you like, but I admit I find citing plausibility as a reason for disliking The Last Jedi.  The entire series is based on implausibilities.  Laser swords.  Planet-destroying weapons.  Fatal design flaws in planet-destroying weapons that could've been prevented with a vent cover or a 90-degree angle in a vent system.  The plausibility issues are a Star Wars tradition.  As long as there's lots of good characters and action and fun, I'll forgive a lot of plausibility issues.
I would highly recommend seeing the movie.