–Reprinted, with permission, from Lisa's blog—
The first KillerCon is now a fond memory…and perhaps a brief recovery period. But you know what I mean…
My KC Extravaganza started on Thursday – woohoo! Roadtrip in Palisano's mini-van, accompanied by Mssrs. John Skipp and Cody Goodfellow (in addition to Driver Palisano and Skipp's delightful housemate Janie). Skipp gave me my first look at his new anthology Zombies, and Cody salivated over the artwork my story ("Sparks Fly Upward") received. For the next five hours, we cruised the desert as Skipp and Cody alternated deejaying – I've now gained a fondness for bands with names like Shpongle and Mr. Bungle.
We arrived in SinCity on Thursday evening, checked into our rooms (mine came equipped with a haunted shower curtain which insisted on trying to envelop my body no matter which way I turned in the odd, no-bathtub shower area). John P. and I hit the casino – and were completely flummoxed by the slot machines. What happened to, you put in a coin, pull a handle, and hope the little spinning reels will stop on bars? Oh no, now it's all paper vouchers and an endless number of buttons to push before the thing even spins. We roared over our own incompetence as gamblers, and later on Skipp commented that he walked past us and noticed we were the only two people in the entire casino who actually seemed to be enjoying ourselves (I ended up fifty cents ahead from my gambling for the weekend – yeah, baby, I BEAT THE SYSTEM!!!).
Parties ensued. Hugs were exchanged. Alcohol was consumed. I still managed a decent bedtime.
Friday began the convention in earnest, and I was very glad I'd opted to merely observe rather than participate…although somehow my name was shouted out during two panels and two readings.
My first novella, The Lucid Dreaming, debuted at the con, and seemed to be very well received. Sales were brisk, and by Saturday I was getting lots of, "I read the first 40 pages last night and it's gooooood". Hal Bodner became my unofficial publicist, grabbing innocent passersby and forcing them to buy copies.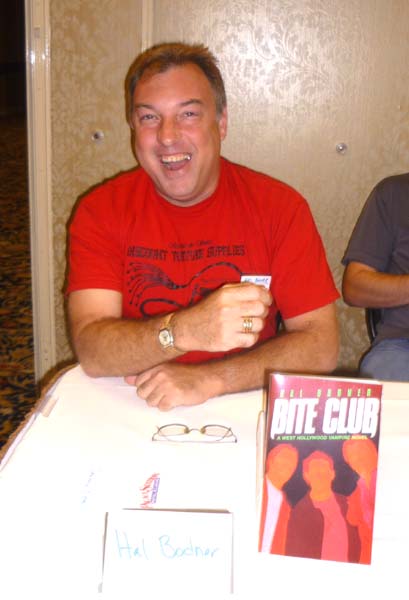 Late Friday saw the arrival of the last of the L.A. crew – the Calvillos, John Palisano's wife Yasmine, and the west coast's own Mike McCarty, who promptly confessed to us that he has a serious gambling addiction and plunked himself down at the Star Trek slot machine: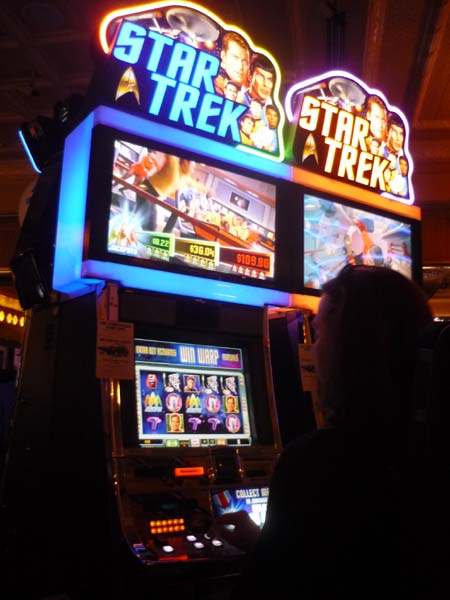 (BTW, I think Mr. McCarty was exaggerating the addiction thing. He had enough gas money left to get home, at least.)
Saturday saw more excellent panels and readings, and lunch with the utterly delightful Bob Fleck of Professional Media Services. We swiftly discovered we had far too much in common, and 90 minutes passed with lightning swiftness.
After lunch, I sat in on the Matt Schwartz Marketing Workshop, which was, without doubt, the single two most valuable writing hours I have ever spent. Really. No kidding. Matt was incredibly generous in sharing insider tips he uses to promote authors during his regular job in promotion and marketing at Random House. I have an amazing amount of work in front of me.
Saturday evening began with the mass signing, which I'd originally planned to simply attend for fun, but ended up deciding to sit down at after all, because so many people had things for me to sign. During the next two hours I signed copies of The Lucid Dreaming, Zombies, Mondo Zombie, Midnight Walk, and more things I'm not even remembering. Plus I got to sit with these guys: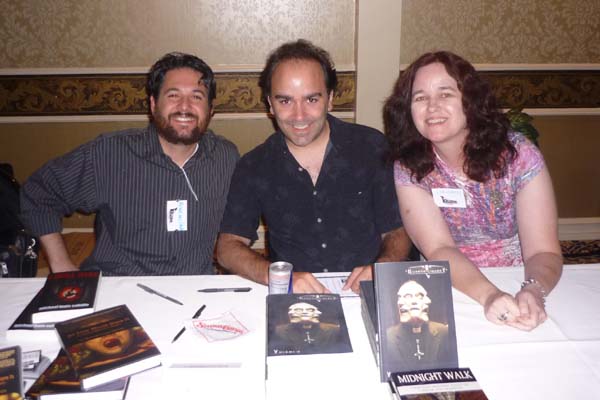 (That's Michael Louis Calvillo, John Palisano, and me)
BTW, for those of you who have never seen Mr. Calvillo read, you have no idea what you're missing – one part mad scientist, one part caffeine junkie, and all talent. I also enjoyed readings by Gene O'Neill (well, okay – I pretty much enjoy anything involving Gene O'Neill), my doppelganger Lisa Mannetti, and John Palisano. Wish I could've heard even more signings.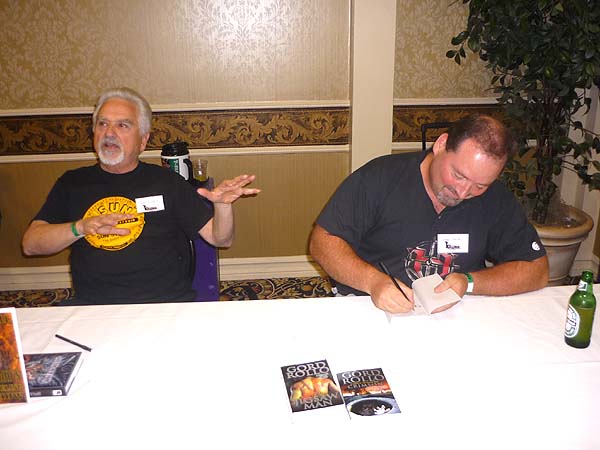 (That's Gene and Gord Rollo, who is signing my copy of his novel Crimson)
Saturday night I let Hal drag me into the Erotic Fiction Contest, which was far more entertaining than I'd expected. The judges were Sephera Giron, Wrath James White, Lori Perkins and L. A. Banks (and frankly, I can be happy with anything that involves Wrath visuals!). Bailey Hunter won with a torrid little tale of sex with Satan (is there any other kind?), but because she'd gone over she received a serious whipping, complete with remarkably loud and cringe-inducing smacks.
I managed to avoid the extracurricular outings to strip clubs (in fact, I didn't leave the hotel once during the trip), but I got my share of David Lynchian weirdness in "Jack's", an Irish pub in the Palace Station that features cover bands in the evening. On our visit, watching the cover band was a large, beefy man in clown makeup and a wiry woman close to 60 who danced by herself on the tiny dance floor (when Yasmine asked the clown why he was there in makeup, he explained that he was "friends with the band", then gave her a handful of candy). We were also encouraged to engage in food fights in the hotel's buffet by a stone-faced waiter named Tony who brought as an endless profusion of bizarro foods (we left Tony a very fat tip indeed).
Sunday started with me receiving several lovely business propositions (including one that I initiated and that started with, "Sure, we're open – have you published before?" At this point my name badge is spotted, and a gasp is followed by, "Oh my God, I am so sorry – yes, we'd LOVE to have something from you!"). As usual for me at these gatherings, I was pleasantly surprised to realize that my name actually does have some weight in the horror community.
We'd planned to skedaddle by noon on Sunday, but the hours dragged on as Skipp and Cody were suddenly revealed to be next year's Guests of Honor, resulting in many photos snapped and handshakes exchanged. We didn't leave until 3 p.m., but the return trip proved to be just as entertaining as the arrival had. Skipp even makes refueling stops fun, as you can see here, where he's performing an impromptu dance: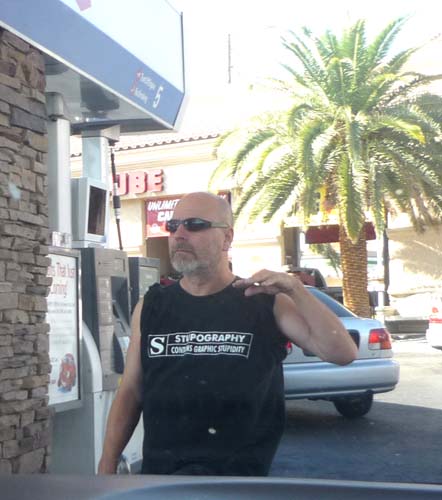 We hit L.A. about 8 p.m. By 9 p.m. I was reeling from a sinus headache (which I'd somehow avoided in Vegas, despite the ever-present clouds of tobacco smoke everywhere). I guess I really am allergic to my hometown.
The weekend wasn't just enlightening, rejuvenating and fabulous – it was also potentially a serious life-changer for me. News will follow when contracts have been signed.
Superhuge thanks to Wrath and Monica O'Rourke (who I cannot believe I met for the first time this weekend!) for chairing this killer shindig. Shout-outs to all the new and old friends, including those previously mentioned as well as Paul Gifford, Bill Gagliani, Dave Benton (I still can't believe anyone in Vegas was shocked by his piercing!), Barbara Vey from PW, Amy Grech, Gabrielle Faust, Heather Graham, Roy and Liz from Bad Moon, Allen K., Jeannie and Mark Worthen, Rain Graves, Gardner Goldsmith, Brian Hatcher, William Ollie, and others I apologize for not mentioning. Heck, even Brian Keene was nice to me (I'm being silly here – Keene's a generally sweet guy). What a terrific group.