"You should have been a doctor," my mother said. She squinted at me through the screen, as though the new computer I'd bought her had some secret flaw. She never quite trusted that it was better than her old one. "You always liked stitching when you were small. Remember that shirt you made? So many compliments!"
"Mom, it's a little late for that. I'm thirty-three." I tugged at the hem of my jacket, my elbows rubbing against the chair's metal armrests. Fidgeting usually helped me calm my nerves. It didn't help now. It had seemed simple on paper: five years away from home. Now the only thing I could think of was the blackness of space beyond these metal walls.
"Never too late." Wisps of gray hair escaped from her bun, brushing the sides of her cheeks. She turned back to the pan on the stove. "You put your mind to something, you can do it. All my children—very capable."
I could almost smell the soy sauce and chives, the sesame oil on the edge of burning. It made me miss home, more than just a little. "Stitching isn't the only prerequisite to become a doctor."
She sliced the air with her chopsticks. "But you're good at memorizing."
I focused on the soft glow of the LED lights above my head. "Stitching and memorizing–I'll be sure to put that on my application. Lei Wong: he once stitched his own shirt."
"Lei," she said, "I'm serious." She disappeared from view and I heard the clink of bottles as she rummaged through the cupboards. I was pretty sure my colleagues' mothers didn't cook while they were on vid calls.
"I'm serious too. I'll update my resume. First thing when I get back."
She popped into view once more, her face taking up the entire screen. "A lawyer, then. You're good at arguing. Also good at making your mother feel bad."
"Do lawyers make their mothers feel bad?"
"The ones who don't listen do."
I sighed and shifted in my seat. The cushion was thin, and I could feel the cold metal beneath it. No luxury, here. "I'm trying to listen."
"Who said I was talking about you? I was talking about lawyers." She gave a triumphant shrug and lifted the pan, shoveling greens onto a plate. When she was finished, she leaned on the counter, her face in profile. The sunlight from the window trickled into the creases on her temples, highlighted the places on the counter where the laminate had begun to wear away.
A knock sounded on the door behind me. "Two minutes."
My mother gave me a sideways look. She'd heard it too. Her lips pressed together; her fingers curled around the edge of the countertop. "You could have been a comedian. Just making jokes. All the time. Taking nothing seriously."
"Mom…"
She pushed away from the counter. "You can still do something else. Anything else."
"I've got two minutes before we leave."
She shook her head, her brow furrowed. Her hands wove through the air, wildly, like broken-winged birds. "Still enough time! Tell them you changed your mind. They can bring you back."
They could. They'd never let me leave Earth again, but they could. I thought of returning to California, having my feet on real, solid ground again, standing in my mother's kitchen and pleating dumplings, the smell of pork and cooked cabbage thick in the air. I couldn't say it didn't tempt me.
I checked the clock in the corner of my screen. A little over a minute before we began preparations to initiate the warp drive, before we left the solar system and ventured into the unknown. "But this is what I want to do. I've worked my whole life for this." Hours of study, of physical preparations, of navigating paperwork and interpersonal relationships. "I'll stay safe."
My mother closed her eyes. "Always higher, always further, ever since you were a boy. You never knew how to stay safe. You're thousands of miles away from safe." Her shoulders hunched. She set the chopsticks down and lined them up until they were parallel, a small space in between. "I know you want to do this, and I'm proud of you, I really am. I'm just not ready." A wan smile flitted across her face. "Lei Wong: space pilot."
I gave her a return smile–one I hoped was reassuring despite the flicker of fear in my chest. "I'll come home."
She jabbed a finger at the screen. "Good. Maybe then you can try stitching again, instead."
"I can try. Bye, mom. Love you. Catch you on the flip side."
Her eyes narrowed. "Probably not a comedian. Not very funny."
The screen went black.
"Ready?" Susan, my copilot, peeked inside the door.
I put my hands to the armrests, rose to my feet, and took a deep breath, the anxiety in my chest finally easing. "I think so."
I could have sworn the air smelled of sesame oil.
---
© 2017 by Andrea G. Stewart
Author's Note: This story was inspired by my mom, who can be alternately critical and alternately amazed at what I've accomplished–and sometimes both at the same time! I think, for her, my life will always be one of possibilities, even if I've set my feet firmly on one path.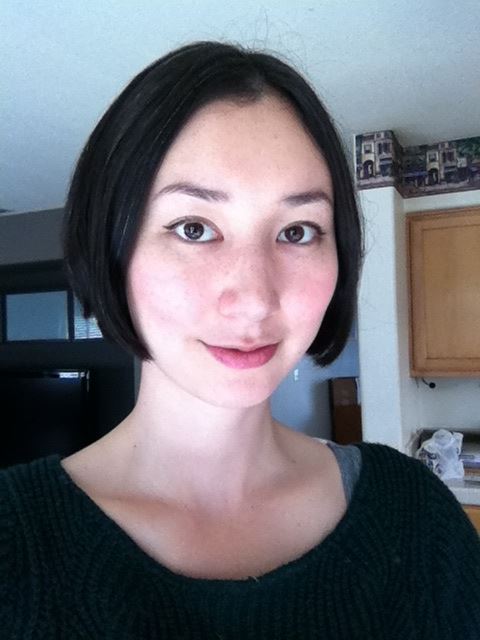 Andrea Stewart was born in Canada and raised in a number of places across the United States. She spent her childhood immersed in Star Trek and odd-smelling library books. When her dreams of becoming a dragon slayer didn't pan out, she instead turned to writing. Her work has appeared in Orson Scott Card's Intergalactic Medicine Show, Beneath Ceaseless Skies, and Daily Science Fiction.
---
If you enjoyed the story you might also want to visit our Support Page, or read the other story offerings.