Mark Turner is here today to tell everyone about the launch of the new website Writrade Showcase for readers, writers, and editors. Since Mark is the founder, I'll let him tell you all about the website, why you should check it out, and details on the free stuff he's giving away as part of the launch.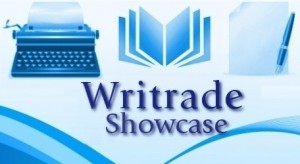 Writrade Showcase is a brand new idea in online promotions for writers.
Just launched this week, and offering a big swag of give-aways for the week-long launch, the Showcase takes a different approach to other promotion sites. ÂWe actually do our best to send people away!
Think of it as much as a directory to find the people, goods and services you seek, as it is a social and business network.
Where other networking sites try to keep their members and readers there, we get you to come back each day to check the site magazine for the latest news, announcements and advertising, then send you away to all the interesting places and people that you're looking for.
Have you published the latest and greatest best-seller of a horror novel and need to tell the world about it? ÂBe sure to add the Showcase to your round of promotional sites. ÂSet up your free profile as a standing advertisement, and join the groups onsite that fit your book to make it easy for readers to find you instead of making them hunt through the membership list. ÂThen, start working the site magazine every day. ÂPost the schedules for your online blog tours, reviews and links to their sites, cover art and book trailer videos. ÂPost some excerpts from your book, give the readers a taser and get them slavering for the rest so they'll follow your links to come buy.
If you have a magazine, do the same, post submission calls, release dates, new issues, and riddle your posts with links to make it easy for readers to leave us and come find you!
Are you a writer looking for markets for submissions? ÂFind the latest news from the publishers themselves on the magazine. ÂDo you want to post some samples of your work, some poetry, short stories, articles, or just your thoughts for the day? ÂThe Showcase magazine has a category for everyone, and you can post material to it as often as you wish. ÂJust so long as it's at least vaguely writing-related.
Agents, editors, reviewers, novelists, journalists, shorts writers, promotions sites, publishers, writing sites, artists, graphic artists, poets; for anyone actually in the writing and publishing industry, or readers looking for news on their favourite authors and books, the news will be provided direct from the horse's mouth, the people in the industry itself.
And what's it cost, you ask? ÂThat's the biggest 'horror story' of all. ÂNothing! (Gasp! Horror! Dismay!) ÂYep, I hear my competitors now, gnashing their teeth and wailing to the dark gods! ÂFree!
Why?
'Coz I'm a great guy! Â(I'm shy, but let's be honest here, heheh!) ÂNo, really. ÂAfter years of frustrated searches of the net hunting for information from this and that site, I often cried to the gods of frustration, 'Why doesn't someone put all this stuff together, in the one place?!'
Then, one day, I thought it was time someone did, so the Showcase was born.
Still only a baby yet, but from small beginnings can arise monsters that will take over the net, to become, in time, the first place each day you need to go for all your news and contacts in the writing and publishing trade. ÂWon't it be heaven to be able to find whatever you need in one place? ÂAnd far from being 'hell' for my competitors, it's actually a place they can use too, to make it simplicity itself for readers and writers and all others interested in any genre to come find them, and then leave to come to their sites!
A couple of new developments are in the offing. ÂThe Writrade News, a weekly online journal for a formal promotional and news publication, with special access to it available only for professional Showcase members. ÂAnd a possible new Showcase Community online Mall, with up to 200 stores, offering the chance to get into online marketing so cheaply and easily that you wont believe! Â $50 paid ONCE, to sign up, then nothing out of your pocket again, forever! ÂDetails on site.
All new members who join during our Launch Week, starting Mon, 18th and ending Sun, 24th at midnight, will automatically be in the draw for one the great prizes in the give-away basket. ÂYou can even earn extra entries, one for every day over Launch Week that you post an item on the magazine.
The prizes include no less than two free book trailer video packages, one from Dara England, the other from Apex Reviews. ÂThere are books from a number of great authors, including our own David Steffen from right here on Diabolical Plots, 'Shadows of the Emerald City', an anthology from Northern Frights in which his story, 'The Utility of Love' appears. ÂThere's also 'The Curse of Satan's Collar' by Dr John W. Miller, 'Convict Grade' by Azrael Paul Damien, a couple of great kids' fantasy novels 'The Book of Spells' and 'The Druiad', by William E. Terry, 'Radgepacket', Tales from the Inner City and 'More Burglar Dairies' from Byker Books, and a the first of a terrific, old-fashioned Sword and Sorcery series by Glenn G. Thater. Â'The Gateway', first in the 'Harbinger of Doom' series, is being made available to ALL members at the Showcase entirely for free by Glenn, as a free download, so you can read it right away. ÂNo waiting! ÂAnd finally, with the good stuff left till last (grin), a four issue subscription to Aurealis magazine, courtesy of yours truly. ÂAfter being an editorial staffer there for a while, mostly rejecting works from the slush pile, I finally get to make someone happy with some this prize of some great speculative fiction from Down Under.
So come on along to our launch week, join up and get your entry in the prize draw! ÂAnd at the same time help to support the greatest little promo site in the net, doing yourself a favour in the process by taking advantage of it for your own free promotions and news.
Let's build it to a million members! ÂCome be one of the first! ÂThen you can say 'I was there ages ago' 🙂
Thanks to David, Anthony and the team here at DP! ÂYou guys have been a little guiding light in an otherwise slightly scary darkness throughout the process of getting the Showcase off the ground.
Mark Turner, Writrade.com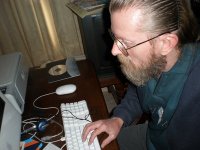 Mark Turner was raised in outback Australia. After a stint in the army and and some time working at a bush Base hospital, he returned to university to pursue his love of books. A viral illness cut short his aspirations and he didn't finish the Lit' Studies degree. Some years followed dealing with Murray Valley Encephalitis before he gradually got back into his writing. A job with Aurealis magazine followed, till he decided that it was time for his own publishing venture, and Writrade was born. The Showcase is the first of several sister sites; the Writrade News weekly journal and a speculative fiction zine, 'Voluted Tales' are soon to follow.