written by Darryl Knickrehm
How to (kind of) Make a Magazine
aka The Making of Waylines
First – be fans of your subject. David Rees-Thomas and I love science fiction. In fact we talked about it almost every week at our weekly beer binging. From the latest stories in Clarkesworld or Lightspeed, to the classics like The Left Hand of Darkness. We love this stuff.
Second – write. Again, David and I are aspiring writers. At the time of conceptualizing the magazine, I had been making and writing short films for years and had moved on to feature screenplays and a novel. David too had written poetry and short stories for years and gotten in to Clarion West. As writers, we wanted to get involved in the community and to add something to it (and all that beer sure didn't dampen our inhibitions at such loft prospects).
From there, in our drunken stupor, we got the idea of starting a magazine. And so we came up with Waylines!
Waylines? Yes, Waylines! Haven't heard of it? It's a SFF magazine with a twist. We publish short speculative fiction PLUS stream short speculative films (and it's free!) We've been out for a year now. In 2013 we ran 6 issues, published 14 stories and screened 18 films. We were lucky enough to run some great stories by Jake Kerr, Anaea Lay, and Eric Del Carlo among others, and get some interviews by the likes of Ken Liu, Cat Rambo, Nina Kiriki Hoffman, and Aliette de Bodard (we even interviewed old David Steffen). It was a great year.
Now Waylines is back for 2014 (although David has sadly left the magazine). And like any project, it's important to have it grow. Like that old axiom: the sequel has to be bigger, the 2nd series has to expand upon the last, etc. Magazines are no different. So Waylines is evolving. We'll still be running our usual brand of short fiction, film, and interviews, but we're also trying to make some stellar additions.
So what are some of the things brewing in the Waylines? One is poetry. From the hip, to the edgy, to that which is simply beautiful, we are now exploring the wisdom of words. And with the new section, comes a new Poetry Editor. The lovely Beth Cato. This is going to be good.
The next addition, the one we are currently working on setting up, is: comics. Because when creating anything, it's always a good idea to keep your influences close. And I've always loved comics that were a little outside the mainstream (like the original Heavy Metal, and a lot of Japanese Manga). And since comics are a big part of science fiction, I'd love to add that to the mix. We're currently in the works of setting up this new section and are really excited about it.
Now all of that 'new' stuff is important to keep things fresh, but there is one part of making a magazine that is even more important: developing a concept/feel and staying true to it. The concept with Waylines, since those first beer-fueled conversations, was that Waylines could be a place where the various communities of speculative fiction could intermingle and possibly get a taste of the other formats (film or fiction). So while everything in this year's lineup is moving forward to try new things, it's all being done in support of our original concept. In truth, it's a lot like plotting a story.
Yet despite having all these ideas, all these plans lined up, there is one thing that stands in the way. Finances. You've got to pay your writers and contributors. For Year One, we paid .05 a word for fiction, and for Year Two we'd like to continue to pay pro-rates (this year at .06 a word, in accordance to the SFWA's guidelines). For Year One, we were able to raise funds through Kickstarter. For Year Two, we're trying to do the same. We're running the campaign right now, from Jan 10 – Feb 10 . Whether this campaign is a success or not will determine if we can implement all of these plans.
If you're able to do all of that — poof — you'll have a magazine on your hands! Well, kind of. You still have to do the reading, editing, design, layout, and promoting. But that's not really that important. Now get to work! It's time to make something cool.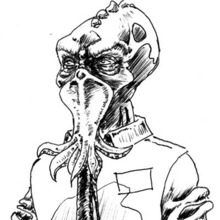 A filmmaker now exploring novel-writing and illustration, Darryl has 8 short films under his belt. In 2009, he began writing his dystopian series, The Citizens of Oblivion. The first book in the series, In Dreams, was released on Jan 20, 2014. In the past year, Darryl was a finalist for the Illustrators of the Future two times, and he also co-founded Waylines Magazine. For more information on his current projects, check out dariru.com or his blog.