written by David Steffen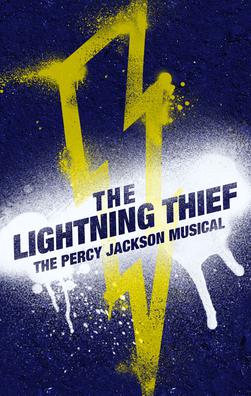 The Lightning Thief: The Percy Jackson Musical is a 2017 fantasy musical about the modern day children of the ancient Greek gods, based on The Lightning Thief of 2005, the first book in the Percy Jackson series by Rick Riordon.
Percy Jackson is a troubled kid who lives with his mom and his abusive stepfather, and has been kicked out of five schools in six years for behavior problems. He tries, but between ADHD and dyslexia, it often seems like the world is out to get him, though he has a good relationship with his mother.
But one day, on a field trip to the Metropolitan Museum of Art, his life takes a sharp turn for the weird when his substitute teacher Mrs. Dodds draws him away from the rest of the group and turns into a monster. With the help of his mentor and teacher Mr. Brunner who hands him a pen that turns into a sword, he slays the monster and survives, but then Mr. Brunner claims that nothing happened and that there is no such teacher, and he gets expelled from yet another school.
Left reeling again, and feeling betrayed by everyone who doesn't believe, Percy doesn't know what to do, when he and his mother are attacked by yet another monster, and soon he finds out that he there are reasons why he seems so different from everyone else–he is the son of a Greek god, and he will soon go to a summer camp called Camp Half Blood where the children of Greek gods to learn how to fight and about all of the godly politics that actually decide much of the natural world. His best friend Grover reveals he has been keeping secrets about who he is since he met him, and he meets other demigods like Annabeth, daughter of Athena, who is about the same age.
Percy doesn't know yet which god is his parent, and he is thrown into this strange new world with very little to go on. And soon he is sent on his first hero's quest!
I hadn't read the book yet when I saw the play, so I came in completely fresh. It was a good introduction to it overall, though you could tell where major parts of the book were stripped out, leaving weird gaps and logical holes, and places where lyrics were added that didn't really make sense or have no context. It is a really catchy soundtrack, in particular, "Drive" which is an action-packed road trip song as the three heroes try to take buses and hitchhike across the country is a great song, as well as "DOA", about the modern manifestation of the Underworld which takes the guise of a record company. It's a lot of fun, and I would recommend it, though if you have questions about plot holes or out-of-context lyrics, check out the book as well.