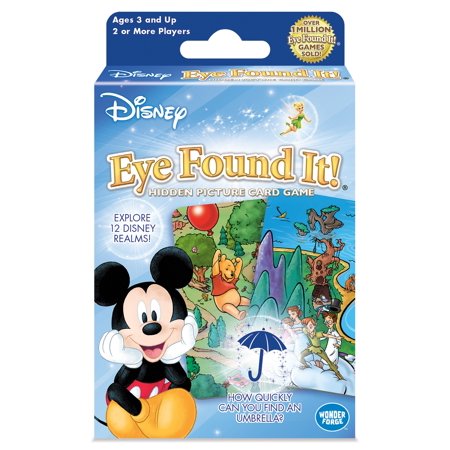 written by David Steffen
Eye Found It! is a competitive hidden picture card game aimed at children. The version of the game I'm familiar with is the Disney version, though it looks like there are other variations. Each player is dealt a hand of cards with scenes from Disney TV shows or movies, such as Winnie the Pooh or Phineas and Ferb, or Monsters Inc. Another card is then flipped over for everyone to see which has a picture of an object, and the goal is to be the first to find that object. The object might be a teapot, or a hat, or the number 8, or a barrel. Any given object is in many of the pictures (though not necessarily all), so it's a race to be the first to find it, then you flip your card over to get the new object to find, and the goal is to get rid of all of your cards.
One nice thing about the game is that it doesn't depend on being able to read, so you can play it with children who are too young to read–you can read the object out loud or they can look at the picture of the object (though if they are too young it might take a little work for them to understand that i.e. a "hat" is not this particular kind of hat, it is any kind of hat). And kids can probably do it about as well as adults as long as they're attentive enough, so it shouldn't be a game they feel too discouraged about. I've found it useful when there's a chunk of time that I need to keep one or more kids occupied, we used the game for the first time while waiting for fireworks on the 4th of July.
Audience
All ages, though probably aimed mostly at children or adults playing with children. The children don't need to be old enough to read.
Challenge
Most of the challenge of the game is just in attentiveness and trying to very quickly scan pictures. There is some element of chance in that some scenes have a lot more objects than others–if you get a Little Mermaid scene there's a whole category of items you're not likely to find, for instance. The game levels out some as faster players lose cards because they have less cards to find images in.
Session Time
Each round typically takes less than a minute, you could play as many or few as you want.
Replayability
Definitely replayable, as you'll get different scenes and try to find different objects in them, and especially if you're playing with kids who enjoy the hidden picture. If you played it enough you could learn where objects are in each image I suppose to get an unfair advantage.

Originality
I've never seen a competitive hidden picture game, I appreciate the novelty especially because it fills a niche that I otherwise hadn't seen many games in, as far as being good for kids who are just about ready to read but who might be too old for very basic games like Hi Ho Cherry-O.
Overall
I definitely recommend this if you currently have or expect to have kids in the 3-6 age group, because it's a good challenge level for them, and because it's all based on something kids can do very well you don't have to pretend to be bad at for the kids to be competitive. Clever idea well executed.