written by David Steffen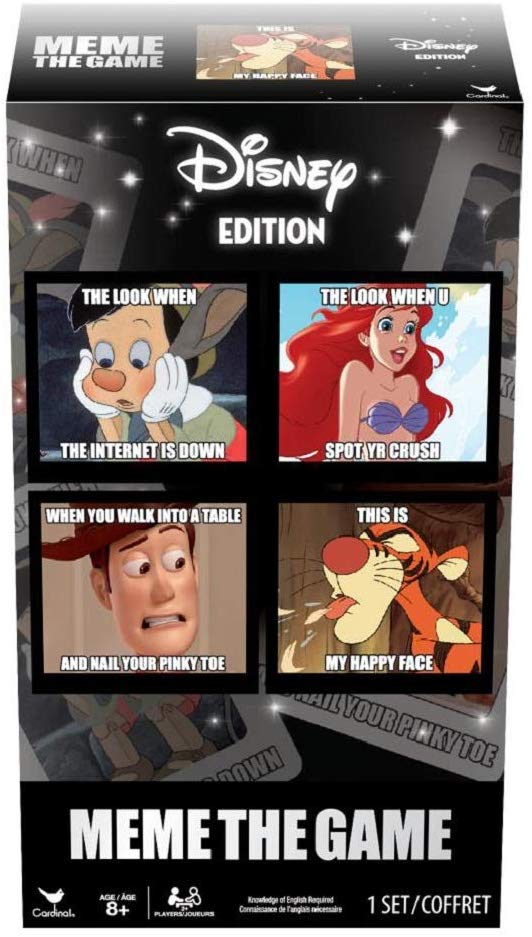 Meme the Game Disney Edition is, as you might expect, a card-based game game about making memes from Disney snapshots. Although I haven't played the original Meme: The Game game, it seems to be the identical idea but made friendly for kids with kid-friendly phrases and pictures from Disney movies. Similar to Apples to Apples or a kid-friendly Cards Against Humanity, but with pictures.
The premise of the game is that one player is the judge and the other players have to pick the best picture and word combinations from their hand that they think is the funniest. That's really all there is to it (see the cover of the game. That's pretty much it, rinse and repeat!
Audience
Suitable for all ages that are old enough to read on their own (at least if they want to play their own hands). If they are pretty young, even if they can read, they might not get some of the jokes.
Challenge
Mostly based on chance and on having some guess about the judge's sense of humor.
Session Time
Could play as many rounds as you want.
Replayability
As with other of this type of game, a lot of the novelty can wear off pretty quickly, it may be quite fun for a short while.
Originality
Not particularly, it is a spinoff of another game which in itself is apparently inspired by several iterations of other games, though this one does have Disney movie nostalgia going for it.
Overall
We got it for pretty cheap, $5. The novelty wore off quite quickly, though it was fun for a game or two.