written by David Steffen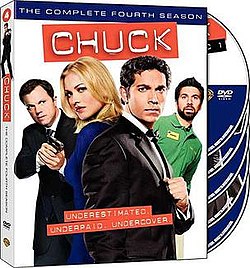 Chuck was an action spy action/drama/comedy show, starring Chuck Bartowski (Zachary Levi), who started as a down-on-his-luck geek working at the BuyMore fixing computers, when he ended up with a supercomputer with government secrets downloaded into his brain, as he has been used as an intelligence asset. And later in the series he got an upgrade to the software that also gave him various physical skills like martial arts. Season 4 aired from September 2010 to May 2011.
In this season, Chuck and his partners Sarah (Yvonne Strahovski) and Casey (Adam Baldwin) face a new adversary in Alexei Volkoff (Timothy Dalton), a criminal mastermind who is still working with Chuck's mother who he hasn't seen since he was a child. Everything changes while remaining the same as the CIA takes over the Buy More and converts it into an official base, and builds out new areas that even Chuck and his partners don't have access to.
While Season Three had started out shaky but got stronger, Season Four is reasonably solid throughout, new situations, expanding on Chuck's physical abilities, and taking new steps in the relationship between Chuck and Sarah. The Buy More continues to offer the comic relief while also tying into the CIA plots, while also changing as the managerial structure changes and now Morgan (Joshua Gomez) is in on Chuck's secret so manages to involve himself more and more. At the same, it's hard not to miss the early seasons of the show where Chuck was clever but flighty and not physically adept. But the show has changed into something different, even if the first couple of season were special in their own way.
Well worth watching!