written by David Steffen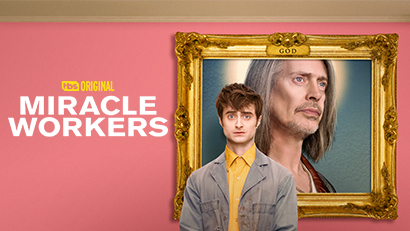 Miracle Workers is a TBS dark comedy series which, so far, has completely different topics and focus each season. Season 1 aired from February-March 2019, and is centered around the bureaucracy of heaven which is not as heavenly as we would like to believe, and is based on the novel What In God's Name by Simon Rich.
God (Steve Buscemi) has decided on a whim to blow up the Earth to give him more time to focus on his new restaurant innovation where guests eat food while floating on inner tubes in a lazy river. Eliza (Geraldine Viswanathan) has just transferred to the prayer-answering department which, until her arrival, was staffed only by Craig (Daniel Radcliffe) whose ultra-conservative approach to answering prayers makes it extremely unlikely that any prayers will actually be answered. They manage to talk God into making a wager: if they can grant an impossible prayer, then God will not destroy the Earth. The impossible prayer they choose is this: if they can get Sam (Jon Bass) and Laura (Sasha Compère), who are both socially awkward and both have crushes on each other, to kiss as a couple within the next two weeks.
This turns out to be much harder than they anticipate, given the minor physical aspects of the world they have complete control over, and making bigger changes can have major consequences. With two anxious people who are afraid to make their move, two weeks is a tight schedule. And all through this God is going forward with his plans and otherwise using his seemingly ultimate power and odd ambition to go forward with his own divine restaurant plans while our heroes try to thwart him.
This show is hilarious, great writing, excellent cast, it's fun seeing Daniel Radcliffe in particular playing a role very different from his most well-known role. Highly recommended!