written by David Steffen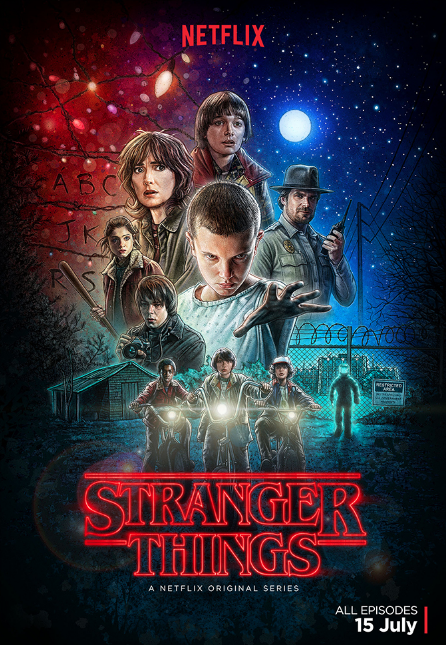 Stranger Things is a speculative horror/mystery show with an ensemble cast, whose 8-episode first season launched in 2016, and the third season is upcoming in July 2019.
The show begins in the year 1983, with four friends playing a game of Dungeons and Dragons at Mike's (Finn Wolfhard) house. When it's time to go home, the other three boy's Dustin (Gaten Matarazzo), Lucas Sinclair (Caleb McLaughlin), and Will Byers (Noah Schnapp) head for home on their bikes in the dark. The next day everyone realizes that Will is missing. About the same time, another kid, a girl with buzz-cut hair (Millie Bobby Brown) that no one has ever seen before, appears around town. The boys and others search for Will and as they investigate they find more and more signs that this is no ordinary disappearance, but someone seems determined to convince them that it is. Will's mother Joyce Byers (Winona Ryder), distraught over the disappearance of her son, tries to convince Police Chief Jim Hopper (David Harbour) of some of the hard-to-believe details of the case.
It's hard to describe much more of the plot of the series without giving away major plot things that will be more fun to experience yourself. I only saw this recently on DVD as the new season approaches, and it was SO MUCH fun to binge watch. The writing and cast are great, the special effects are solid, I love to root for the kids, and against the villains, though I think the young girl is my favorite character.
It's no wonder this show has been such a hit, I would highly recommend it, and I'm looking forward to the new season.