written by David Steffen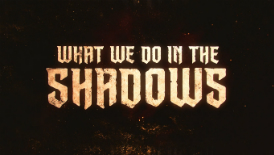 What We Do in the Shadows is an original TV series, a spinoff of the 2014 movie of the same title (reviewed here). Season one aired on FX between March 2019 and May 2019, and it has been renewed for a second season, airing soon.
Similar to the movie, the format of the TV series is a comedy/horror mockumentary following vampire flatmates, in this case in Staten Island in New York City, rather than Wellington, New Zealand.
Nandor the Relentless (Kayvan Novak) considers himself the leader of the group, originally a solder of the Ottoman Empire. Nadja (Natasia Demitriou) is the woman of the group, often more practical than the others (my favorite of the group). Laszlo (Matt Berry) was originally an English nobleman, turned to a vampire by Nadja. Colin Robinson (Mark Proksch) is an energy vampire that drains people's life essences by boring or enraging them, and his abilities even work on vampires. Guillermo (Harvey Guillén) is Nandor's human familiar, who runs daytime errands for his master in return for the promise of being turned into a vampire.
The TV series has a very similar sense of humor to the movie, while expanding the worldbuilding and premise, such as the adding the existence of energy vampires, and more about the vampire social hierarchy when a high-ranking vampire comes to visit. The cast and the writing are fabulous and I will be very happy to watch more of this show as it airs.