[Fair warning: The beginning of this article is a lengthy explanation of why I'm re-reading this book at this moment. If you don't care, then skip down to the part below that says BEGIN REVIEW]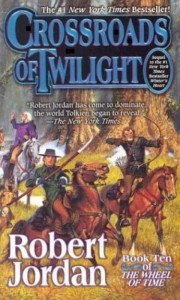 I've long proclaimed that Robert Jordan's Wheel of Time fantasy series is my favorite fantasy series of all time. The characters are great, the magic system is detailed and interesting, and the worldbuilding is just extraordinary. Jordan strikes just the right balance between style and substance, hitting a medium that flows easily but still reads in an appealing way.
But, since 2007, I have been dreading picking the series again. The reason for my dread is not anything that Robert Jordan did, but rather a change in my tastes, leaning towards the critical. I started writing fiction back then, and it has changed my reading preferences forever. Above all, I've learned that my most valued trait of any writing is conciseness. Is it the best length for the story it has to tell. This has made it VERY hard to read Stephen King novels! Robert Jordan's Wheel of Time novels are very long, and there are a lot of them (11 written by his hand before he died), so I've been worried that I will no longer be able to enjoy the books now that I'm so much more picky.
In September 2007, Robert Jordan died of a blood disease. I regret that I was never able to meet the man who created my favorite books. He'd known how the series would wrap up for a long time before the end, and since he saw the end coming he kept copious notes so that the Wheel of Time would not have to pass away prematurely with him. His publishers at Tor chose Brandon Sanderson to use the notes to complete the series. I'm not sure what to expect from Sanderson. I haven't read anything else that he's written so he's a completely unknown entity to me. I got the newest WoT book, The Gathering Storm, for Christmas, so I will soon find out what I think of his writing. I will probably either love or hate him, depending on if I feel he is continuing Jordan's legacy satisfactorily.
To be fair to Sanderson, I decided that it would be best if I re-read some of the Wheel of Time before reading the new one. After all, it is possible that I no longer care for Jordan's writing style, and so it would be rather unfair to judge Sanderson against a nostalgic memory that isn't all that accurate anymore. Sanderson is the guest of honor at MiniCon here in the Twin Cities, which I will be attending, so I want to have gotten started on The Gathering Storm before that time so I can decide whether I hate him. So I don't have time to re-read many of the Wheel of Time books. I decided to re-read books 10 (Crossroads of Twilight) and 11 (Knife of Dreams), leaving me at least a little time to get started on The Gathering Storm before Easter weekend.
So, long story short, I've just finished Crossroads of Twilight, and here is my review!
BEGIN REVIEW
Spoilers ahead, and I don't really feel like marking them out after this. So, if you don't want to know, then don't read it!
The good news is that I still enjoy Jordan's writing style, his accessible characters, and the world they're contained in. The bad news is that I found this book incredibly boring. I suspect (but am not entirely sure) that it's just this book that I dislike and that I could still enjoy the other ones. There are several reasons why I simply had trouble getting into this one:
1. Too many POVs. By this point in the series there are so many separate groups of people, widely distributed from one another, most of them in a position of some power over a huge group of other people. The trouble is, there are just simply too many groups to be able to give any single one of them justice within a single book, even a book that's nearly 700 pages. For the first 600 pages or so, the narrative takes turns going to each of these characters for two or three chapters in a row, then on to the next and the next. The trouble is that each time there's a transition there's a break in whatever tension had been built to that point and I start the next section in a null state. And when it became clear that most of these people would not even be returned to in this book, it was hard to care much what happened in their everyday lives. I understand that Jordan, by this time, had set up a wide cast of characters that we all care about, but he would be better served picking just 3 or 4 major characters and focusing on them for this book, and focusing more on other characters for other books. The way it was, it seemed that fairness and equal representation was more important than reader interest or conflict, and that really killed any tension that could've been created.
2. Aftermath syndrome. In the last book, Winter's Heart, a hugely important event occurs. Rand and Nynaeve, along with a bunch of other helpers, manage to use incredibly powerful sa'angreal to do what has been thought impossible–cleanse saidin, the male half of the source. Since the Breaking of the World, the world has lived in fear of men who can channel because the taint on saidin eventually causes them to go mad. The modern version of Aes Sedai are only female out of necessity and an entire division of the White Tower (the Red Ajah) is dedicated entirely to neutralizing any man who can channel for the safety of all. This is a huge blessing for Rand and others who can channel, and though it will be hard to prove the claims of the cleansing of saidin on any large social scale, it will allow channeling men to live longer and be free from madness.
Anyway, the actually cleansing created a beacon of power of both saidar and saidin detectable from anywhere within the book's world by anyone who can channel. This is understandably disconcerting for those who can channel because they would've thought that magnitude of Power usage would've been impossible. I understand why they'd be disconcerted. But one of the major annoyances of the book is that every one of these multitude of sections involved a rehashing of this concept. All of the sections took place more or less simultaneously, beginning just before this beacon appeared and lasting for a day or two after. So the mystery and the worry is rehashed so many times. Maybe this would interesting if we weren't already aware of what the beacon was, but we already saw it in the last book! So it just gets tiresome.
3. No thread of standout importance. In most of the Wheel of Time books, there is a thread that is clearly meant to be the most important thread of that book. In book 1, the quest to find the Eye of the World. In book 3, the quest to catch up to Rand and Rand's drive to go to the Stone of Tear. Many of the books end with a major fight with one of the Forsaken, or a major revelation such as Rand's learnings in Rhuidean. In Crossroads of Twilight, none of the threads seemed significantly more important than the others. Each was just like a quick update on what that character's up to, but in most cases it's entirely clear that they're in the same place they have been and will continue to be aftereward. Only in the very last chapter does any sense of change really take place and it's so unforeshadowed and comes so completely out of nowhere that I never had any particular tension about it in the first place (More about that in #4).
4. No climax. Okay, yes, the book does end on a cliffhanger. Egwene sets off in a rowboat to use her mad cuendillar-making skills to block the harbors. She succeeds in blocking one of the harbors, but is captured and brought into the tower. Which is a great twist, and the quest that sparked it was both worthy and interesting. The trouble is that quest was not foreshadowed in any particular way. In her sections she thought from time to time about some unspecified plan she had, but never went into details. This bugs me to no end, because I like to really sink into a point of view when I read a story. I want to feel what the character's feeling, but that's impossible if she's making huge overarching plans and keeping it as a secret from me. Finally in the last five pages, I figure out what she's doing, and then she gets captured two pages later. Because I've read the book before, I knew her plan and knew the cliffhanger, and there was a hint or two but not enough to create significant tension for a first read. If I'd known her plan back when she started making it, then I could worry about how it would turn out, but revealing the plan and then having it fail at the same time doesn't work well for me–I'm already disinterested! And because of my #1 complaint, Egwene had a very minor portion of the book, page-wise, so it didn't make a great deal of sense to have her ending be the big ending.
I like when the beginning ties to the end in some significant way, but in this case there was no Chekhov's gun to tie everything together. It ended up seeming more like a collection of uninteresting status updates on every character. Next I'm reading Knife of Dreams. I hope this one measures up more to my memory of the series! That's Jordan's last chance to get me warmed up to read the new Sanderson volume. Wish me luck!
-David Steffen