written by David Steffen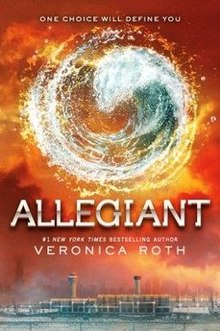 Allegiant is a 2013 dystopic science fiction novel by Veronica Roth, the final book in the Divergent trilogy after Divergent (reviewed here) and Insurgent (reviewed here).
These stories take place in a future Chicago which is walled-off from the rest of the world and has been split into five factions: Candor (who value truth, Abnegation (who value selflessness), Amity (who value harmony), Dauntless (who value courage), and Erudite (who value intelligence). This order has existed for a long time, relatively undisturbed, but now the world is reeling from several major disturbances in the social order that began when Erudite converted much of dauntless into mindless soldiers and slaughtered much of Abnegation before they could be stopped. The factionless who have lived starving and forgotten in the background for much of recent history have risen up under a new leader, and now on the heels of that change, a video has surfaced that shakes the foundations of their whole world.
The video shows a woman claiming to work for "an organization fighting for peace" says that the world outside of Chicago had been corrupt, and that the city was sealed to allow the Divergent population to increase and that this recent increase means that it is time to reopen the city to the outside world again.
"Divergent" is this society's name for people who don't fit into one of the five factions. Many have considered such people dangerously unpredictable, and some have been killed to prevent their unpredictability.
Tris Prior and her boyfriend Tobias are both Divergent, both members of Dauntless that switched from Abnegation at the age of choice, and because of these traits have saved many people when they were able to resist the conditioning that other Dauntless fell prey to.
Now, Tris and Tobias and some others allied with them are venturing outside the city, the first time anyone has done so in generations. No one has any idea what they will find out there, what the society on the outside looks like, if it has survived at all. And now they're going to find out.
The previous two books were told in first-person from the point of view of Tris. This one takes a little bit new angle on it, by having dual first-person points of view: both Tris and Tobias. I found that I had trouble keeping track of who was the first-person at any given time since they have similar backgrounds and are similar in several ways, I would think I was following Tris until something was mentioned about the character's parents that didn't fit Tris and then I would realize it was Tobias. I think multiple first-person can work, but I don't think it worked very well here because of the similarity between the characters and their situation.
Much of the plot of the story also revolved around romantic tension between Tris and Tobias. In the book, both of them get jealous of the other talking to someone of the opposite sex, and then immediately go and do the same thing themselves. It gets pretty old after a while, especially since they are in a series of life and death situations where their actions affect the lives of hundreds or thousands of other people, and they're worried about this. I wanted to take them both aside and just tell them too that this is their first relationship and it might not last forever and it's not worth ruining your entire life over, but that doesn't seem to be a popular angle to take in a book written for and about teens, so I guess that wouldn't work.
I didn't really care for the ending, though I won't say anything else about that. Overall, I thought this one was the weakest of the three books, though if you've read the other two you're probably going to want to find out how the whole thing turned out–I would!