written by David Steffen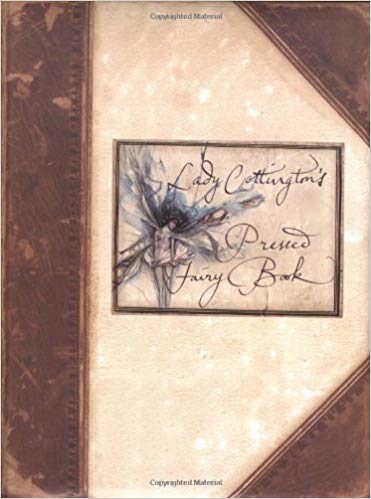 Lady Cottington's Pressed Fairy Book is a 1994 fantasy book by Terry Jones parodying the historical Cottingley fairy photographs of 1917 which caused a sensation when they seemed to depict realistic fairies with children.
The story of the book begins when Lady Cottington is a young child and she manages to smash a fairy in her diary, preserving it there. As she examines the fairies she starts to pick out different types and she starts to make a habit of it, pressing more and more of them. As her life progresses and her interest ebbs and flows, this keeps a historical record of her growing into womanhood and as her interests become more adults and the fairies play their tricks on her in turn. The words in the book are interspersed with illustrations of squashed fairies, some nude and contorted into painful death poses.
The illustrations are bizarre and morbid and sometimes funny, and of an excellent quality, and the book itself (the one that I got anyway) had a cool design making it seem like an old diary.
A content warning for those who do pick up the book, drawn by the premise and illustrations, that the storyline does involve some situations that, though described some opaquely, seem to suggest sexual abuse. That wasn't something I was expecting and it does make the book harder to recommend as a result, since the book as a whole doesn't give the impression it involves that topic.