written by Frank Dutkiewicz
Riddle time! Where would you find Shakespeare, Merlin the magician, the Green Lantern, time machines, aliens, dragons, dead worlds, the afterlife, creation and (most impressive of the bunch) is over 900 pages long? The answer is below…
A day of celebration is a bitter reminder for Ellen in "Man on the Moon Day" by Amy Sundberg (debut 7/2 and reviewed by Frank D). Today is the day when the neighborhood acknowledges favorite son, Rick Murray, one of the first colonists on the moon, father of the lovely Sarah, and the man responsible for making Sarah a single parent.
"Man on the Moon Day" is tale of a wet blanket. Ellen is bitter. Her daughter idolizes the man who abandoned them. It is unclear the circumstances but it appeared that her pregnancy happened on the eve of Rick's last days on Earth. What Ellen was hoping for from him is never explained but she seems to blame him for her current state of affairs.
An abused boy's friend opens his eyes for him in "Suburban Pixies" by Story Boyle (debut 7/3 and reviewed by Frank D). Ben's father has beaten him once again. India invites him over to her house and offers him a place to stay. Her house has its own protectors, and she has said only people who can use your real name can control you.
"Suburban Pixies" is a story where the metaphysical is reality. Pixies fly about the yard like mayflies in the spring while other mythical creatures reveal themselves to Ben's opening eyes. India shows Ben the world is not as it seems and only his perception governs what is real in his reality.
"Suburban Pixies" is an escapist's wet dream. India is a girl who refers to her mother by her first name. The horrifying looking pixies mean little to her. She claims people are less real because of the forces of electrons keep anything from coming into contact. We are mostly blank space. This claim is hollow when Ben has broken ribs from a father who has no trouble making 'contact' with a son who failed to make the football team. The lesson of this tale is if your reality is not how you like it, then reject it exists. Perfectly fitting for one who prefers fantasy over reality.
Tom is a careful man in "Too Careful" by Seth DeHaan (debut 7/4 and reviewed by James Hanzelka), he has to be if he is to survive. He is careful in his habits, meticulous in his precautions and thorough in his study of those around him. Returning from his monthly shopping trip his caution pays off, he detects the tell-tale differences in his neighbor Kyle. But his attack, meant to protect himself from those chasing him, only shows he is wrong in his assessment. Wrong again with tragic consequences.
The author did a good job putting us in Tom's world. It isn't a world of sanity, but one of paranoia. We feel Tom's pre-occupation with his personal safety and his sorrow at being wrong again, at being too careful once more. There are a couple of syntax issues and a few constructions I found difficult to read, but otherwise a good story.
"X Marks the Spot" by Kat Otis (debut 7/5 and reviewed by James Hanzelka).
Ever since they found the map on the dead trapper, the one marking the site for the treasure, Ranulf has become more paranoid about it. When they reached the marked meadow Ranulf attacks his partner of five years to prevent him from sharing in the treasure. It is unfortunate when Ranulf is killed in the struggle that ensues. But when his partner gets a good look at the map, the X has moved to another spot, but it's the change in appearance of the thing that is more disturbing.
Nice ghost story set in the old west of trappers and buried treasure. The history of the time is littered with tales like this, most of them tinged with truth. Every western town has a tale of its own Flying Dutchman Mine, and every one of these tales is just as intriguing as this one. A well told tale.
"Love, the Mermaids, and You" by Holli Mintzer (debut 7/6 and reviewed by James Hanzelka).
After her graduation a girl visits a group of mermaids, her friends since the day she almost drowned some years ago. Since that event the mermaids have provided advice and help for the girl, advice that has helped her grow into the person she is now. With each life event changes come into the girls life. They have helped her through her parent's divorce, school and now as she goes to college.
I really didn't care for this story. Not that it's written badly and not that I didn't particularly not care for the subject matter, but it may be a little too gender specific. I didn't ever really grow to like the main character or get that involved in her problems. It may be a story for someone else that is interested in the mermaids and their advice.
A wizard is dissatisfied with a "Disputed Delivery" by Alter S. Reiss (debut 7/9 and reviewed by Frank D). Sycorax the Dread's order for basilisk hide goes horribly wrong when the delivery company drops off live monsters to his door. Complicating the matter, the delivery company still demands payment for the basilisks. Unable to reach an agreement, Sycorax settles the matter with an equal trade.
This is one of many tales at Daily SF I have had the pleasure to read before hand, a result of my good fortune of participating in Codex's yearly Weekend Warrior challenge. I found "Disputed Delivery" to be a delight to read then, just as I do now.
Recommended.
The protagonist enters cyberspace to find her daughter in "The Most Complicated Avatar" by Mary E. Lowd (debut 7/10 and reviewed by Frank D). Daria is hiding from her father. It is the abusive man's weekend with her and she doesn't want to go. The protagonist is Daria's mother. Unable to find her daughter in the real world, she searches the one place where she knows she can find Daria.
"The Most Complicated" is a sign of things to come. Second World is Daria's virtual reality escape. She has been building an avatar for herself in it. As her home life becomes more stressful, her avatar takes on traits to make her stand out. The protagonist, as many parents with today's technology, is slightly out of her element in this virtual world, and finding Daria in there will not necessarily help her locate the scared child's real location.
Ms Lowd deserves accolades for this inventive idea. Aside from a near future I find very likely, she examines the psychological eventuality young children will use with this ultimate form of escape. "The Most Complicated" is a story that could have ended very badly but I am one that was satisfied with the conclusion to this piece.
Science fiction shines when authors can show us a world that may yet come while exposing our own faults of our present. When this is achieved, writers win awards. By this definition, Ms Lowd deserves consideration for her efforts.
Recommended.
Happily Ever After rarely is in "Seven Sins" by Melanie Rees (debut 7/11 and reviewed by Frank D). A marriage counselor has a difficult job counseling fairy tales. His current clients, Mr and Mrs Charming, are having trouble getting along. With a lobby full of Disney characters, and a brewing headache, the protagonist is bracing himself for a very long hour.
"Seven Sins" is a tongue-in-cheek look at what the 'after' in 'happily ever' is like. The story focuses on Snow White after her marriage to Prince Charming. The story pokes fun at the very nature of fairy tales. Amusing.
In "After the Earthquake" by Caroline M. Yoachim (debut 7/12 and reviewed by Anonymous) a young man goes to visit his grandmother after an earthquake and finds that some of the vases she stores her memories in have broken. In this story memories are liquid-like and can be stored in containers–she likes to store them in pretty vases. He sets about to help his grandmother rescue what he can, but she appears to be dementing, having lost so many memories.
I thought this was an excellent story. It was well-written, thoughtful, poignant and moving. What more can I say? Oh yeah…seven out seven rocket dragons.
Recommended.
An indentured servant is asked to betray her master in "The Suicide Witch" by Vylar Kaftan (debut 7/13 and reviewed by Frank D). Yim is a village mortician in the ancient Far East. Property of a warlord, she prepares the deceased souls for their afterlife. Her specialty is presenting those who have taken their own lives so their dead ancestors will not torment them for eternity. Her talents are necessary, but make her a pariah among her people.
"The Suicide Witch" has a dual plot. Yim leads a solitary life. As a peasant girl of the streets, a suicide witch is about as good as it can get for her, but she is still the property of her lord. Then one day the duke's son stops by to pay her a visit. Jiang Kai-hu is the lover of the girl his father has chosen for a wife. He plans on giving her a paralysis potion then whisking her away after her funeral. For his plans to work, he needs Yim's cooperation. He offers Yim a normal life – normal for a back breaking peasant – and promises her an unbearable hardship if she refuses.
Yim is a woman who has accepted her life, then Kai-hu enters her world to disrupt it. He offers her freedom, but the privileged man born into wealth does not know what that word truly means to Yim. Yim's resentment to the well off in society surfaces as she is forced into a plan that is all risk and little benefit for her.
"The Suicide Witch" explores the life of a woman who has never had control of it. She has always been someone else's pawn, and the love struck Kai-hu is willing to put the pawn at risk for his own selfish desires. Yim is left with few choices, as it would seem. The author works hard to make her protagonist seem reprehensible, yet sympathetic – a hard task to accomplish. It is difficult to pull for Yim, but knowing she is a woman who never had a chance to make a real choice in her life is enough to remain invested in her blight. For a story that looked like a viewing of an unwilling partner of deceit, I can say the ending to this tale had a delightful twist.
"The Suicide Witch" is just the type of story the editors of DSF receive complaints for being 'too long'. It is a tale that requires an investment for the reader to follow. But the depth of a character like Yim cannot be told in a flash sized tale.
The king has passed away and 13 maiden warriors in arms ride to Death's Gate to ask the gods for his return in "The Cost" by Laura Anne Gilman (debut 7/16 and reviewed by Dustin Adams) . The king's daughter pleads, but there's no returning; so says the god/dog.
The first person narrator of "The Cost" might be considered the sidekick, until her lady is presented with a riddle only a loyal, loving companion can solve.
Fresh and tight writing, but unfortunately not an earth-shatteringly new idea.
"Broken Glass" by Jacquelyn Bartel (debut 7/17 and reviewed by Dustin Adams) is a story of a curious boy who gets an opportunity, through a genuine crystal ball, to witness his own future. It flashes through his mind in scenes that make him tremble and weep.
How would a child deal with adult themes being thrust upon him? Would there be any basis for understanding what he sees? Can he comprehend the emotions behind what he sees? I feel there's a great set up for the answers to these questions, but sadly the story ends without having explored these theme as much as I feel it could.
Still an interesting concept, even if not fleshed out enough for my tastes.
"The Mechanical Heart of Him" by Cate Gardner (debut 7/18 and reviewed by Anonymous).
A woman and a man are in a failing relationship and "The Mechanical Heart of Him" by Cate Gardner (debut 7/18 and reviewed by Anonymous) charts the final few days of it. What is different is that the two people are members some unexplained fantasy version of humanity, made from cogs, strings and flesh. The emotional connections that people have to each other result in a tiny version of that person living within their body and affecting it–pulling heart strings. If they are in love with that person then the little version of that person lives close to their heart and may be quite large, etc. It all requires quite an explanation.
The actual story is simply about the break-up of this couple and how another woman has found her way into the man's heart. I wasn't particularly engaged with the story as I found all the emotion-made-literal a bit hard-work and the unfolding of the story a little predictable. The writing was nice, and the idea was novel but that doesn't equal a great story. Four rocket dragons.
"The Power of the Cocoon" by Nina Kiriki Hoffman (debut 7/19 and reviewed by James Hanzelka)
Christmas is a sad time of year for Emma; the debris of shiny paper and ribbon reminds her of promises unfulfilled. The holiday reinforces she is not the most talented, smartest or best looking in her family. But this year her Grandma will provide Emma with special gift that shows her everyone has a talent that can make them special.
This is a story for all of us who think we aren't the smartest or the most talented. Each of us has a special talent, if only we can find the right teacher and mentor. This is a nice little story with a nice moral undertone, if a little predictable. It carries the expected teaching point forward with deft writing and well drawn characters, but without the lasting impact that will stay with the reader long-term.
"Twenty Ways the Desert Could Kill You" by Sarah Pinsker (debut 7/20 and reviewed by James Hanzelka).
Her mother moved her to the desert from Baltimore, taking only what little they could carry. It was an "adventure", Mother had said, but the girl knows it's more. Mother has her telescope trained on a "star" that grows bigger each night. Why are they here? She thinks she knows, her mother is protecting her, but from what?
The author weaves the little tale of loss and loneliness between a list enumerating all the dangers in the little girl's new world in the desert. The author does a good job of building the story of the girl and her mother while using the list of dangers to show the girl's angst about living in a different environment. It was well done and has a nice air of suspense about it.
"Henry, Caesar of the Air, His Life and Times, or, The Book of Qat: Parts 1 – 5" by Lavie Tidhar (debut 7/23 – 7/27 and reviewed by Frank D).
The uturgurgur find a white giant of a man sprawled on the ground. They take the mysterious stranger to their village where he finally awakes. Henry is a man who has vague recollections of who he was – a man who once flew metal birds in the sky – but the memories are a like a dream, difficult to grasp and quick to fade. Like Gulliver, he finds himself in a strange place and he should beware because the land of Qat is filled with jealous and mischievous spirits.
"Henry" is a story adapted to a Melanesian myth. Henry is a WWII pilot shot down on Vanua Lava, an island in the South Pacific. He finds himself in a mystical world where spirits transform from man to beast. Henry falls for one of these spirits, the wife of Qat, Iro Lei. He will need to battle and blend in with the creatures of this world to fight for his love.
Lavie Tidhar is a very popular author. His work has appeared in almost every meaningful publication that features fantasy, and he is one of the favorites of the editors at DSF. "Henry" makes his 7th appearance for Daily SF, and it is the publication's first week long series. If any author deserved the honor of being a 'first', multi award nominated Tidhar would top the list. Clearly, he has an appeal to a large audience. Unfortunately, I am not one who finds his writing all that appealing.
I have been reviewing speculative fiction for the past three years for four different outlets. Lavie Tidhar is the author whose works that I have reviewed the most. My reaction to them range from lukewarm to meh. Usually, I find his tales have a fine craftsmanship quality to them, but the plots are, for the most part, incomplete. I have even passed some of his stories to my helpers, thinking perhaps it is all a matter of taste, hoping one of my crew would find the genius of his tales and show me the light. Alas, their reactions have been similar to mine.
"Henry" is a departure from his other stories. It is written as a mythology. According to his bio, Mr Tidhar lived in Vanuata, which is how he likely became familiar with the South Pacific myth. The story is laid out just like a religious myth, reading as if it was translated from an ancient and archaic language, much like how the first half of Tolkien's The Similarion is set up. And like a mythology, the tale lacks the intimacy to its readers that modern epics strive for. Everything is told from a distance, third hand, with glossed over descriptions to important details – battles, intimate moments, and such. It is difficult to get grounded into this tale, and often impossible to make heads or tails with what is going on. As a result, becoming invested in any of the characters proved to be too great of a task for me. I was grateful that the editors choose to break this up in five installments, I must say. Trying to take in "Henry" in one big bite might have been more than I could handle.
Clare yearns for a change in her diet in "Sweet as Peaches" by Shane D. Rhinewald (debut 7/30 and reviewed by Frank D). Her family lives on a constant diet of meat. At school, her friends will sometimes share their vegetables and fruit with her. Her parents can't afford things like celery and apples. So if Clare wants fresh fruit, she'll have to grow it herself.
The premise to "Sweet as Peaches" is based on an advancement in genetics. Meat is grown in a vat, quickly and cheaply, while the land to grow produce is expensive. Clare spends her hard earned allowance to buy a peach tree. As a child who was raised on a small farm, I could appreciate the trouble Claire had in trying to grow a peach. What she chose to do with the tiny fruit she raised made this tale one of the sweetest stories I have read on DSF yet.
Recommended.
"The Curious Case of Version 47.13" by Ekaterina Fawl (debut 7/31 and reviewed by Frank D). The protagonist to this tale is an android, a companion and servant for Jenny. He looks after her, in tune to her habits and whims. He is due for an upgrade to his software, but the version 47.13 has an error in it and now Jenny's poor android feels broken.
"The Curious Case" is a curious look at a future us. The android in this tale is something of a pet. It is loyal and concerned for its owner's well-being. The software upgrade it has installed has given it the equivalent of an anxiety attack. Like a pet however, part of the android's problem is Jenny's own anxiety and how it feels powerless to fix it. I found this story to be sweet and possibly prophetic.
Over Salad and Soup…
Recently, I was very fortunate to be in Jon Laden's neck in the woods. Since I didn't get the chance to attend Worldcon, we decided a nice lunch at a local Panera Bread would suffice. We had a delightful conversation, and Jon hand delivered an astounding book that I already read before it made print.
Not Just Rockets and Robots is a collection of Daily SF's first year of publication. I took the time to reread a few of my favorite stories when I got back to my hotel. For substance, the book cannot be beat. Most of the stories are short, perfect if you need a quick bedtime story to tell little Suzy (although, I would heed the warnings headlining each one if you do intend to replace it with Mother Grimm). I can't praise the content enough, and I would be redundant if I did so, but it wouldn't be review outlet if I didn't voice my complaints instead of keeping them to myself.
One thing I was sad to have seen missing is all the wonderful art. Aside from the cover, there are 11 months of brilliant and inspiring works of imaginative speculative scenery that didn't make DSF's first year collection. That is too bad because they were just as much a part of the publication as the stories were. I hope, if there is a year two collection, the next Daily SF to reach print won't exclude them.
And since we are speaking of a year two, I would like to see a different type of break up in the material. Not Just Rockets and Robots is presented just as the publication was debuted, chronologically as they were sent out. I would rather see a break up in genres, as they are in archived on the publications web site. NJR&RII (try to figure that one out) would be nice if broken into 11 'chapters' with an introductory work of art (from the year's collection) heading off the chapter. Stories fitting the art's theme (this could be tough) would follow. Of course, art work # 12 would be the cover of the book. I think mixing up the order of the stories would give it a refreshed look.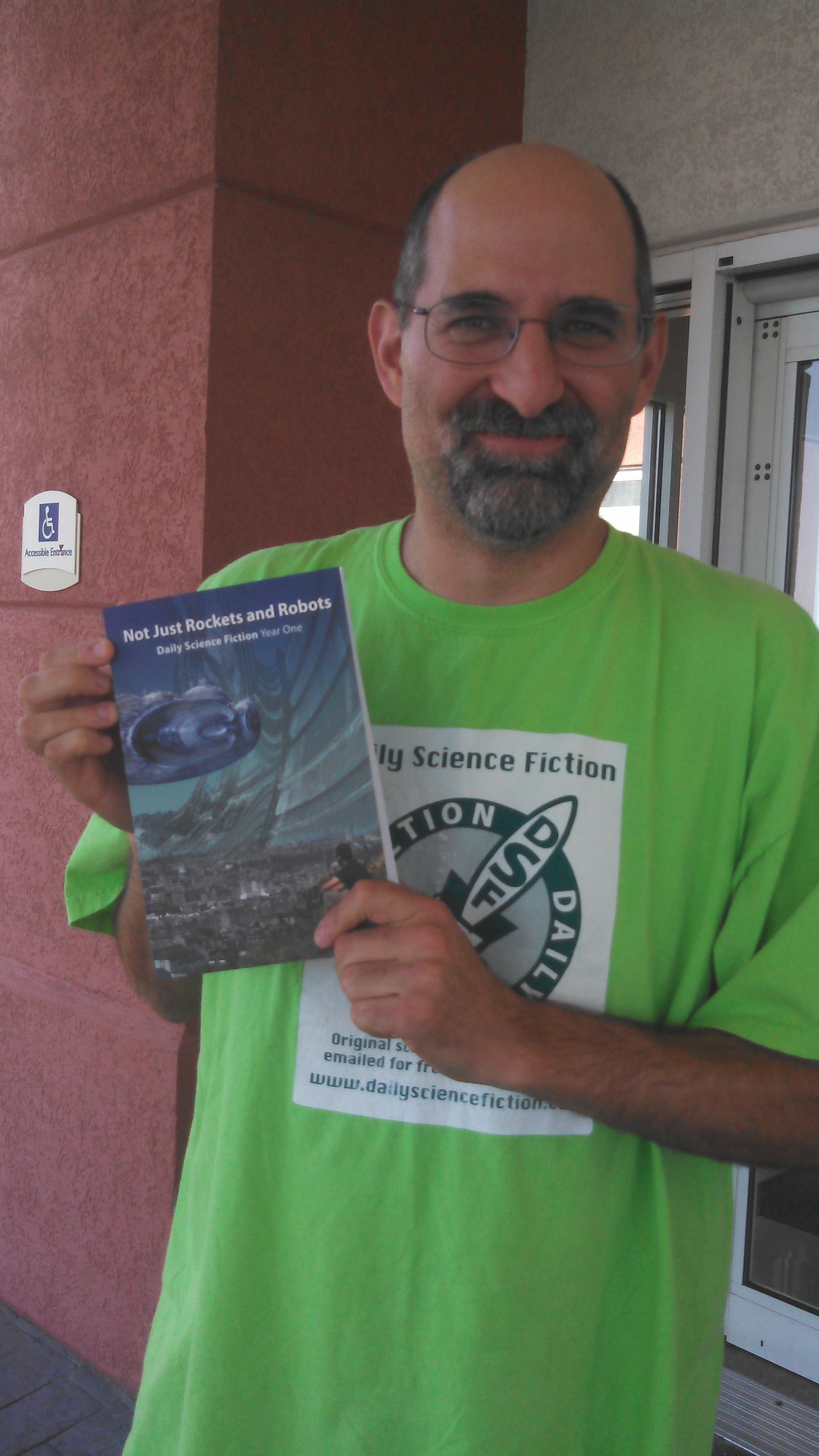 Jonathan Laden is one of the editors of Daily Science Fiction, publisher of the very heavy book you see, and the guy who created that very neat T-shirt. You can buy the book, but the shirt is the only one he has, at the moment. Bug him if you discover you can't go on with life without one.