A woman takes the subway most mornings. She wears bold, bright colours. She curls her hair. She is beautiful, smooth, and human, and her skin is flush with veins and her veins are flush with life. Bone Pile watches her go from its place in the storm drain, a backlog of washed-up parts and autumn leaves and trash. The woman always arrives when the hands on the clock across the street are pointing at certain angles. Some days Bone Pile is lucky and she walks past its resting place twice.
The woman cuts down the street in her high-heeled shoes and descends to St. Patrick Station with her blood-red lipstick and victory rolls. The flare of her skirts and the streak of her eyeliner remind Bone Pile of a bygone era, not that it knows what a bygone era is. But something about her feels like home. Like a place Bone Pile can still remember.
It has to meet her.
But in order to meet her, it must rebuild itself. For years it has rattled through gutters and drains, scuttling through tunnels and pipes to avoid the wary eyes of humans. To escape the glare of the sun. So few of its original parts are left, and it does not know where on its journey it even lost them.
Some time ago, Bone Pile tumbled down into this place, washed through gutter after gutter until enough pieces tumbled inside to lodge in this grate. This gave Bone Pile, for the first time in decades, a view to the outside world. The world has changed since Bone Pile walked alive upon it, and in what remains of its brain, Bone Pile attempts to reconcile the fragments of its memories with this too-new too-fast too-bright reality.
Bone Pile waits until dark. Then, with a shudder, it stretches free of the plastered wads of leaves and newspaper that have cocooned it to the storm drain's wall. The flaky stuff peels away, cracking, and with a creak and a flex Bone Pile uncurls. It is a slithering length of vertebrae woven through with old hair and garbage, curls of ribcage clinging stubbornly amid the mess. Its jaw flaps uselessly, the mandible swaying low and detached from what remains of its caved-in skull. Four cracked knuckles grip and twitch as it tests its strength.
Bone Pile needs another hand.
Out into the dark and silent street it sends its seeking ribs. Twisted together with knots of rotted cloth, its ribcage scuttles spider-like out into the night. Bone Pile watches it go. Each skittering step the ribs take saps more energy from Bone Pile until it slouches, exhausted, resting its cracked and battered brow against the concrete. Go, it tells its ribs. I will be here when you return.
Ribcage is careful as it creeps across the asphalt. It remembers the time it strayed too close to living eyes. The shrieks, the stomps, the feeling of being disarticulated and kicked to pieces by a frenzied, terrified human.
Discarded in a gutter, fabric shredded by the wind, lies an umbrella. Ribcage feels along its aluminium fingers, testing the strength of its joints. It delights at the spring and snap of the hinge mechanism that pops the umbrella open, the squeal of metal as it bends.
This will do.
*
Bone Pile strokes Ribcage with its remaining fingers after Ribcage drags the umbrella home. With patience, it peels the fabric into strips and binds its sagging joints. It assimilates the material, strains against it, testing the bounds of its supports. Cracking the umbrella's metal frame, breaking it down into its base parts, it sheathes metal rods into its skeleton, twisting them just so, sliding them up and in past rubber-band tendons and bottle cap joints.
Bone Pile curls against itself, nestling among the newspapers, and sleeps. Sleep will knit its new body together, and when it wakes it will be stronger.
*
For the next four days, the woman with the blood-red lips does not appear. It has been so long since Bone Pile was alive that it does not miss life, but it finds it misses her.
Over those four chilly autumn nights, Bone Pile prepares. It gathers more into itself: the cracked remnants of a push-broom make a serviceable leg, woven through with bungee cords salvaged from a dumpster. It can crawl through the pipes with ease now, broadening its search for new pieces, so that when the woman returns it will be ready.
At the bottom of a plunging sewer shaft, it discovers scattered metatarsals and the fractured halves of a kneecap. Bone Pile cradles the patella in its new, creaky-umbrella hand and wonders:
Was this a part of me?
It is now.
*
When the woman with the blood-red lips finally returns, Bone Pile shudders with relief. The hands on the clock say the right time now, and it now remembers what those hands mean: eight twenty. She is wearing a brilliant purple peacoat. The wool of it looks soft. Bone Pile longs to touch it. It drags its scratchy push-broom foot along the tunnel wall, rasping, and a thought occurs in the remnants of its mind: Her clothes are beautiful. Bone Pile needs clothes.
The clothes that find their way into Bone Pile's domain will not do. Their colours are drab, faded by sun and drowned in sewage. This far below ground, everything seems to end up brown. Bone Pile needs eyes that can see more colours than brown, so it gorges itself on rats and strings together a garland of their nerves, tiny eyeballs peeking every which way, and dons them as a crown. It can see in all directions now.
Come sundown, Bone Pile shivers up to the streets.
The best place to find human clothing is on humans.
Humans have hurt Bone Pile before, but it does not want to hurt them. It rasps its way free of the storm drain, levering slowly on its newfound joints until it can hunch in against itself, a protective crouch. There are no humans in sight.
Seeking with its many newfound eyes, Bone Pile comes across a human who seems to be resting. She leans against the door of a car, speaking loudly to someone unseen. She is wearing a charcoal-coloured raincoat and a plush blue plaid scarf. The wool of the scarf looks so soft that Bone Pile momentarily both remembers and misses what it feels like to have skin.
Bone Pile is certain it remembers how to speak. It will ask the woman for her coat and her scarf.
"TSSSSSSSSSSSSSS," hisses Bone Pile from its semblance of a mouth.
The woman looks up. For a moment she stares, as if she cannot quite comprehend what she is seeing, then she screams until she's out of voice. Bone Pile reaches out, an attempt to assure the woman that it means her no harm. Its fingers just barely touch the woollen yarn of that bright blue scarf and the moment of contact sends the woman into a spasm of motion.
Still screaming, the gurgling inner-workings of a human throat too complicated for Bone Pile, she thrashes free of those comforting hands and stumbles off down the street. She screams the word "MONSTER" into the glowing box she holds inside her hand. A voice rattles back, too far away to understand, and it sounds like the radio.
Radio. Bone Pile remembers the radio. Voices and music carried from far-away places to its waiting ears, ears that could once hold earrings and whispers both. Somewhere there's music, how faint the tune.
The scarf dangles from Bone Pile's fingers. It did not mean to scare her.
As it turns to shuffle home, Bone Pile catches sight of itself in the side mirror of the car. The tangled, tufted skull, the dangling toothless jaw, the coronet of eyes. Bone Pile needs a better face. It snaps the mirror from the car with a single twist of its umbrella-hinge hand and clambers downward, toward home. It thinks about radio as it collapses into sleep.
*
Radio wasn't always yelling voices that sounded far away. Sometimes, radio was the crack of a baseball bat and the sounds of thousands cheering. During the best times, radio was music.
Bone Pile feels ready. It does not internalize the word monster. It refuses. It internalizes music. Or perhaps it simply remembers. Les Paul and Mary Ford. The Tennessee Waltz. Elvis Presley. Those words rattle in its head like a handful of loose teeth.
The next time it sees the woman with blood-red lips, Bone Pile will say hello.
*
When it finally sees her, the shiver that quakes through Bone Pile is almost enough to dislodge a couple bottle caps. But it straightens itself out. It curls its fingers, digging at the wall in an attempt to soothe its anxiety. Nerves roil where its stomach might once have been. Fluttering blinks strobe down its crown of eyes. Bone Pile adjusts the scarf about its throat, covers its half-hinged jaw, and takes a moment to trace its bony phalanges over its newly-acquired face.
Bone Pile shuffles to the storm drain, watching the woman's feet. Today she is wearing neon orange heels that click-clack pleasantly with her every step, and the sound of it is music to Bone Pile's sensory organs.
It seeks its feelers out through the grate to greet her.
"TSSSSSSSSSSSSS," hisses Bone Pile.
The woman keeps walking. She doesn't even look down.
She walks right past the grate as if she hadn't heard a thing.
Something cracks in Bone Pile's chest, near where it has built itself a sternum from an old bicycle seat. Bone Pile remembers this part of being alive: the sting of rejection, the cold creeping loneliness of going unnoticed. Of trying and being ignored.
Bone Pile needs a voice.
*
Bone Pile finds its voice in a human's purse. A couple of them sit, drunk, on a curb. They're mashing their mouths together, hands wandering places that hands wouldn't have gone in public back when Bone Pile was a human, and frustration tightens the hitches of Bone Pile's bungee cords and whistles through its empty throat like steam through a kettle. It surges at them, wailing, frustrated, but the hollow tube of its debris oesophagus merely hisses air.
"TSSSSSSSSSSS."
Horrified, screaming, the humans stumble away in such a hurry that they leave all their belongings behind.
Bone Pile sinks atop the things they've left, subsuming them. It feeds on half-finished hamburgers left in two brown paper bags: meat and carbohydrates and paper, a rich feast of proteins. It gropes its human bone fingers through the woman's handbag, exploring the interior, the many shapes inside that are familiar yet not.
Down the pipes, lurking out of sight, Bone Pile weaves itself a set of vocal cords from dental floss. It jingles a set of keys in its umbrella-claw fingers, remembering what keys felt like in a human appendage. Keys lead to places. Keys open things.
Bone Pile remembers walking through a door. A man was waiting on the other side. Bone Pile was so excited to meet him. A stirring of excitement it has never felt for anyone but the woman with blood-red lips.
Bone Pile may be a monster, but more and more these days, it remembers when it was not.
"How high the moon… is the name of the song… how high the moon." Bone Pile sings, the minty fresh twang of its dental floss voice like the crunch of dry leaves underfoot.
*
Bone Pile cannot work up the nerve to sing to the woman when it first sees her. Too much morning. Too much light. Too many others that might see. It lets her walk past. If she takes the subway home that evening, today will be the day. Something inside its dregs gives a nervous quiver and it shivers up from the storm drain and down a nearby alley, waiting.
The sky has long since grown dark when Bone Pile spots the woman once more. She walks up from St Patrick Station in that brilliant purple coat again, and before Bone Pile can contain itself, it's jingling the keys to get her attention. Its hand trembles, eager, and she jerks her head toward the sound.
From aboveground. Bone Pile can see all of her. She is more than beautiful–she is colour and sound and life. From the click of her heels to the red of her lips, she's like a glimpse into a past that Bone Pile only just now understands it had.
"H-hello," Bone Pile whispers.
The woman squints. She can't quite see into the alley, recessed from streetlamps as it is. She takes a couple steps forward. Bone Pile shivers. Please don't let her be afraid.
"Is someone there?"
Bone Pile has not had a human conversation in forty years. Bone Pile was never good at conversations to begin with. It remembers tense afternoons at home, silently working in the kitchen, praying its husband would keep to himself. Bone Pile had a husband.
"I'm here," it wheezes. It reaches for her. Reaches for a vision of itself that it had forgotten.
Oh no. No. She's screaming just like the others. Bone Pile stammers, shuffling back–it knows not to chase her, even as it aches to reassure her. The woman parts her blood-red mouth but no sound comes out. Her soft-looking skin goes pale.
"Please," Bone Pile stammers. "I won't, I won't, I won't—"
But by the time it says "hurt you" she has run off down the street. She screams more, and each scream twists through Bone Pile like a knife. Bone Pile remembers in an abstract way that it knows exactly how it feels to be stabbed. How it had real organs once, and under the right hand they shredded so easily.
Slinking, dejected, back toward home, Bone Pile does not look up. It does not realise the woman's screams have drawn attention.
"What the fuck—" A human man stands there in the alley's mouth. Bone Pile has run right into him. Either he is not so scared or he channels his fear in a way the others do not, because instead of running he charges.
Bone Pile is swept off its feet as the man tackles it to the ground. The impact is shattering. Knucklebones rattle away along the sidewalk. Bone Pile's rat-eye crown slips sideways and it goes blind.
The man strikes at it by reflex and when his fists collide with Bone Pile's body, parts fly free in a shower of detritus. The bicycle seat tumbles free of Bone Pile's chest. The dental floss frays. With a horrified groan, Bone Pile attempts to wriggle loose. The man seems to realize what he's just put his fists into, because his voice rises into a shrill wail of terror too, and for a moment he and Bone Pile are screaming together.
He swings again and this time his fist connects with Bone Pile's shiny new face, the special face it built just for today. The glass of the car side-mirror shatters. Blood erupts from the man's knuckles. He jerks back, stunned, and this is when Bone Pile can make its escape.
Lurching sideways with all its might, Bone Pile tries to drag itself toward the storm drain. Its legs are tangled with the man's, so it twists the remnants of its spine and leaves them behind. The push-broom clatters lifeless to the ground.
Shivering uncontrollably, its consciousness made animal by fear, Bone Pile retreats into the darkness of the sewers. So far from many of its parts, it grows sluggish. It can no longer see the same way that it could, missing its borrowed eyes. It feels its way deep into the dark and settles into a pool of putrid water. The flow of sewage seeps through the hole cracked in Bone Pile's skull and it misses the woman and it misses its life and every action comes slower than the last.
Bone Pile is so, so tired.
*
It is a crisp spring morning, the last grasp of winter not quite having let go. Kelly Chabot stands with her hands in her pockets, staring down the mouth of an alleyway. It leads to the back of a beauty salon. Apart from a dumpster and the cracked and broken remnants of an old broom on the ground, there isn't much to look at.
She knows exactly how many days it's been since she saw the creature. And it was a creature, she tells herself. She's certain. One hundred and forty-nine days ago, a creature tried to lure her into this alley to…
To what?
That's the part she can't answer. She was certain it was going to kill her with those gnashing metal claws. And the smell. The smell…
But in her dreams she hears its voice. How afraid it sounded. How if anything it sounded like it was pleading with her. How the whole incident had started with a meek and gentle hello.
She took a different route to work for the longest time, but now in the spring sunlight she feels like she can face this place again. And there's nothing sinister about it at all.
Stepping out of the alley, she looks up and down the road. Sparsely populated this time of day. She turns a look across the street. The bank across the way sports a squat little clock tower which informs her it's one in the afternoon.
While her eyes are occupied by the clock tower, she trips, foot hitching on a lip of concrete on the sidewalk. She catches herself, arms akimbo, and looks down by reflex.
There in the gutter, the shards of a shattered mirror reflect her wide eyes and her startled, open mouth. Just as that same glass reflected her face when embedded in the horrifying, guts-and-garbage body of that thing. Kelly staggers back from the storm drain, far enough away that she's out of ankle-grabbing range, but now that she's come all this way she can't not look.
She crouches down, cautious, cagey, creeping forward a little at a time and peeking through the half-rotted grate. Then she sees it. She recoils in disgust when she spies a snapped-off piece of what can only be a human jawbone tangled in the leaves and trash.
Kelly does the right thing. She slips her phone out of her pocket and calls the police.
*
It's doubtful anyone will ever figure out how Ingrid Martel died, but at least they found enough teeth to identify her by, even if it took almost a year.
Kelly stands outside Batham and Sons Funeral Home in Five Points. There are few cars in the parking lot and the elegant wooden doors are propped invitingly open, as if in silent supplication to passers-by. A plea to fill the pews, to not let this woman's final procession pass through an empty room.
Ingrid Martel doesn't have many living relatives. The daughter who submitted her missing persons report died back in ninety-nine. And the more Kelly thinks on it, the more she supposes that even being blood related to Ingrid might mean little to people these days. She vanished so long ago. None of the people inside this building ever met her.
And Kelly doesn't know her either. So why is she even here?
She can't explain it. The strange tug she feels in her stomach when she thinks back to that night in the alley, the gleaming metal hand outstretched toward her.
She wants to look inside. She imagines the interior of the funeral home, all warm-toned wood and tasteful flowers. Lilies, maybe. She imagines a portrait of Ingrid in a glossy wooden frame: a blond-curled beauty with a gentle smile and shy eyes. She imagines all this while standing on the street outside because she can't bear to take that first step through the door.
When she closes her eyes, she sees a hand outstretched toward her own. A hand of snapped-off mangled metal and garbage. It is crazy—it is absolutely stark raving bonkers—to think that Ingrid beckoned her into that alley somehow.
Yet when Kelly steps into the parlour, she can't stop staring at the coffin. She imagines the bones inside, wonders just how many the police had found.
She wonders whether they are truly inert.
---
© 2020 by Andrew K Hoe by Casey Lucas
Author's Note: The original draft of this story came to be when I was bedridden after a sudden illness. Though it's ostensibly a story about a weird sludgy trash monster, it was born from my experiences of how odd it felt to move through the world with a newly-acquired autoimmune disease, how nobody seemed to see my body for what it was. Putting on the right clothes and makeup seemed to be enough to completely fool the world, to cloak the reality that my body felt like a handful of disarticulated parts that weren't working in tandem with one another or functioning properly. When we experience distance from our own bodies, it can be as frightening as something violent befalling them. I've since grown into my newly-disabled body and learned to work within its limitations and appreciate that it isn't lesser or undeserving of dignity, but those first few months were strange and alien and terrifying and writing this story was one of the first steps toward catharsis.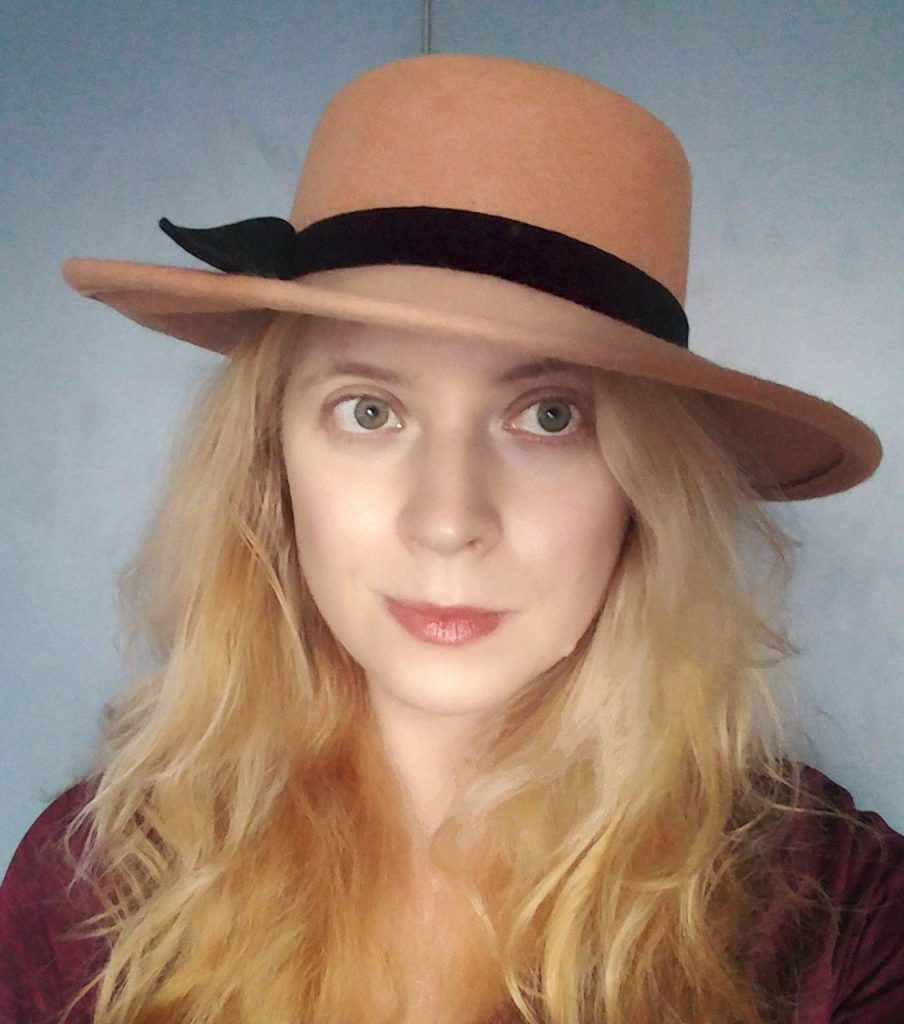 Lucas made the shortlist for two 2020 Sir Julius Vogel Awards, New Zealand's highest honour in science fiction and fantasy writing. She took out the win for Best Short Story and her web serial Into the Mire was a finalist for Best Collected Work.
website – www.intothemire.com
twitter – @CaseyLucasQuaid 
---
If you enjoyed the story you might also want to visit our Support Page, or read the other story offerings.