written by David Steffen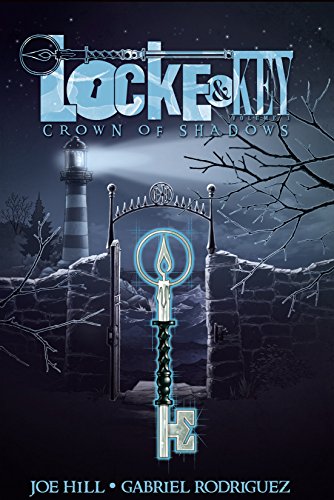 Locke and Key Volume 3: Crown of Shadows is a collected group of comics written by Joe Hill and illustrated by Gabriel Rodriguez and published by IDW publishing. The individual issues that make up the collection were published between November 2009-July 2010. Volume 1 was previously reviewed here, and Volume 2 reviewed here.
As told in the previous books, the Locke family: three kids (Tyler, Bode, and Kinsey) and their mother, move to Lovecraft, Massachusetts after the murder of their father by a couple of teenagers. One of the teenagers, Sam Lesser, escaped from a mental institution and followed them to Lovecraft to try to kill them again, with the assistance of a powerful but mysterious supernatural entity that is connected with Key House, the family estate in Lovecraft.
Key House has a lot of secrets, many of them taking the form of magical keys with incredible powers. More and more of them have been turning up, both to the kids themselves and to the entity that opposes them. It's a magical arms race with high stakes, where their enemy is more powerful and knows all the rules.
The series continues to be riveting, creepy, and fun. Highly recommended!