Content note (click for details)

Content note: domestic abuse
In my earliest memory, my mother folds in half. It couldn't have been her first time. She was already so small by that point, so diminutive, that it's hard, even now, to imagine her big, unfolded to her full size, giving birth to me. It was not her first time, and probably not even the first time she folded in front of me, but it is the first time I remember, and it happened when my father hit her.
I am six years old, sitting backward in a chair, watching between the spindles as my father takes a swing at her. Or tries to, the drunken bastard. He throws a wide right that turns the kitchen tiles into mortars, his fist into a pestle. The left arm, holding a handle of whiskey at length, acts as his ballast, keeping him upright as his body teeters like a wobbly top.
His fist crashes toward her. She ducks and covers, like a child in an Atomic Age cartoon. Instead of crawling under a desk to hide from my father's bomb, my mother folds. Her forearms melt into her shins. Her hips roll up and sprout arms from their sockets. Her head rises from the floor to sit on her new shoulders, which she still hugs close to her neck. In a moment she is half the size of the woman my father tried to hit, and so he misses.
The swing drags him forward into the laminate kitchen counter, where he pauses, panting, wide-eyed. He turns over his shoulder to stare. I'm not sure that his booze-addled brain could make sense of what had happened. He stands up straight and takes a long swig from the bottle, never breaking eye contact with her.
Her whole frame trembles as she gazes up at him. Even when he slams the door to their bedroom, she remains taut as a piano wire. Not until we hear specters from his television cry out through the wall does she sag and collapse a little, into herself.
I am not surprised, in this memory. I think I already knew, at that point, that women could fold themselves into forever smaller shapes.
It was a hot topic in those days: to fold or not to fold. Unfolded women intimidated male interviewers. Folded women had trouble climbing stairs and using public toilets. Almost every day, tabloid shows interviewed folded women who had been assaulted by their bigger and stronger children—often boys, but sometimes girls.
You could go almost your entire life without meeting an unfolded woman. Pregnancy necessitated a certain amount of upsizing, and childbirth demanded complete unfolding. Almost no newborns were folded, and no one wanted to imagine what would happen if a folded mother gave birth to her unfolded child. You heard rumors, of course. Many stores did not stock folded clothing sizes in their maternity sections, because they feared the campaigners who might boycott them for encouraging unhealthy behaviors and body standards. No one mentioned the magazines, the ones with cover stories about postpartum celebrities who were already back to their shrunken, idealized selves.
Childbirth aside, it was preferable for women to remain folded for most of their lives. Tiny brides were all the rage then, although the exact, en vogue size changed often. I have a distinct memory of a wedding tape, played on one of those funniest-video shows, in which a husband pretends to eat his bride, who is no bigger than a jewelry-box ballerina. It got a lot of laughs.
At some point, I'm not sure when, I swore that I would never fold myself for anyone. It might have been when I saw my mother trembling on the kitchen tile, or maybe when the toy bride appeared to disappear behind her groom's teeth. I didn't know what it meant to fold or unfold, not really. All I knew was that I didn't want whatever they had. It sat wrong with me, like when you interlace your fingers but put the wrong thumb on top.
And then it happened. I never planned it. I don't think anyone plans out the day they will diminish themselves. I broke my promise to myself in the way that we break all such promises. Long before we swear that we will never be like our parents, we hold ourselves to other standards that we haven't yet realized are impossible to meet. Remaining unfolded was one of them, at least for me.
My father was dead of sclerosis by then, and my mother had folded herself for other men, until she was the size of a walnut—a Thumbelina of the city. We lived in an efficiency apartment big enough for unfolded people, which was expensive in the city at that time. She never said anything, but we both knew that we could improve our financial situation if we—if I—could fit into one of the micropartments available a few blocks away: the provenance of single moms and daughters.
Maybe that's why I did it. Or maybe it was just time for me to fit into spaces that no longer accommodated my full-sized self.
It happened on the train. I sat next to the door, four stops from home. He had been staring at me from one end of the car for the last six stops, but I was too afraid to leave the safety of the train. It was a long walk home. I had no chance of making it, not if he followed me.
I waited, and so did he. I gritted my teeth and prayed to every god I knew for protection. It did not help. The only other passenger got off two stops before mine, leaving us alone together in the car.
We were so close to the next stop when he began stalking toward me that the train's braking threw him into me. I don't know if I screamed. I couldn't feel my body. He steadied himself, propping one ursine arm against the tall shaft of a rail, swinging the other toward me like a grappling hook—palm open, fingers clawed.
I panicked, threw myself backward toward the railing, and folded, not once but twice, as I slipped through it. I joined my limbs as I once watched my mother do, and then twisted to fold one side into the other. For brief moments, I was a column of a person: a scepter with my bowed head in place of a gem. Then my body split apart again into new arms and legs.
The doors opened behind me and I bolted, leaving the man just as bewildered as my father had once been.
Everything burned—not hot like an iron, but sharp, as if a thousand tiny paper cuts had been made along the seams of my body. It hurt, this folding, and I realized that, despite all the media buzz, no one ever talked about the pain.
*
It hurt, but I lived. Diminishing myself was the price I paid to not be accosted by strange drunks on the subway. It pleased my mother, in a sad way, because my double-folding put us two steps closer to a micropartment. Survival was the trade-off for pain.
Before downsizing could happen, though, I needed to fold again. The next time was seven months later. Picture a bodega, robbery in progress. I hid behind an endcap of Manischewitz and MD 20/20, praying no one had seen me yet, and I folded, just once. I could always fold again if I needed to crawl beneath the shelves, but once was enough to condense the bulk of my body so that it didn't show around the corners of the aisle or between the gaps in the wine bottles.
I lived again, and again received that same mixture of radiating sadness and hope from my mother, who had ceased to look so tiny to me. I needed to fold at least once more to fit into the micropartment. Maybe that was why the next time came so soon.
Three months later, the robbery remained unsolved. I was walking home late at night, bringing milk and bread from the market. Maybe it was because I was only a few blocks away from that bodega, because I was alone, because the robber was still out there. I can't say. But I heard footsteps behind me—heavier than mine and just out of sync—and when I tried to speed up on my shortened legs, the footfalls trailing me only grew louder.
I dove into the next alleyway, folding myself to fit behind the dumpster. My heart pounded in my ears as I waited to face my assailant, but my pursuer—if they even existed—never came to the alley. The footsteps faded off in the other direction, leaving me alone.
I slid out into the alley, slick with foul grime. I left the now-too-heavy milk behind the dumpster and cradled the bread, looking for all the world like a small child holding its new sibling. When I walked through the door, my mother hugged me tighter than she ever had before.
We were approved for a micropartment the next week.
*
The Internet made the Unfolding possible.
I came from a generation of compulsive bloggers who poured out their hearts to nobody in particular on LiveJournal and Tumblr. YouTube made everyone feel like a star. Things that we'd once spent years whispering about were confirmed at full volume, and with increasing regularity, in grainy 270P. In addition to videos of police brutality and child abuse, we began to see people unfolding themselves.
At first, it was just candid bystander videos. Someone would whip out a camera phone to film a man harassing a folded woman and wind up capturing footage of her unfolding. It looks nothing like the process of folding. She becomes twice her size in every dimension, globbily at first, then smoothly. She yells, her voice louder and deeper now that she's of a certain size.
Women—mostly young and pretty ones—took over the blogosphere with messages of "conscious unfolding," the precursor to the capital-U Unfolding. People called it a movement, lauded and vilified it.
A consciously unfolded person did not wait for harassment or abuse before they decided to grow larger. They took up the full amount of space their body was allotted from birth. Unfolding was about reclaiming the space they had once given up for safety or acceptance.
The media labeled some of the unfolded as frauds, mostly the idealistic teens who lived in micropartments, who unfolded in train station restrooms on school-day mornings and shrunk themselves down again before going home at night. Or the actors who unfolded for the red carpet but folded for roles. Then there were the actors who didn't fold for roles, but looked as if they did, thanks to cinematographic trickery. The women who folded for work every morning. The sex workers who folded for clients. The sex workers who unfolded for clients. Everyone was suspect and no one was pure.
But more of them unfolded every day. To fold, to unfold—these became political decisions. Perhaps they always were. My mother and I could not afford to unfold, which was a different matter of politics.
We were still calling it "conscious unfolding" when the real Unfolding happened. The first person to do it was a nonbinary teenager named Tash. The authorities would never identify the cameraphone's owner, but he, or someone close by, could be heard saying, Tash is gonna get it.
Tash was not, in fact, gonna get it.
Fourteen-year-old Tash Clemmons had never folded, not once. But when three older boys came at them, promising violence, they Unfolded. It wasn't supposed to be possible, and yet it was. They stood eye-to-eye with the tallest of their attackers, fists clenched by the hem of their shorts, holding their ground.
The boy paused before swinging his bookbag at them. Tash deflected the blow and Unfolded again. Then, looking down on him, their voice booming, they said something, one thing, something we realized then that they'd been saying all along, ever since the camera started rolling: Leave me alone. Get out of my face. Leave me the fuck alone.
Tash's attacker was arrested for assault, but the charges were dropped. They did the news media circuit to talk about how they planned to never fold themself back into their original, 5'4" frame. They said they were 7'2", and doctors confirmed it. They said they had scholarship offers from colleges, positions on the basketball and volleyball teams at their school. Officials confirmed that, too. Some people called them a monster. Some called them an inspiration.
And so the Unfolding began.
It was the teenagers first, just as it had always been. They pulled themselves apart, pushed the limits to see just how large they could become. Rumor had it that one girl in New Delhi was able to walk across the city in ten steps, but there were no videos to prove that she existed.
The old ladies were next. Women whose wrinkles became the size of subway tunnels when they stretched themselves out. Women whose backs were still bent, even at eight or nine feet tall. Grandmothers whose grandchildren clapped when they grew larger. Old, Southern women who Unfolded as a party trick to step up into their great-grandsons' lifted trucks with ease.
Some countries tried to outlaw it. Doctors were paid to debate its safety on television. Some states warned that Unfolding could affect fertility or increase the risk of cancer, but there was no evidence to support either claim. A bald TV psychiatrist asked one teenager what she got out of being called a monster. She told him: Power.
The men complained, as they always did. Could you really charge a husband with domestic violence, one lawyer argued, when, sure, he hit her, but then his wife exploded into an eight-foot-tall harpy, smashing an egg pan against his skull? Could it truly be called self-defense then? The Unfolded argued that the very act of growing larger was an act of self-defense. They lost many cases. Then they began to win.
Micropartments gave way to macropartments gave way, eventually, to mixcropartments. The Unfolded lived with their original-sized and folded roommates in areas built like nesting dolls, growing larger from the ground up. It wasn't unusual to see an Unfolded person climb over buildings or step around traffic jams to drop their folded friends off at work or school.
I was still very small when I signed the lease on our mixcropartment. The woman who handed me the pen cup had fingernails taller than me. She smiled, teeth long as piano keys, but it was a warm smile, and full of hope. I thanked her and grabbed my purse—that purse, for the last time.
I would need my mother to open it for me at home. It was about to be too small.
I stepped outside, in the fresh air of the autumn morning, and I stretched
out
wide.
---
© 2021 by K.W. Colyard
2500 words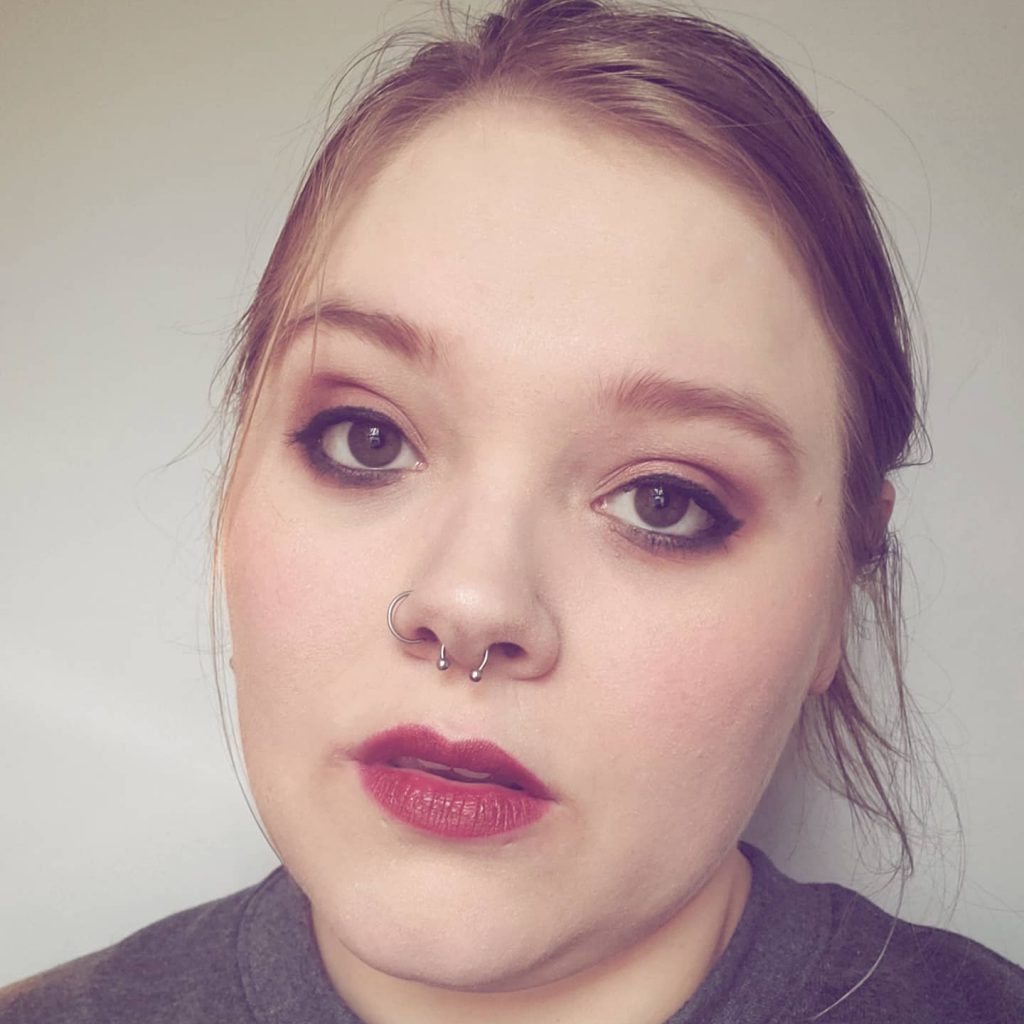 Kristian Wilson Colyard grew up weird in a one-caution-light town in the Appalachian foothills. She now lives in an old textile city with her husband and their clowder of cats. Her nonfiction has been published on Bustle and Tor.com, among other places. She's on Twitter and Instagram @kristianwriting, and you can find more of her work online at kristianwriting.com.
---
If you enjoyed the story you might also want to visit our Support Page, or read the other story offerings.