Dear Editor,
We would like to thank the Reviewers for their, as always, insightful comments and you for submitting our paper to a third round of "blind" peer review—a rarity for the Journal of Molecular Magecraft! How fortunate that such an excellent team of biologists and Magi have dedicated their no doubt highly sought after free time to subjecting our manuscript, out of dozens accepted by your journal daily, to special scrutiny. We have addressed the Reviewers' concerns on a point-by-point basis below.
Response to Reviewer 1
1. We have duly cited your the indicated study and apologize for our omission.
2. We would like to emphasize that the aforementioned study only demonstrated efficient Draconification in mice. Humans treated by the previous DNA modification spell only manifested secondary Draconid features, i.e. claws. In contrast, our Draconification incantation (which included both genetic and epigenetic components) resulted in complete homeosis of our human subject. In particular, this included spontaneous growth of wings from scapulae (Fig. 4a), transformation of the germline into fire-producing organs (Fig. 4b), and overall growth (Supplemental Video 1). Therefore, our manuscript does not represent, as the Reviewer seems to suggest, a merely incremental advancement in the field.
3. Even if our manuscript is only an incremental advance, the publication of the aforementioned study, with all its limitations, in Magica journal (average number of article citations: 40.33) demonstrates that our study is more than worthy of being published in the Journal of Molecular Magecraft (average number article citations: 11.01) even if the corresponding author is not a Nobel laureate like the author of the aforementioned study.
4. We apologize for and have corrected the typos. The corresponding author takes responsibility for these mistakes. Unfortunately, typing has become much more difficult for the corresponding author as of late.
5. Unfortunately, we are unable to address this point as we are uncertain of its intent. We are aware of the whereabouts of the corresponding author of this study. She is one of the co-authors of this rebuttal. That last comment was entirely unnecessary.
6. The increased shipment of livestock to our Institute is entirely irrelevant to the goals and aims of our study and does not need to be explained to the Reviewer. Again, we have the situation under control. [Zu can u PLS c0nvince I.T. t0 c0me d0wn t0 my new 0ffice I kn0w its a trek but the damp/c0ld is g00d f0r my migraines –JD]
7. The Reviewer displays alarming Draconist tendencies in this comment. We would like to remind the Reviewer that Draconids do not frequently exhibit hoarding behavior and in fact this is a common misconception arising from Western legends of antiquity, cast, as is typical, through a lens of systematic bias and exploitation of magical beings. In special cases, a Draconid may cherish an especially undeserved and coveted possession and remove it from its owner's grasp for a limited amount of time. But even in this case, the Reviewer's Nobel Prize in Magecraft or Medicine is in no danger of such attention.
Response to Reviewer 2
Response to Major Concerns:
1. n=1 for all experiments, unless noted otherwise. We are aware that such a small sample size makes analysis difficult. Nevertheless, we have consulted numerous statisticians and oracles to ensure our interpretation of the data is as robust as possible. [Zu put a pl0t here t0 make this c0nvincing. –JD] Unfortunately, we were not able to find additional human volunteers willing to undergo the Draconification procedure in the limited time given for revising our manuscript.
2. Our Draconification protocol is completely reversible and any other presentation of the facts is blatant fear-mongering. However, we have added the requested supporting experiments to Figures 1, 4, and 5. If the Reviewer is still unable to appreciate that the results are thoroughly supported by the data then we advise the Reviewer to take download the raw data we have uploaded to the GEOMANCER public repository and shove it analyze them using xir own custom pipelines.
3. We can ASSURE you the Draconification protocol is reversible for reasons totally unrelated to the corresponding author's last minute cancellation of her talk at the Immortalization Session of the 2021 Eternal Spring Harbor Laboratory Meeting last month. We resent the Reviewer's implication that we are censoring data in favor of publishing our results 'on the court of public opinion', e.g. antagonistic Tweets at 2 a.m. [seri0usly when d0es xe find time t0 run xir lab between all this s0cial media? –JD]. We note that it is highly ironic that Reviewer 2 feels the need to lecture us on ethics when xe felt the need to forensically dissect the deep sequencing data of our subject and point out its epigenetic consistency with that of a 46 year old biological female of Eastern European ancestry subjected to high amounts of stress such as being scooped by a shoddily put together manuscript whose only merit is its sheer number and idiocy of mouse experiments. It is extremely inappropriate to compare this signature to the medical history of the corresponding author. We respectfully point out that millions of people live in the Greater Boston area (with millions more preferring not to live in the Greater Boston area and commute via portal). Thus any similarity between the Draconified subject data and any persons the Reviewer xe is familiar with, real or imagined, is entirely coincidental.
4. We acknowledge that it may appear, to the untrained human eye, that the time course in Figure 3 shows acceleration of the Draconification process in the subject in terms of claw/tooth length, scale coverage and, indeed, total lack of human features at the penultimate time point. [Zu did u get the new RNA-seq data d0 u think a repressi0n spell f0r the magically m0dded DNA may be viable? –JD] However, analysis in Supplemental Figure 7 shows that these changes are not statistically significant. The Reviewer does NOT need to remind the corresponding author of the 1945 Runestone Convention on Transmutation, vis-à-vis the Accord that humans not be transmuted for frivolous or combative purposes (with the exception of treatment of otherwise intractable disease and internationally beneficial scientific advancement). A violation has not occurred here. In any case, the corresponding author definitely values ancient agreements made by out of touch Magi over real-life, pressing, matters, such as timely publication of any manuscript instrumental to a successful-tenure evaluation.
5. It is completely inappropriate to bring up incidents that may or may not have occurred at a conference decades ago in a professional scientific review. There are no witnesses.
Response to Minor Concerns:
6. We have added the requested Western blot control (see Supplemental Figure 8e).
Response to Reviewer 3
We are sorry that Reviewer 3 was unable to comment on our edited manuscript due to tragic, unforeseen circumstances. We would like to point out that independent investigators have found no link between Reviewer 3's injuries and the whereabouts of the corresponding author, and that anecdotal accounts of a particularly large Draconid flying over the Boston Helioport district are entirely coincidental. In any case, Reviewer 3 was left mostly unharmed by the incident and his airship definitely not funded through ill begotten grant money suffered the brunt of the fire damage.
We hope this rebuttal has sufficiently addressed the Reviewers' concerns and look forward to your timely response regarding the status of our manuscript. Above all, we trust we have made it clear that it will not be necessary to send our manuscript back to the Reviewers for further comments. In any case, regardless of your final decision, the corresponding author looks forward to meeting you in 'person' at the International Congress of Organic and Magical Beings next week!
Best Regards,
Dr. Jane Dráček, corresponding author
Assistant Professor, Department of Chromatin Engineering
Massachusetts Enchanted Institute of Magitechnology
Zu Heiko, first author
PhD program in Alchemical Biology
Massachusetts Enchanted Institute of Magitechnology
et al.
[Zu pls fix typ0s and fig margins remove auth0r c0mments ESP THIS 0NE + send t0 editor. als0 PLS can u ask I.T. t0 come t0 my 0ffice an install Illustrat0r agin. sry for n0 0's. br0ke new keyb0ard. damn claws. -JD]
---
© 2021 by Andrea Kriz
1300 words
Author's Note: In academia, it's typical to send research papers to journals where they undergo blind peer review. After the reviews are returned, the authors are given a chance to respond to reviewers' comments, which can help the journal editor decide to accept or reject the manuscript. While these peer reviews and responses have historically not been published, there has been a recent movement to do so to make publishing more transparent. Reading some of these, as well as going through the process myself, it struck me how much of a story is often apparent from the peer reviews themselves – completely apart from the science. Academic rivalries can rear their heads, research fields can split apart, and even entire careers can hang in the balance. As a scientist, I also wondered how researchers would study magic with the scientific process if it existed in our world. Especially, how would these magic researchers get their papers through peer review? What kind of extreme experiments might they be pushed to do in the name of novelty and getting published? The answer is, of course, absolutely none and there is nothing wrong or suspicious about the peer review and response above 🙂 [this is the version with track changes and comments removed right???]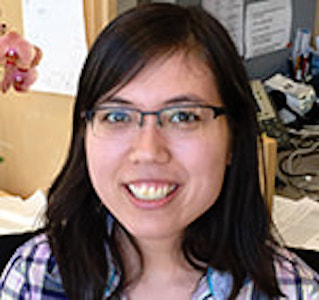 Andrea Kriz writes from Cambridge, MA. Her stories are upcoming in Clarkesworld and Lightspeed and have appeared in Cossmass Infinities, Nature, and Interstellar Flight Magazine, among others. Find her at https://andreakriz.wordpress.com/ or on Twitter @theworldshesaw.
---
If you enjoyed the story you might also want to visit our Support Page, or read the other story offerings.