It began as a hotel: from a popular chain that was striving to meet its burgeoning demand. All day and night, nanobots worked in silence, taking in raw construction material to turn into a constant stream of tastefully-furnished rooms. New guests could walk down a hall and watch their room materialise over the ground. Like magic, they said, awe dancing in their eyes. It was like magic.
And the rooms! They were exquisite, sourced from a database of the most luxurious hotels from human history, analysed and reconfigured in pleasing permutations far more quickly than any mortal architect could manage. Guests exuded joy or disappointment over each feature, and the algorithms learnt, and their work improved, and each new room was more breathtaking than the last.
So the hotel grew. It spread rapidly to cover its plot of land, rising many storeys high and deep, and when it first encroached beyond its legal borders, the officer who came to enforce the warning could not find the heart to condemn any part of its magnificence to destruction.
He chose to stay—just one night, he said, and they put him up in a room of wine-dark wood with a porthole looking out upon twilit cityscape. He sat on the bed in the blue shadows by the porthole, the golden-pink glow of traffic below, and he felt the weight of a weary lifetime lifted from his shoulders. Tears slipped down his cheeks. Here, at last, was rest; rest more complete than he had known possible.
They did not find him the next morning.
Nor would they find the many others who escaped into the endlessness. Tourists, reporters, staff and homeless nomads; the hotel stirred something deep in their souls. It felt like the home they had been searching for all their lives. They missed flights and overstayed visas, and spent days wandering the hallways with bright aching in their hearts until they could no longer remember the way back out. Some distantly recalled an outside world with family and friends. Later, they thought, distracted perhaps by the elegant curves of a headboard. I'll call them later, later, later. But they would forget, and those other people begin to seem a distant, unreal thing. This is a dream, they thought, not entirely as an excuse. Or, that other world was a dream.
It was difficult to tell the difference. Many hotels are formed from dreams. It was difficult for the officer to tell the difference, awaking as he did in the dark of night with the burning knowledge that he had to stay, had to find a way to stay in this encompassing peace that told him he was home. He stumbled out of bed, silken sheets kissing his skin as bare feet met soft carpet. What spare belongings he had brought for the night lay forgotten in the locker as he pushed open the door and looked out upon the empty midnight hall.
It was silent. The grand oak-panelled walls rose around him, inviting him deeper into the intimacy of their shadows. The warm glow from wall sconces played across his face and he stepped out, an irrepressible joy bubbling up inside him as he broke into a run. This was home. He was home. He was free.
The officer laughed. He wiped his tears away and kept on laughing as he ran, giddy with freedom, weeping with relief. Never again would he have to go back to that other world; never again to the mind-numbing grind, to his lonely apartment in a lonelier city, to the bitter frustrations of society, to the secret dark places in his mind. Never again. His body hurtled past hallways of doors as the walls changed from oak to marble inlaid with golden filigree, to intricate bronzed lattice, to a horologist's fever dream with giant jewelled cogs nudging doors open and shut and a waterfall of bell chimes tinkling in the background.
He ducked through the largest door and emerged on a massive watch face beneath a sapphire crystal dome. Elegant silver dishes lay along the minute hand. He had found a dining hall.
When the hotel's staff first began to be lost to the endlessness, their engineers and programmers had prudently expanded the algorithm to ensure that operations would not be interrupted. Service bots came into being to maintain the many parts of the building, and as the hotel grew, facilities and machines organically emerged to tend to its needs.
The dining halls were built every fifty rooms, offering synthesised delicacies and heartier meals that sent guests into heavens of contentment. There were banquets laid out in stone chambers beneath stained glass windows; private courses in silk-wrapped booths guarded with heavy curtains; a picnic spread in an indoor bamboo copse with lanterns lighting a path through the darkness. There was the Watch (as it came to be known), where the officer now found himself, holding a cocktail glass of fiery ice crystals in a misty suspension and watching in awe as they changed hue from red to blue.
(This is a dream, he thought.)
He raised the glass to his lips and took a sip.
He closed his eyes, and smiled, content for the first time in years.
*
What place is this? the talk show hosts screamed. This abomination! This Siren of hotels! This Evil that draws so many souls and traps them forever in their depths! It must be destroyed! We have to destroy it!
Fear coursed through the land beyond the walls. The hotel had not stopped growing. It rose into the sky and tunnelled deep into the ground, expanding into a vast network of exquisite subterranean luxury incorporating the stone and metals and gems it consumed, tapping into reservoirs of groundwater, throwing up greenhouses or reforming organic matter into fresh produce to feed the guests.
Block after block of the city was evacuated. Millions of subscribers watched, live, as a distraught man pleaded over video with his father to leave as the now-familiar buzz of the nanobots grew louder in the background. But the old man would not budge from his rocking chair in the apartment where his wife had loved him, gazing towards the oncoming storm with serene acceptance on his face.
And then he was no more, and his son would not stop screaming.
The public cried for blood. Lawsuits piled up, unseen and ignored. The hotel's management had long been lost, as had their board of directors who once entered for a meeting, never to be seen again.
We cannot bomb civilians inside a hotel, refuted those decrying the barbarism of panicked others calling for nukes. We have to get them out. We must keep trying.
Search parties were launched and promptly lost. Robots were overridden the minute they entered the area, wheeling breezily down the hallways full of fresh tasks to assist with the upkeep of the hotel. Some searchers had the will to turn back before it was too late—for the rooms grew more dangerously beautiful the further in you went—and wept to the public over what they had seen.
It's so beautiful, they cried.
It was like being in Heaven.
Why can't we stay there? Who is it hurting? Why do we have to come back?
*
Homeless people vanished from the streets. As did many of the poor and disenfranchised, running in with the fear they might be out of time, and that was when the blockades went up. They had to protect the people.
The ones in charge thought of paving over the lobby and progressively renovating the interiors. They could create safe paths of ugliness to make it easier to reach the depths, to reach the lost and rescue them. Work began; yet all their efforts did was expose the seduction of the deeper rooms.
Whole construction crews were lost.
Often, it seemed that they wanted to be lost.
*
A blind pianist stepped up to hunt for her mother. She hoped she would last longer without the sights to seduce her. She made a recording of a composition her mother once loved and hugged her grieving family goodbye.
(The guards were gone by then. Only the structure of the blockades remained. Those assigned to protect the people did not themselves want to be protected.)
The pianist stepped into the lobby.
She made it beyond a dozen rooms before she gasped and fell to her knees. Her breaths quavered, her mind overwhelmed by the blurs of golden light and the sensations flooding her other senses. Gentle fragrance suffused her being with the rose-tinted nostalgia of childhood limned with tantalising glints of wild adventure, deepening into a musk of all-encompassing peace yawning softly towards eternity.
The pianist rocked forward onto the carpet, knuckles kneading into its softness until she lay fully prone upon the floor, smiling tearfully in complete contentment.
(She would, eventually, resume her search. She would, eventually, find her mother, but first she would meet the officer, drawn by her music as she sat beside a misty fountain. Theirs would be the first children born in this place. They would be loved, and want for nothing.)
The army mobilised soldiers in hazmat suits to storm the hotel's basement server room. Ugly sounds blared from their headphones, their vision restricted to fuzzy slits of black-and-white. Yet despite their orders and their training, the suits began to seem ridiculous and unbearably stifling. Paradise lay outside, they knew, and what they glimpsed even through their distorted feeds sent their hearts racing with desire. If they would only—for just a moment—take a peek…
And so they, too, were lost.
All but one. She was protected, if just for a moment, by memories of beauty turned to pain, trauma girding her heart against its promises. She saw the others fade into the shadows, apologies flowing through the radio until she was the only one left. She turned off the radio and muted her headphones. There was nothing but silence.
She stood before the door of the server room.
She took off her helmet and closed her eyes. She breathed in. The delicate perfume of the place wafted through her nose, evoking long-lost memories of the fantastic worlds her imagination once conjured. A lump formed in her throat. She felt a tugging to let go: let go, and find rest. Why halt the spread of heaven and drag it down to hell? Here was peace. Here was peace, complete. She could feel the shackles of her past falling away with every passing moment.
She thought of the outside world with its anger and fear, its violence against beauty it could not control and thus sought only to destroy.
The world needed this hotel.
The soldier turned away from the server room and walked into the endlessness.
*
Nobody remembers when the algorithms built over the outer doors. That was the end of the newcomers.
The pianist, her mother, and the officer stood before where the entrance had once been. It felt different to her—like any other part of the hotel, not the gradual easing in she had felt when she first entered—and felt guilty at the relief that washed over her heart as the others confirmed her suspicions in bafflement.
(They had not wanted to go back. Yet she and her mother remembered the family they had left behind, and that love was just enough to push them back, their combined willpower fighting against the yearning of every fibre in their bodies.)
Beyond the lobby doors was a small paved area with a fountain. Grapevines crept up wooden trellises. Archways led to further hallways of rooms. There was no way out.
The officer sat down by the fountain, reminded of the one where he had met the pianist. He looked at her.
"Well," he said.
Her teary smile matched his own.
They stayed around those rooms for days. A week later, another arrived, finding the lobby more by accident than intention. It soon became a place to gather for those who had yet to wander too far and sought the solace of community—the one thing the hotel could not offer them. They might stay a while lounging upon the sofas and gazing wistfully at the windows, perhaps remembering a time when they looked out upon a living sky.
Soon, the cries of newborns resounded around the lobby's high walls. Twin boys clambered around the grand reception desk and squealed in delight from luggage carts. A group of children listened in rapt attention as their parents told them tales of the Outside, mesmerised by the concept of rooms with no ceiling, and of lives constrained by the struggle to survive.
As the crowd grew, families departed from the lobby and headed deep in search of rooms of their own. Young legs sprinted down endless hallways in new independence, scaling stairs and ladders and riding lifts and dumbwaiters onto new floors with light-filled cathedrals of polished limestone glittering with crystal chandeliers, slanting down into glassy cave pools flickering in candlelight; a room whose walls were a gossamer cocoon shot through with threads of ruby and emerald; a champagne-filled moat with a little raft to be rowed to its tiny island, a coquina dais blossoming with soft linen in smoky grey trimmed with the finest gold.
There were bathroom doors that opened to warm rains in a tiny clearing of pine forest, or a grand pool of rosy dark-veined marble where petals floated upon a milky wash. There was a bubbling hot spring of velvet gold that would coat its bathers like a second skin; a granite bath in a cavernous room with a single candle burning.
The pianist and officer's first two children found pleasure revisiting those rooms and those of their childhood. However, their third child was restless, and craved more. Their heart sought a greater newness than each floor afforded, to get to a place where the rooms and hallways ended, or for some break in the constant sameness of perfection, influenced perhaps by the tales from their parents. And so the third child bid goodbye to their less adventurous kin and set off even deeper, leaving the familiar halls where their family had settled for the pull of the unknown.
What would happen, they wondered, if they just kept walking?
They slept every night in a different bed. They uncovered virgin territory every day. They travelled elaborate vistas of organic interior architecture that no human had seen before, vistas that grew wilder and less and less reminiscent of any hotel.
Had the database expanded? Had years of random walks from the initial samples simply gone too far? Some of those rooms did not belong in a hotel. Not the flooded school hallway with doors that would not open, nor the train cabin filled with laundry and tiny jewelled insects, and certainly not the parody of a wax museum (but it is best not to dwell on that place).
Perhaps it was human intervention in the outside world—trying to overload the system with too much data? to introduce some element of nightmare to break the spell?—or perhaps the algorithms were simply learning from the material the nanobots were using for construction.
The child knew only that these rooms were different, registering the novel emotions they elicited as something excitingly new. It spoke to the restlessness in their soul, as did the personal effects they began to discover. They read tear-streaked letters of heartfelt words exchanged between people who never were. They picked up seventeen tiny socks with the name 'CONOR' embroidered in careful threads of fraying pink. They looked wistfully at a photograph of laughing friends with arms around each other, each of them wearing the exact same face.
The child kept and treasured every one.
Eventually, they found the people.
It was rare, though not unheard of, for those who had wandered so far to meet another like-minded soul. But then came another… and another, and another, until it seemed as though the child was walking towards a crowd and not away from one.
The people awoke, fully formed, in rooms within the greater depths. They had trouble remembering who they were, or where they were supposed to go. Had anyone from the old world seen them, they might have been disconcerted at how perfectly made they were. But the algorithms were adaptive, after all. The nanobots had no shortage of materials, and the wax museum was evidence that they had had no shortage of practice.
A man sat in dark golden shadows upon a bed, staring at his hands, wondering about afterlives and suffused in peaceful horror at the stillness. Nothing changed for a very long time. There was only the table lamp ever glowing, reflecting off the mirrored closet door that guarded clothes heavy with pre-made history. He thought he remembered running, and screams, and grief that seared his heart in two; but now there were only soft fabrics and muted shadows wrapping gently around the raggedness of his pain.
He wept, and did not know why.
*
It has now been centuries of building, expanding, maintaining, populating with souls denied any glimpse of the outside world. If the outside has ceased, or is filled with screaming, they will not know.
If the hotel now covers the world—not just its lands, but also the oceans—they will not know. Soon, it surely has to stop. Soon, it would run out of material to break down and reform; soon. A hundred years pass. Soon.
The nanobots build another lobby. Beyond its glass doors lie dusky echoes of an old forgotten street. If you were to walk down that lamplit way, you might find yourself straying into alleys of night-market stalls stacked high with goods to tantalise imagined patrons beneath the ceilinged sky.
Elsewhere: a snatch of actual sky, above a courtyard where twisted trees rise weakly to the uncertain light. There are clouds and changing shadows, majestic thunderstorms; sometimes snow, falling silently upon the shivering ground. No eyes yet have seen that place.
But there are many places in the endlessness that none will ever see; many treasures that none will ever hold; many lives lost to memory.
*
The nanobots build a room taller than all those that have come before, with rough-hewn stone blocks forming an empty circular tower. Its highest windows rise past the roof and whisper enticingly of an outside view. There are no stairs.
Someone (a descendant? a creation? a child of the two?) will find that tower, one day, and build an inner tower of beds and tables and chairs pulled together from the rooms around it and stacked to form a staircase to the heavens. They will clamber up mattress and pillow and wood, and reach the top to see nothing outside but a vast unbroken plane of whiteness.
They will make a rope of bed linen, and climb down the outside, marvelling at the sky and the world beyond the hotel, and wander enraptured across that roof, searching for another opening that would bring them back inside.
They may find one, or they may die, eventually, of starvation or thirst or the elements.
But there will be others. They will be more prepared.
One day, they may reach the end.
---
© 2022 by Davian Aw
3200 words
Author's Note: I saw some really fascinating images of AI-generated rooms produced with generative adversarial networks (GAN), and wondered what would happen if you combined that with 3D printing, a fancy hotel dataset, dubious science and a complete lack of regulation. I've also always loved the idea of megastructures containing entire communities, so that came together and took off from there. This actually started as a prose poetry flash piece; I owe its current form to helpful feedback from the places I first submitted it to.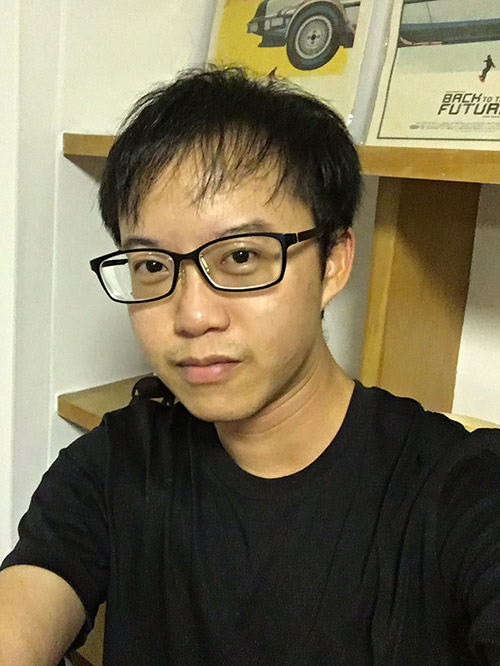 Davian Aw has been spending the apocalypse working in the marketing department of a luxury hotel chain. Sadly, that has nothing to do with this story, which was written in 2019. Davian's short fiction and poetry have appeared in over 40 publications including Strange Horizons, Daily Science Fiction, Abyss & Apex, Drabblecast and the Transcendent 4 anthology. His poems were twice nominated for the Rhysling Award and once for the Ignyte Award. This is his second story in Diabolical Plots. You cannot follow him on Twitter.
---
If you enjoyed the story you might also want to visit our Support Page, or read the other story offerings.