So what happened was, I'm back from clicker training Ms. Jordan's dogs over on Dexter, sitting on the porch with a mojito, thinking how fucked up it is that the Old West Side Association stealth-planted tulips in our garden (because the yard looked so shitty without them, I guess—sorry for having a rental in your high-value neighborhood, Evie) when the Viking or whatever comes down Eighth.
He doesn't have a horn hat or anything—I just thought he looked like a Viking, with a brown tunic with a hood over it and an axe at his belt. But he's dirty, you know? The kind of dirty they can't just smear into actors' pecs on those historical dramas you hate. He's history-times dirty, and he's coming down Eighth with a brow furrowed all self-important like he's as lost as the freshmen on campus downtown but pretending not to be.
I call over to him, looking for something?
And he says well met, Lady, all deep and smooth like the words wanna settle low in your tummy. You know what I mean. He's all: I am tasked to subdue a witch who has taken refuge in your century. He has conquered time by dreamwalking to the dawn of man to bind the wings of the Bird of Something-Fuck and destroy the Cave of blah blah etcetera.
Stupid, right? That is super not what happened.
So I'm all, I don't know him. Like a liar.
Then he looks at me with these piercing grey eyes like Lake Erie in bad weather—you remember, like when we were in Cleveland for that dude you met on Hinge?—and I swear to god we have a moment. Like, destiny. Like chills down my spine. The goddamn wind chime starts going, even.
Then he says, kind of desperate now: his name is Marshall.
And I'm like, oh, that's my roommate. Do you wanna come in and have a mojito?
Don't get that look. You know I wouldn't sell you out, not even for a guy with a low-cut tunic and a well-polished axe who I decided was my soulmate. I just figured we'd have a nice chat and resolve our differences one way or another before you finished teaching your 4pm downtown.
I mean, why not? If I can stop Mr. Kincannon's Mastiff from chasing the neighbor-kid from here to Ypsi, I can tame one timecop. They're prettier than Mastiffs, but smarts-wise nobody comes out ahead.
I do not, he says, want a mojito.
I'm like, well, Marshall's not getting back until six-ish depending on traffic, so let's you and me get to know each other in the meantime.
Now he's looking at me all suspicious, which is super unfair of my new soulmate to do. But he comes up the porch anyway, tripping on the loose plank on the steps. I keep calling the property manager to get that fixed, but you know how he is.
I get him settled on the sofa and I'm shouting from the kitchen while I make the mojito: you look like you work out. How long you in town? Wanna go to the gym sometime?
He asks, are you the witch's apprentice?—definitely trying to distract me while he snoops around the living room—so I laugh at him. Like no, dude, I'm seriously his roommate! He's a lecturer and I'm a dog trainer! He hired me one time and we hit it off and now I live here! Ann Arbor rent, am I right?
Maybe he's worried for me—sweet, right?—because he starts trying to explain himself again. Like, your companion is sooo dangerous, subduing the Bird of Thingie let him borrow its power! He used it to destroy the Cave of Eons so no army could pursue him through its temporal caverns!
I'm like, why would a whole army chase one history nerd through a time cave? He only started doing the whole Doc Brown thing so he could win an argument about the Hapsburgs with his department chair.
And before he can talk about how terrible you are again, I drape myself on the kitchen doorway—it's about the angles, I keep telling you—and go for teasing, like: maybe, once he found it, he just didn't think an immortal army should have that cave.
And he's all, the Guild's military has a right to the Cave, and I'm like okay, buddy, drink your mojito.
These jeans do nice things for my thighs, so I sit on the couch and twist my hips towards him, but so far my goo-goo eyes are starting to look like a wash and I'm maybe giving up on the soulmate thing.
Don't say I told you so. Swear to god, this one could've been different.
But I figure I'll give him one last chance to be chivalrous or something, so I say, what if I told you that cave's still around?
He doesn't believe me, so I get up and grab my purse. I open the door that's supposed to go to the front closet and shout 'til I hear the echo.
He says something angry in Viking-language, which is sexy. Then he follows me in like, impossible! He took the Cave with him? For power like this, he must have killed the fell Bird for real or whatever!
And the words echo, of course—through the first ginormous cavern, then down through the tunnels and across the Ageless Fountain and up between the Teeth of Dark Time. The sound shakes through a million billion moments, and I can see him figuring out the size of it as his face goes pale. He's tiny in this cave. We both are.
How did he do it? he says all shaky. How did he slay the Bird?
I say, are you going to be all weird about it?
He gives me a look like, yes, he's gonna be as uptight as Ms. Primeau was when Princess shat on her basement stairs.
I'm like, you're not gonna let him go, even though he didn't destroy the cave? and his hand goes straight to his axe, which starts humming hard enough to make my teeth hurt. So, ugh. Timecop.
The thing about animals, I say, and the cave doesn't let my words go—they bounce softer and louder again. You just gotta have some patience and they'll do whatever.
Then I take the training clicker out of my purse.
The click's echo stretches into a hawk's cry. The cave lights up like a techno concert.
And then his pretty face goes all twisted under the dirt and he gets rude. Like, sorceress! Lilith!
Why do all the men I connect with turn out to be assholes? I help another guy with a pet behavior problem one time and your stereotypical alpha male gets all threatened for some reason. Makes no sense at all.
Static pools in my palms, and the Bird of Something-Fuck pulls herself from between the atoms. She hovers like a colossus of lightning, her wingtips stretched from one end of the massive cave to the other.
And he's waving the axe around all, did he use the Bird's power to corrupt you? Or did you follow him willingly through the ages on his path of evil?
I'm like, No! and my voice booms as thunder fills me—as Birdie tips over like a falling tower and turns to molten light and pours herself down my willing throat—We met on Craigslist!
He looks at me—up and up at me—like I'm fucking eldritch, which I guess is fair but it's not my fault, and books it out the closet door like a hellhound's on his tail.
I watch him—but not, like, with my eyes—as he barrels over the living room sofa and smashes into the mojito glasses on the side table. He stumbles down the porch stairs and trips over the loose plank and goes sprawling. I keep telling the property manager to fix that.
A car clips him, but he makes it out okay. Sprints down Eighth.
And that's when you got home! How was class?
Oh, now that I think of it, maybe you can give me some witchy advice. I keep meeting all these guys—timecops, usually (I know, I know)—that feel like soulmates. Like something exciting's about to happen. Like I've gotta do something important. Turns out, that feels an awful lot like static in my palms and a time bird in my lungs. Do you think that means anything? Like, cosmically?
Anyway, I'm gonna teach Birdie to fly through hoops once I'm done getting mojito out of the carpet.
She's in the cave if you wanna say hi. I think she's hungry.
---
© 2022 by Sarah Pauling
1500 words
Author's Note: I was sitting on my run-down rental's porch on Ann Arbor's Old West Side, feeling blocked and nudging my Word document occasionally to see what would happen. I started writing something that I expected to be deeply boring: a woman on the same porch to whom, presumably, interesting things would happen. Once I found the story's voice, it pulled me along like little else could. What's more, since I had been about to move out of the state, the piece became a silly little goodbye to Michigan and Ann Arbor. I never did figure out who planted those tulips in our garden.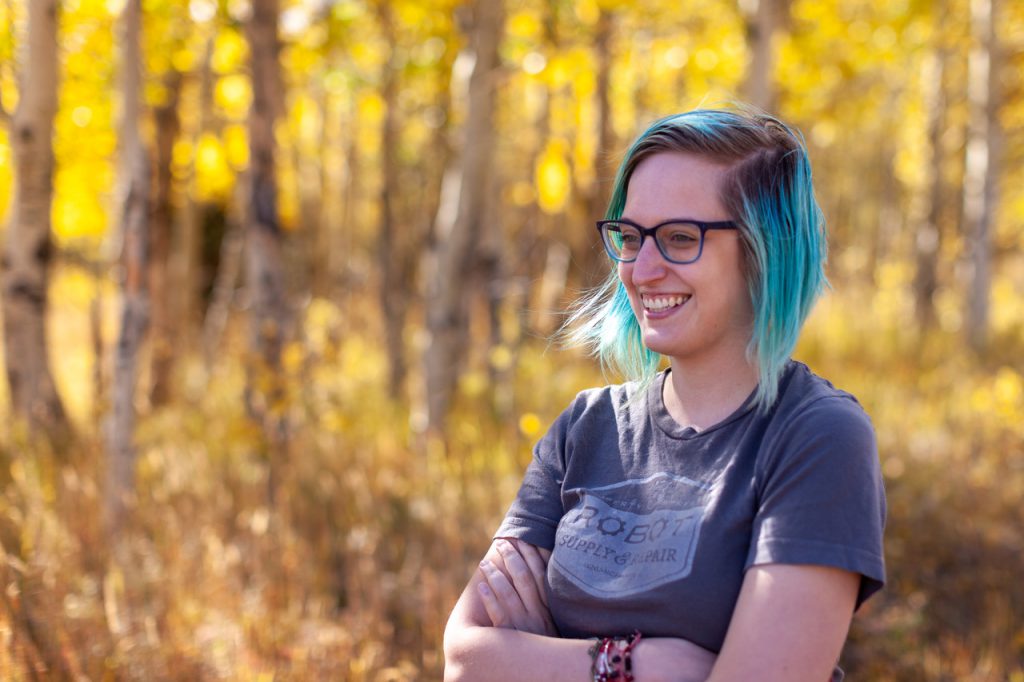 Sarah Pauling is a recent transplant to Seattle, WA, where she manages a university intercultural exchange program after many years sending other people to distant places for a living as a study abroad advisor in Michigan. She was shortlisted for the James White Award for new writers and is a graduate of the Viable Paradise workshop. Her work is published in places like Strange Horizons, Clarkesworld, and Escape Pod. If approached without sudden movement, she can be found at @_paulings on Twitter, where she natters on about writing, tabletop gaming, comics, and books.
---
If you enjoyed the story you might also want to visit our Support Page, or read the other story offerings.