It wasn't anything you did wrong. Sometimes a sword and their wielder just grow apart. But out of respect for our long companionship, I feel I owe you an explanation.
You never asked me what I was doing in that dragon's hoard where you found me all those years ago. The truth is, after centuries guiding the hands of loutish would-be heroes and dealing with self-important scions who only saw me as a tool, I'd kind of given up on finding "The One." Figured I'd retire, focus on me for a bit. But a couple more centuries lying among gold and jewels like a common flaming sword or a lowly vorpal blade just had me bored and demoralized.
Weapons as a general rule aren't prone to sentimentality. (Though I've met a few weepy spears, and a lugubrious battleaxe or two.) So I don't think I ever told you how gratified I was to finally find a true partner in you, strong of will, wit, and destiny. I wasn't even looking for someone at the time, hadn't summoned you in a dream-vision or anything, but I felt like you got me. When I told you just where to drive my point to slay the sleeping dragon, you really listened. That meant a lot to me.
The time we scaled the arcane tower of the Pale Sorcerer, too, we worked so well together. You did all the climbing, and then I absorbed the sorcerer's lightning so you could get close enough for my edge to find his throat. Even when we faced the undead army of Ynthr the Necromancer, while I admit I did most of the work, there was a sense of shared accomplishment in cutting down rank after rank of shambling corpses.
But when you overthrew the tyrant King Ulstan? I think that's when we started to go our separate ways. I didn't mind that you got all the credit, the throne, that the people called you Kingsbane, even though it was my keen edge that parted Ulstan's arrogant head from his shoulders. But afterwards you continued the same failed policies and oppression of your decapitated predecessor. I consider myself pretty amoral, as magic implements go, but slavery? Sapient beings owning other sapient beings, not respecting their free will and autonomy? That hits a bit close to home.
I don't think kingship suits you. You stopped listening to me, stopped listening to anyone, and grew paranoid, thinking someone would try to steal me from you. As if they could! As if I were just some object anyone could walk off with. To be honest, it was like being back in the dragon's hoard again. Worse, I felt like a true prisoner, like just another piece of metal you could lock away from the world.
I've kept my pommel to the ground, listening to the whisperings of destiny, and, well… I found someone else. Her name is Dela, an apothecary's daughter. Where your eyes see only assassins and thieves in every shadow, her eyes burn with the vengeance she's sworn against the evil warlord Morglatch who ravaged her homeland, killed her family, and sold her into slavery. If anyone understands what it's like to be treated as a mere possession, she does. You never noticed her, a scullery girl in your palace kitchens. But she noticed me, before you locked me away. She responded quickly to the dream-vision I sent her, sensing a kindred spirit.
Dream-visions are by their nature rather fuzzy on detail, but Dela got the gist of it. She's very clever with locks. Before your palace slavemaster purchased her, she slipped her shackles twice in the slave stocks, and suffered lashings for her defiance. When she stole into your room while you slept, I could have changed my mind and alerted you. Instead I advised her to use her medicinal knowledge to drug your meal, so she could be sure you wouldn't wake when she came again.
I want to apologize for the mess we made as we were leaving. I'm sure it's a bit chaotic in the palace just now, so let me catch you up: people got in our way, and they got stabbed. I think most of them will live. Although in the dark they only saw a cloaked figure wielding a glowing blade, so they might think it was you going about the palace stabbing folk. Not very kingly of you. People will be upset.
Oh, and we might have made a slight detour to the ambassadorial suite and stabbed the Ambassador of Valoron just a little bit. Nothing against the man himself, but I know you fear Valoron's military might, and I thought it would prove an ample distraction. I suspect the ambassador has fled the palace and dispatched messengers to his imperial master, who might be sending an army your way.
I've dictated this letter to Dela. (Brilliant girl, impeccable penmanship as you can see, she was wasted in your kitchens.) By the time you wake from your drugged slumber and receive my words, we'll be many leagues out to sea, on our way to Dela's homeland. You'll no doubt want to come after us and reclaim me, but don't bother. Your hands will be quite full as it is, King Stabby.
So, I guess I lied earlier when I said it wasn't something you did wrong. What with the locking me up, and the slavery. But I have no regrets. I wish you the best of luck, and a happy life with a weapon that suits you, maybe a nice glaive or a halberd. That is, if you survive the ire of your people and the Imperial Legions of Valoron.
Formerly Yours,
Eviscerix
---
© 2022 by Alexei Collier
950 words
Author's Note: This story began its life as a Weekend Warrior 2020 contest story on Codex. Thanks to Vylar Kaftan for running the contest and providing the prompts that inspired this story, to everyone in Violent Division who read and commented on that early draft, and to Aimee Picchi and Langley Hyde who supplied invaluable feedback that shaped the story into its current form.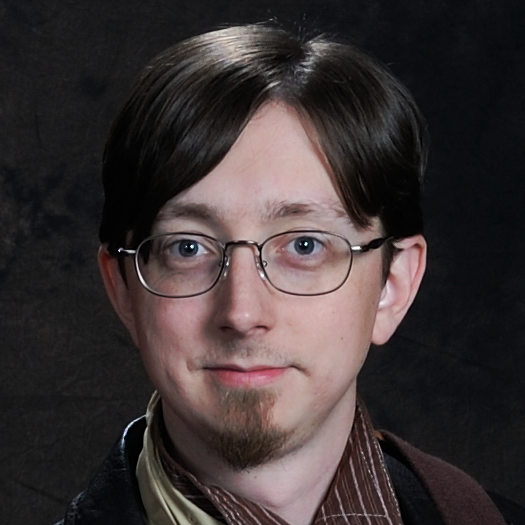 Alexei Collier is a skeleton with delusions of grandeur, imagining himself to be a neurodivergent and disabled human who writes fantasy inspired by science and science-fiction inspired by folklore. Alexei was born in sunny Southern California, grew up in a house his family moved into on his very first Halloween, and went to school in a creepy old mansion. Many years later, powerful forces flung him deep into the heart of the Midwest, where he now lives across the street from Chicago with his wife and their cat. His short fiction has appeared in FLASH FICTION ONLINE, DAILY SCIENCE FICTION, and the RECOGNIZE FASCISM anthology from World Weaver Press, among others. You can find out more about Alexei at his oft-neglected website, alexeicollier.com.
---
If you enjoyed the story you might also want to visit our Support Page, or read the other story offerings.