Dear Bluma,
I heard that Hershel Schmulewitz, that blockhead, has also presumed to ask for your hand in marriage, which gives you two proposals to consider. Now, you needn't worry that this will be a sentimental or a wheedling sort of letter. You already know how I feel, and I suppose Hershel's not so much of a blockhead that he doesn't feel the same way. I'm simply writing to lay out the reasons, plainly and concisely, why it would certainly be more to your benefit to marry me.
1. As you know, I have so far outperformed all the others in my year on the rabbinical exams.  Hershel's results, I might add, have been a little mediocre. I'm not writing it to shame him, but just to state the facts. Now, on the other hand, Hershel's father is certainly wealthy, but we all know how a family's money can disappear in a trice when ill luck strikes, may God forbid it! I certainly don't wish any bad fortune on the Schmulewitz family, but I'm sure that when you consider it, you'll agree that to be well set on a career that may bring an income in anywhere offers much more security in these uncertain times than whatever large coffers may happen to exist here and now.
2. I'm not from Vilna and I don't claim any relatives around here. This may at first seem like a disadvantage to you, but think it over a little! No mother-in-law or father-in-law to come meddling in your business; no sister-in-law to deposit nieces and nephews on you at the most inconvenient times; and if it happens that we should have to be taking care of your mother when she grows older (may she have a long life!) then there'll be plenty of room for her, and no other elderly folks around to complain about whatever little quirks or troubles she may have. Now, don't you think that's an ideal situation?
3. Speaking of family – and I apologize for getting a little bit familiar here – you confessed to me some time ago that you're not exactly wild about the idea of having children, what with the hard time your sister's had, and those rumors about your mother. Now, maybe you were trying to warn me off, but I'll tell you again that I don't blame you for that at all. If it were me in such a circumstance, I probably wouldn't be wild either. Fortunately, I can say for a certainty that if you marry me, that's not a thing you'll need to worry about in the least.
Now you're probably thinking, how does he think he can promise that, what kind of funny business is going on here? All right, here's the truth, Bluma – if you went back to my village and asked after me, you wouldn't find anyone who knew a Yudah Cohen; and it's just as well that nobody here would ever think to ask about Rokhl the rabbi's granddaughter! There are certain things I would need to be fruitful and multiply that I simply have not got.
Maybe you're worrying now that this minor trouble of mine will affect my future prospects. If so, let me reassure you that you're the first person in Vilna to know a thing about it. First and only! All it takes to avoid trouble is a little bit of cleverness, and cleverness you must admit I've got — unless of course you decide to go showing this letter to Hershel or your mother. But I trust your good sense, Bluma, and I trust your discretion, and I know you'll take the time to consider the situation before doing anything. You always have before. I'm certainly putting my future in your hands by telling you this, but then isn't that what it means to marry somebody anyway? I'd rather you knew now than that you didn't — and to get back to the point, if you're serious about not wanting children, I'm sure you'll see that this condition of mine has got clear advantages for you, if you were to marry me.
4. I am better-looking than Hershel Schmulewitz. This is not vanity; it is plain fact. Isn't it much more pleasant to have a man who's decorative around the house than one who isn't?
5. Now, this rumor about your mother — and I hope you don't think me rude for bringing it up, but if I'm laying out the facts, then we've got to look at facts. I haven't managed to mention this yet, but last week, when I was hanging about your house, trying to get up the nerve to come in and ask your uncle if I could make my proposal to you — yes, Bluma, I was nervous! All right, I know you're laughing now, but you really can't make fun of me for that! Who wouldn't be nervous, in such a situation? That's one way in which it's easier to be a girl, not having to ask — anyway, as I was saying, last week when I was hanging about, I did happen to see a great big beast go slipping out the back window.
Now, I'm not saying it was your mother, and I'm not saying it wasn't your mother. Who am I to say what a wolf might be doing jumping out the windows of your house? There might be all kinds of reasons for that. All I'm saying is that, if the rumors do happen to be true, then I am certainly the best possible man you could marry. I don't blame your family at all for trying to keep a thing like that a secret. It must be very embarrassing, especially since I've never heard of such an affliction being found in a Jewish family before now — our neighbors gossip about the vilkacis, but a creature like that is not mentioned in the books of our learning and law anywhere that I've found. Well, perhaps your mother is simply an unlucky woman; and besides, back when she was born, those were troubled times for the Jews too. Terrible things have been known to happen, meaning no disrespect to your mother or to your Bubbe Fruma, may God bless her and keep her memory.
In any case, whether or not the Talmud speaks on this topic specifically, you have to admit, it would be of some use to have a scholar on-hand, who already knows the secret, and has a ready excuse to go poking his nose into all kinds of old books that may perhaps offer ideas on remedies for such an affliction. And think of the benefit to including in your family a rabbi, fully informed of the circumstances, and available at all times to provide spiritual counsel in such a difficult situation! In marrying me, you would provide your family with both of these blessings. Tell me, can Hershel Schmulewitz's money-chests compare to a bounty such as that?
And as to my discretion — well, Bluma, on that, I'll refer you back to the third point in this letter. A person like me, who is experienced with keeping secrets, certainly knows how to make a tale that seems believable, and how not to let anything slip foolishly out of his mouth. And if, God forbid, the story ever should get out in truth — if people might not be so understanding, and your family should wish to move themselves elsewhere — well, in that, with this secret of mine, I have experience also.
Now perhaps you're thinking to yourself, "What kind of a man is this Yudah Cohen after all, to boast of his ability to lie? Certainly he won't make any kind of rabbi!" Let me remind you, then, that the Talmud clearly shows us that there are lies of expediency that are not a sin to tell; after all, Rabbi Yehudah has stated that even rabbis may lie in matters of a bed, which is to say, matters of modesty and privacy. Besides, though it may happen that we'll be called upon to deceive others, it's certain that when we are married I'll always be honest with you, and for evidence of this I once again refer you to the third point of my argument.
6. As you're aware, I am of the opinion that Hershel Schmulewitz is a blockhead. Now, you may disagree with me. It is certainly your right to do so. However, I felt it would not be right to close this letter without again reminding you that I fully and firmly believe this to be the case.
That's all I have to say; the rest, I entrust once again to your good judgment. Please take the time you need to think it over! Best wishes to your mother, and your sister, and the others in your family — may they all remain in good health — and please thank your uncle for me for giving me his blessing to propose to you.
With love always,
Yudah Cohen
---
© 2016 by Rebecca Fraimow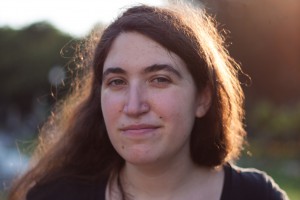 Rebecca Fraimow is a digital archivist by day, a rogue video preservation expert by night, and a writer in whatever time she manages to get in around the edges. Her work has previously appeared in Daily Science Fiction, as well as the anthologies Steam-Powered 2: More Lesbian Steampunk Stories and The Omnibus of Doctor Bill Shakes and the Magnificent Ionic Pentatetrameter.
---
If you enjoyed the story you might also want to visit our Support Page, or read the other story offerings.