written by David Steffen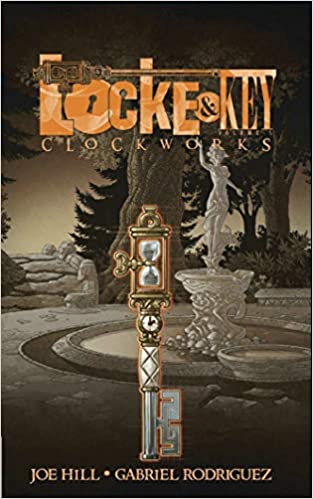 Locke and Key Volume 5: Clockworks is a collected group of comics written by Joe Hill and illustrated by Gabriel Rodriguez and published by IDW publishing. The individual issues that make up the collection were published between July 2011-May 2012. Previous volumes were reviewed here, here, here, and here.
As told in the previous books, the Locke family: three kids (Tyler, Bode, and Kinsey) and their mother, move to Lovecraft, Massachusetts after the murder of their father by a couple of teenagers. But trouble seems to follow them wherever they go, much of it tied to their family estate Key House which has magic hidden everywhere in it, much of it in the forms of magical keys, each with their own extraordinary abilities: the head key that allows you and others to manipulate your own memories and thoughts, the crown of shadows that lets you command the very shadows to do your bidding, the giant key that makes you into a towering colossusus. And new keys are turning up all the time. And with a mysterious enemy, a mysterious woman from the well, attacking them to get the keys at every turn, it's an arms race to try to stay safe and stay alive. But as they have discovered, their enemy has been closer to them than they have suspected, disguised as a friend.
This story detours from the main timeline to tell us more about the lore that established Key House as it is today. Kinsey and Tyler find the clock key which allows them to step back in time and learn more about what happened there before. They learn about their family that has lived in the estate since the American Revolution, and the making of the keys and the Omega Door that their enemy so badly wants to open. We also find out a lot more about Rendell Locke (their dad) and his history there when he lived there in high school with his friends, including Lucas "Dodge" Caravaggio who has since risen from the dead.
This happened to be the first book that I read in the series as I was doing Hugo reading and man was this a poor place to join the series, since it's all based in the history instead of the main characters. But I certainly wanted more, which is why I'm back now.
Solid series, and this penultimate entry is no exception, diving into a lot of the worldbuilding in a very interesting way as we find out more about the history as the characters do in this penultimate entry.