written by David Steffen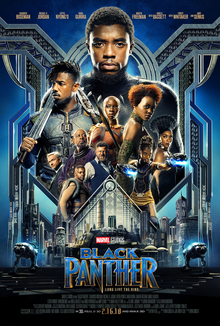 Black Panther is a 2018 science fiction superhero film by Marvel Studios, based on Marvel's Black Panther character established in 1966. This is the first film starring the Marvel hero, who has gone on to be featured in other Marvel films.
The story is rooted in the fictional African nation of Wakanda, which keeps much of its culture and economy a secret from the outside world. Unbeknownst to most outsiders, they are the most technologically advanced country in the world, rooted in an early discovery of vibranium (a fictional substance in the Marvel universe that, among other things, is what Captain America's shield is made from). For many generations, most of the subcultures of Wakanda have been united under the leadership of a king who is also the Black Panther, made special by the ingestion of a heart-shaped herb that grows only there and gives that person superhuman abilities.
The old king has died, and his son T'Challa (Chadwick Boseman), the heir, is called back to Wakanda to become the king and Black Panther. But what would normally be a relatively smooth succession marked more by rituals of contention than any real contention is thrown into turmoil by the appearance of a man who calls himself Killmonger (Michael B. Jordan), an American special operative that claims to have a claim to the throne among other attempts at the throne including attacks from black-market arms dealer Klaue (Andy Serkis).
This is one of my favorite Marvel films. There is a lot of special effects eye candy with the really interesting Wakandan technology that is inspired by African styles but with its own technological flare, intended to be its own thing apart from Western technology. The cast is wonderful, and is a rarity in Hollywood films for being majority of the African diaspora, which was refreshing. The story is compelling and action-packed. Highly recommended!