written by David Steffen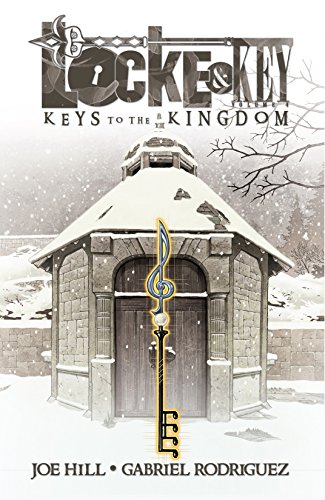 Locke and Key Volume 4: Keys to the Kingdom is a collected group of comics written by Joe Hill and illustrated by Gabriel Rodriguez and published by IDW publishing. The individual issues that make up the collection were published between August 2010-April 2011. Volume 1 was previously reviewed here, and Volume 2 reviewed here, Volume 3 here.
As told in the previous books, the Locke family: three kids (Tyler, Bode, and Kinsey) and their mother, move to Lovecraft, Massachusetts after the murder of their father by a couple of teenagers. But trouble seems to follow them wherever they go, much of it tied to their family estate Key House which has magic hidden everywhere in it, much of it in the forms of magical keys, each with their own extraordinary abilities: the ghost key that can project your spirit from your body for a time, the head key that allows you and others to manipulate your own memories and thoughts, the crown of shadows that lets you command the very shadows to do your bidding. And new keys are turning up all the time. And with a mysterious enemy, a mysterious woman from the well, attacking them to get the keys at every turn, it's an arms race to try to stay safe and stay alive.
As this story starts off, seven-year-old Bode finds a new key which can turn anyone into an animal form and soon he is off adventuring with it. This is one of my favorite sequences of the entire series, with much of the illustration in homage to Bill Watterson's Calvin & Hobbes, which is very appropriate since the animal transformation is very much in the spirit of Calvin & Hobbes. Of course, it wouldn't be Locke and Key without its own dire and dark and compelling danger of it.
This series continues to be one of my favorites of all time and I'm looking forward to seeing the tv show!