written by David Steffen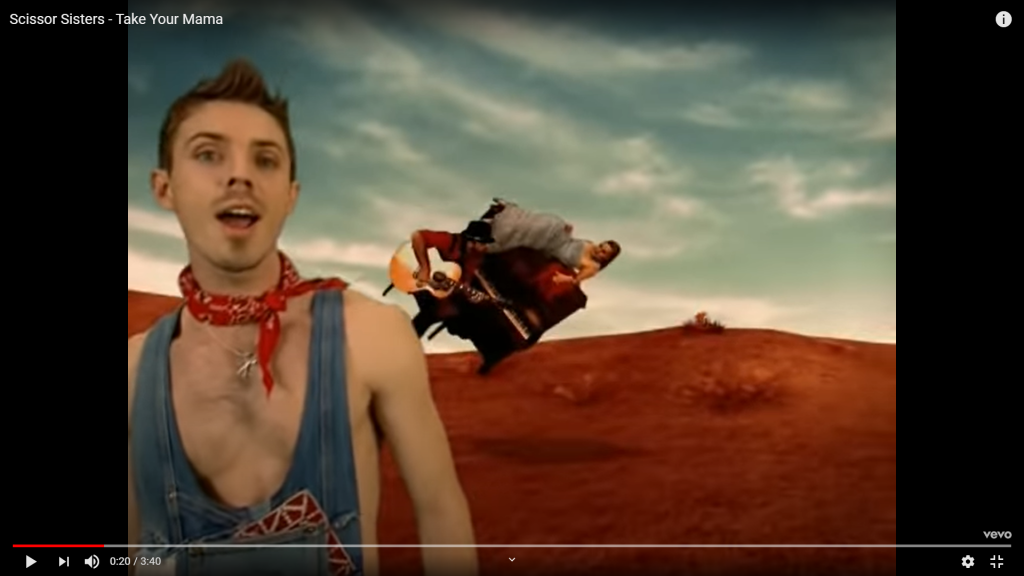 This is one of a series of articles wherein I examine a music video as a short film, focusing on the story rather than the music, trying to identify the story arcs and characters motivations, and consider the larger implication of events.
The film this week is the 2004 film Take Your Mama by Scissor Sisters, a surreal fantasy/science fiction story about taking a big step to help your mother understand you, among other things.
The film starts out speculative in the first few seconds, even before the first person has shown on the screen. We see a constellation in the sky that looks a bit like Orion, though it's more likely the Scissor Sisters logo. A shooting star fires into the middle of where its belt would be which causes other stars to shoot off in all directions, and one drifts slowly down onto grass. From this, I conclude that although this story involves space, it is a fantastical one rather than one attempting to operate by known laws of physics, since all of this makes no sense in terms of our understanding of celestial bodies.
The star, a literal two-dimensional five-pointed star, drifts to the ground on a planet (earth?) among the grass, and with supernatural speed forms a plant with a bud that blooms into a flower while at the same time disgorging a floating piano with a woman in a blue dress lying on top of it and a man in front of it playing a guitar. Given that these people were born from an exploding flower, it seems unlikely that they are the human people that they appear to be; this impression is only reinforced by the fact that this floating spore spins wildly around, including upside down, without dislodging its passengers in its flight. So, given the evidence, this seems to most likely be an alien spore of a pod person type alien race. It's not clear how the spore knew that it should create human-looking simulacra, since it has not established contact with anything, though maybe it found traces of DNA in the ground or perhaps this kind of spore is pre-configured for what kinds of people are known to be on this planet.
A man appears in the foreground, facing away from the spore, not outwardly acknowledging their existence, and possibly not consciously aware of them, but when he begins singing to their tune it becomes clear that they are exerting their influence on him, whether or not he is consciously aware of them.
He sings lyrics about trying to grow up "like a good boy oughta" and how he is the favorite of his mother, and the girls all like him because he's handsome, likes to talk, and is fun. As he's singing this, the landscape behind him transforms, hills and tractor and cows and bar popping up seemingly two-dimensional like they are a pop-up book. And another man appears, who I think may be an analog for the singer himself, as a woman appears and kisses him on the cheek leaving a red lipstick print. She appears to be the same woman depicted on the floating spore-piano, which raises the question of whether she is the pod-person or whether she is the human being that was copied by the pod-person. A rocket-propelled… jukebox, I think?… chases some kind of winged creature in the background.
"Now the girl's gone missing and your house has got an empty bed." Has the girl gone missing because she has been replaced by a pod person? Did he move out of his house? "Folks'll wonder 'bout the wedding, they won't listen to a word you said?" My best guess is that he discovered that she was a pod person and managed to defend himself or flee but no one will listen to his dire warnings about the invasion and instead are hyper-focused on trying to resolve what they imagine to be a minor relationship dispute.
These last couple of lines are sang by the ensemble we've seen so far singing as a band on the comparatively gargantuan open palms of a woman (the singer's mother?) who looks suspiciously like the pod woman on the piano who looks down at them with a shake of her head and then throws them up with apparently superhuman strength as all of the band members literally fly up into orbit. From this I gather that she must be the woman that the pod woman has based her form on , and part of her head shake is disapproval at this fraud copying her form as she tries to return the pod woman who copied her and the other copies back to space from whence they came to trouble her no more.
The band continues to play and to dance in space, though the main singer has changed his denim overalls for feathery white overalls. There begins the refrain of the song "Gonna take your mama out all night, yeah we'll show you what it's all about. We'll get her jacked up on some cheap champagne and let the good times all roll out." Given how the mother reacted before, this taking out of the mother on the town is an attempt on the part of the pod people to keep her from rejecting them and launching them back into space and being forced to deal with traumatic re-entry again and again. Is there a reason they can't just land somewhere far away from the mother where their subterfuge would go better undetected since the humans they are mimicking would not be nearby to notice, or is their continued existence dependent on being nearby the people they are emulating. Or is she some kind of authority here on alien invasions and likely to be called in to intervene wherever people are acting strangely?
He eventually falls back down to earth, only to fly back up and down again, apparently not in control of this movement. "It's a struggle living like a good boy oughtta", no doubt when you have visited outer space with pod people and you may or may not be a pod person yourself, it is hard to live in the cultural norms of your own rural area. "When your mama heard how you've been talking, I try to tell you that all she wanna do is cry." This could mean talking by saying things that are against the cultural norms in this rural area, or it could be talking in alien language to the other pod people coordinating.
The song finishes with our protagonist jamming with the pod people in space again, singing the refrain about taking your mama out all night again, before eventually turning into the Scissors Sisters constellation again–presumably this is part of the pod people reproductive cycle since that's where the original spore came from.
This is a very interesting science fictional tale about pod people trying to fit into society to survive and earn the right to be themselves among others like them.
The next Music Video Drilldown will be Iron by Woodkid.