written by David Steffen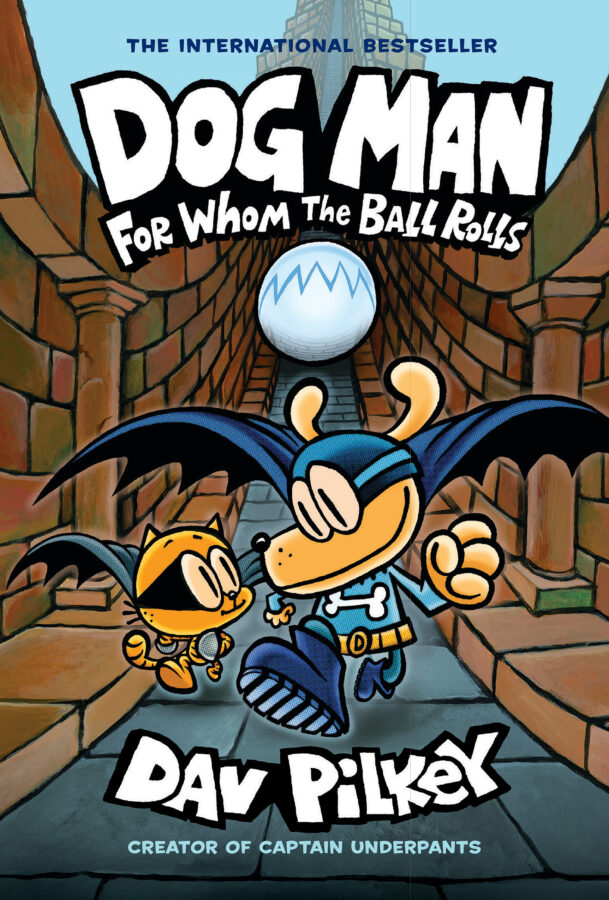 Dog Man: For Whom the Ball Rolls is a 2019 graphic novel for kids, the seventh in the Dog Man series by Dav Pilkey (creator of Captain Underpants). The series so far has been reviewed here.
Our hero Dog Man (half dog, half policeman) is a hero and a very good boy, but sometimes he has a reputation for being… easily distracted. It's hard to depend on a hero who chases anything that resembles a ball even when he's in the middle of a chase. He asks his friends, Lil' Petey and 80HD, for help getting over this obsession and they are so effective at it that his loving obsession turns into a phobia, which the city's villains notice as a weakness they can exploit.
Meanwhile, the once-villain who has started to turn a new leaf decides to start a new life with his immature clone Lil' Petey, whom he had originally created to help with his evil schemes but found that the young clone was so good-natured and loving and considered him a father. At first Petey had resisted the insistence of Lil' Petey that he could be good, but he started to see that point of view. But now as he is ready to settle into a simpler life, Petey's own father, a crook who instilled Petey's criminal tendencies in him at a young age, has come to town.
More fun from the Dog Man and gang, if you liked the earlier books odds are you'll like this one too!