written by David Steffen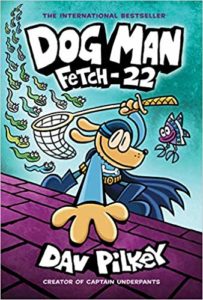 Dog Man: For Whom the Ball Rolls is a 2019 graphic novel for kids, the eighth in the Dog Man series by Dav Pilkey (creator of Captain Underpants). The series so far has been reviewed here.
The villain Petey the cat is trying to turn over a new life and be a force for good instead of a force for evil, mostly motivated by a desire to live up to the confidence of his son, an immature clone of himself, known as Lil' Petey. Lil' Petey is a good-hearted scamp who is now in shared custody between Petey and Petey's nemesis Dog-Man who is half-dog half-cop (Lil' Petey and Dog Man are also members of a superhero group the Supa Buddies with the third member being the robot 80HD). But Lil' Petey's faith in humanity has been shaken.
The Fair Fairy is a long-running children's TV show where a fairy explains to children how to be fair. But, it turns out that she's not so good at keeping her temper when dealing with kids when she flips out (again!) on live TV and stomps off to become the newest villain. This combined with a minor mishap with some "supa brain dots" that turn a pond full of tadpoles into flying telekinetic monsters that team up with the Fair Fairy to wreak havoc on the city, and Dog-Man and his friends again have their work cut out for them!
Still very enjoyable series for grade-school age kids.