interview by Carl Slaughter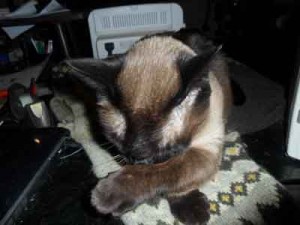 Nebula nominee, frequent Analog byliner, Writers of the Future first place award winner, 2 time Phobos Fiction Contest winner, 6 time Analog Readers Choice Award winner, Odyssey graduate, and longtime Critters member Carl Frederick is camera shy. As you can see from the photo, even his pet cat is shy. He likes cats and dogs and they are prominent characters in many of his stories. Frederick is known for his hard science stories. He's had 40 plus short stories published in Analog. Lately, without letting up on the hard science stories, he has delved deep into character driven stories and even literary science fiction. Or rather, stories with strong character development well blended into the hard science element – and vice versa.
CARL SLAUGHTER: Is "Trojan Carousel" your first novel?
CARL FREDERICK: It's the third or forth. I'm not sure. And as for my first two novels, I'd sort of like to forget that I'd written them. They say a writer needs to write a half million or so words of crud before the good stuff can get out. I think I'm well past that number now.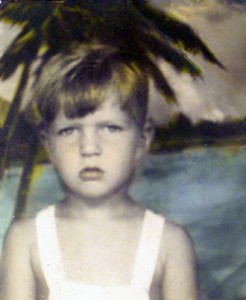 CS: The main characters are boys in a science school. Does this mean YA is the target audience?
CF: Partially, yes.
But the Harry Potter books were a sea change. Up until then, books with kid protagonists were indeed read by adults, but with a sense of embarrassment. Now, post Potter, adults can read such books even in public places. So 'Trojan Carousel' is also aimed at adults who might like reading about kids.
Most of my short story output has gone to Analog Magazine which is not generally perceived as a YA magazine. But I believe it is. Most of the stories therein have the sense of wonder, the avoidance of bored cynicism and sophistication, the optimism, that IMO characterizes the world view of kids.
Thinking about it now, I guess I consider 'Trojan Carousel' a book for bright kids or for physicists (who in many ways are like bright kids).
CS: Why a novel about preteen boys?
CF: Richard Feynman speculated that if kids were introduced to quantum mechanics concepts at an early age, they might (unlike physicists in general) be completely comfortable with those concepts. Exploring that idea is one of the thrusts of the novel.
CS: The adults are minor characters. Why not have them more involved in the plot? Why not have them more involved in the lives of the boys?
CF: I wanted the book to have something of the flavor of 'Lord of the Flies': Kids' lives unconstrained by adult supervision/control. I also wanted the book to reflect the 'school story' genre. Arguably the finest example of same might be 'Stalky and Co.' by Kipling–one of my favorite books when I was a kid. The three boys in 'Trojan Carousel' who are dorm-mates parallel the three study-mates in 'Stalky'.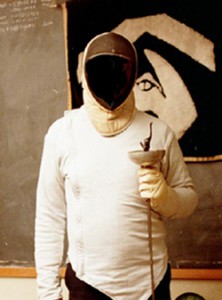 CS: Identify the themes of the story and explain, without major spoilers, how those themes are addressed.
CF: Outwardly, the book is about kids (aged twelve or thereabouts) in two schools on one campus: one (The Amdexter School) a traditional posh faux British boarding school and the other (The Feynman Elementary School for Advanced Physics) is for super-bright science and math kids. The two school populations coexist on friendly terms at the start. But then due to a clash of cultures, things gradually turn bad, leading to a war between the boys of the schools.
The subtext is modern science and how we interpret it, and also on the nature of scientific inquiry.
I acknowledge that this is a poor answer to your question. But I think an author is the very last person to consult about the themes in his writing.
CS: One of the main characters dies. Why is this necessary?
CF: Oh, gosh. I tried very hard not to kill him. But I couldn't make the book work with him remaining alive. And his death allows the protagonist to deny the death somewhat in the way of 'Schr√É∆' ∂dinger's Cat', i.e. he's not dead (or alive) until observed as such. That interpretation, by the way, is not what Schr√É∆' ∂dinger intended. He proposed the cat paradox to show that in some instances quantum mechanics gave unrealistic answers. He considered that a problem with the science.
CS: Science exercises are sprinkled throughout the book. How do these science exercises serve the story?
CF: They're not exercises, exactly. And they're at the back of the book. In a number of chapters, when the reader gets to the end, s/he can continue the science discussion in the chapter by going to the back of the book where the chapter continues. Or one can skip the back of the book and simply continue with the story. The ideas of quantum mechanics are interwoven throughout the novel, and I wanted the reader (if desired) to be able to appreciate those ideas–to appreciate the wonderful and beautiful weirdness of quantum physics.
CS: You're known for your hard science stories. Why not a hard science novel?
CF: I think it IS hard SF, maybe very hard SF. I consider much of what is called hard science fiction to be actually science engineering. I don't see many science concepts in SF and I wanted 'Trojan Carousel' to be about science. I think the novel after 'Trojan Carousel', 'Wizards of Science' is much more in the traditional mold of a hard SF novel.
CS: Lately, you've been writing more character oriented stories. What's the explanation for this and will the trend continue? Have you had any success marketing these types of stories? Any success marketing "Trojan Carousel?
CF: In addition to doing physics, I'm also an engineer in the fast moving electronics industry. And compared to high-tech industry, book publishing is very slow. I'd say even compared to the movement of glaciers, book publishing is slow. I don't have the patience for it. So I'd decided to self-publish e-book versions for Kindles and Nooks. The problem there is getting noticed. I found I didn't have the stomach for self-promotion that self-publishing seems to require. My e-book sales therefore, are not exactly stellar. Occasionally nice things happen though. Last year, after one story of mine in a series came out in Analog, someone in Germany found the other stories in the series in the Kindle version. S/he bought them and a few hours later, bought one of my novels. By the next morning, s/he'd bought everything I'd written. And a few days later came another sale (presumably to another person) from Germany. But there it stopped. No chain reaction, unfortunately. But it was neat finding I had a fan.
In general though, I think most of my sales come from people stumbling on my titles. My best selling title is a short story collection, 'SF++ Science Fiction Stories for Linux Geeks'. I rather imagine the buyers had been looking for technical books about Linux.
I'm considered a successful sf short story writer. But 'successful short story writer' is rather an oxymoron. Very few can make a living doing it. I guess I write because I want to be read, not to make money from it–although some money would be nice.
To answer your question about marketing 'Trojan Carousel': very little success, mainly, I think, because I don't do any marketing.
CS: Most of your stories are in Analog. The longtime editor of Analog recently retired. Will that affect your relationship with the magazine? Will you branch out into other markets?
CF: I know and like (and have long worked with) the new editor. So I hope my relationship won't change. But the previous editor, Stan Schmidt, is a physicist, as am I. And I believe we physicists think differently and have different reading tastes than 'civilians'. So the new editor's reading preferences might be less similar than previously to my writing preferences. I hope I'm wrong.
As to new markets, I admit that yes, I am looking for them.
CS: Any more novels in the works?
CF: Several. I'm working on one now, 'Duplex Alpha'. It posits that world and science problems have become too complex to be addressed by the human brain. But evolution has come to the rescue by bringing forth a new type of identical twins who (by their 'twin language') can to a large degree think as one (an extreme example of 'two heads are better than one'). They are feared and oppressed by the establishment.
I also have the sequel to 'Eridion' (a space opera) in the works.
CS: Do you run all your manuscripts through the Critters Workshop? How does the feedback affect your revisions and how do the revisions affect the marketability of your stories?
CF: I rely heavily on Critters and run all my short stories through the workshop. I rewrite heavily based on the critiques and believe that, in all cases, the rewrites have resulted in greatly improved stories. I do weigh the critiques based on the critiquers. Some of the critiquers hate everything and seem to just like to tear down writers and writing. Some seem to have just started learning English. Some write absolutely incomprehensible critiques. But most are terrific. And many find ideas in my stories that I didn't even know about. I don't know what I'd do without Critters. I write individualized thank yous to every critiquer of my stories.
And speaking of thanks, thank you, Carl, for giving me the chance to discuss 'The Trojan Carousel'. Because of the (optional) back of the book chapter continuations, I regard the novel as something of an experiment. I'm very fond of the book and still, when I think of the aforementioned death, my eyes tend to mist over.
While yes, it would be great if people bought the e-book (or any of my books) for Kindle from Amazon, I'm more concerned with readership than with income. Accordingly, if readers of this interview want copies, I'd be happy to provide them by e-mail. Readers can go to my website, click on e-books and further click the book title and then click on the 'e-mail for free copy' button.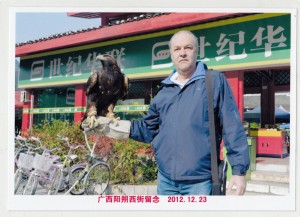 Carl Slaughter is a man of the world. For the last decade, he has traveled the globe as an ESL teacher in 17 countries on 3 continents, collecting souvenir paintings from China, Korea, Thailand, Vietnam, and Egypt, as well as dresses from Egypt, and masks from Kenya, along the way. He spends a ridiculous amount of time and an alarming amount of money in bookstores. He has a large ESL book review website, an exhaustive FAQ about teaching English in China, and a collection of 75 English language newspapers from 15 countries.
His training is in journalism, and he has an essay on culture printed in the Korea Times and Beijing Review. He has two science fiction novels in the works and is deep into research for an environmental short story project.
Carl currently teaches in China where electricity is an inconsistent commodity.