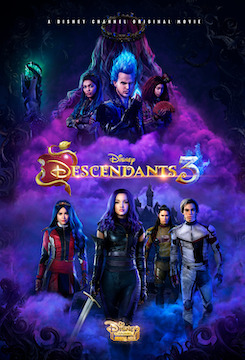 written by David Steffen
Descendants 3 is the third in a series of musical action Disney Channel original movies, and was published on The Disney Channel in August 2019. The kingdom of Auradon is perfect, and populated entirely by Disney movie heroes and their kids (who are somehow all within a few years of each other in age, despite the Disney movies being set in significantly different technological time periods and regions). All of the Disney movie villains and their kids are exiled to the gloomy Isle accessible to only a few, except the few VKs (villain kids) who were allowed out of the island to integrate with Auradon society a few years ago.
Mal (Dove Cameron), daughter of Maleficent, is the most famous of those, since she is dating King Ben (Mitchell Hope), son of Beauty and the Beast. Her VK friends who were released before are Evie (Sofia Carson), daughter of Evil Queen from Snow White (and they never thought of a better name for that character), Carlos (Cameron Boyce, who passed away before the movie was released), the son of Cruella de Ville, and Jay (Booboo Stewart), son of Jafar.
Mal and her friends visit the Isle in an official capacity to pick a few more VKs to integrate into Auradon society. As they're leaving, the powerful villain Hades (Cheyenne Jackson), attacks Mal with his magical ember, and appears to almost succeed, starting a new panic among the citizens of Auradon who are afraid that they will never be safe, and Mal proposes closing the Isle forever.
Meanwhile, back in Auradon, Audrey (Sarah Jeffery), daughter of Aurora, after years of always feeling second best to Mal, takes this opportunity with so many of the rulers being out of Aurodon to visit the Isle, and steals several magical items from the museum where they're stored and starts to make her own power play.
The music in this movie was the best of the three yet, and was more varied in style–the other movies went for a kind of uniform pop aesthetic with a bit of a punk flavor (an approximation of it, I should say, it is still the Disney Channel), this one mixed in some different styles like 80s rock ballads.
I found the plot harder to get into than the other ones, because there wasn't a clear villain. You find out quite early on that Hades is Mal's dad and it becomes pretty clear that he wasn't actually trying to kill her when they faced off at the boundary of the Isle. And the conflict about sealing the Isle is so artificial I found it hard to relate to–as Hades points out, he's not even a regular villain, he is literally the god of the Underworld, they should just let him out and do his Underworlding. And never in all of this do they consider just… finding a way to provide the Isle with more resources to live on. Auradon is the land of plenty, but the villains and their kids are literally starving within their enclosure, and though there are those sympathetic to the VKs, everyone in general blames the villains and their kids when they really seem to just be surviving as best they can in general.
And especially given that Mal was a VK, and knew what it was like to live there, it was very hard to relate to her in this movie, when she decides to close the barrier for good, especially given that it's her Dad, which she doesn't really think was trying to kill her, gets in a skirmish with her. It appears that her whole stance on this was set up entirely so that she can have a change of heart to give the story a moral, but at this point, and given her history, the moral is sort of a "duh" moment that she had already reached two movies ago and only reverted for plot purposes.
So, I wouldn't expect big things from the plot, especially in terms of Mal's character. The soundtrack is probably the best of the three. And I think this is Cameron Boyce's last movie if you want to remember him fondly, he passed away at an unusually young age.