Jakayla crouched in front of her dark closet. She hadn't turned on the light because that was an awfully rude thing to do when trying to talk to the monster hidden inside.
"You gotta listen to me," she whispered. "The news is saying really bad things, like rocks are gonna fall out of the sky and a lot of people are gonna die. You can't stay in my closet. You gotta go to the basement. There's dark spaces down there for you to hide in. I won't tell no one you gone there."
"Jakayla!" She turned to find Grandma leaning into the bedroom. "I got to run to your auntie's house. The phone network's down."
"The phones don't work?" Jakayla gasped. "Why? I didn't think anything had fallen yet?"
"Nothing has, yet. Everyone's trying to talk to everyone on the phone, and the system can't handle that. Listen, girl." Grandma waddled forward to cup Jakayla's face. "We're going to be just fine, you hear me? Don't you worry. Just stay here. We'll have everyone here together in the basement tonight."
Jakayla nodded, wide-eyed.
"I love you. You be safe." Grandma took a few deep breaths and planted a quick kiss on her forehead. A moment later, she was gone. The walls shuddered as the front door closed.
Jakayla whirled to face the closet again. "She don't want me to worry, but I'm not worrying. Grandma wants to save all our family, and I'm trying to save you, too. Just 'cause you're a monster don't mean you don't count." She paused, head tilted with hope of an answer from her closet. "I can't wait 'til night for you to talk. Just go to the basement, okay? If you get scared, bring Fluffinator the Stuffed Unicorn from the box right there. She always helps me feel braver."
Jakayla hurried through the apartment. Grandma'd left on the TV. Jakayla would have gotten yelled at if she did that. A big red "BREAKING NEWS" banner filled the bottom of the screen. One woman talked in front of a big computer-made graphic of Earth with a lot of lines going all over and a whole bunch of colors, words everywhere like "projected impact zone" and "tsunami risk" along with countdown timers.
She knew all about tsunamis because her cousin had this one video game where a tsunami happened. Those scenes had scared her a lot until Grandma told her she shouldn't worry because they couldn't even see the water from their apartment.
"Plus, we'll be in the basement," Jakayla said to the TV. "Grandma said that's the safest place to be. It don't even leak like it used to."
She rushed onward. Out the sliding door, their tiny backyard held a big pile of black garbage bags. Grandma'd said she'd throw out all Uncle Jerry's belongings unless he paid what he owed in rent. This was as far as she'd thrown everything. Now weeds grew on some of the bags.
Jakayla nudged a sack with her foot. Further back in the pile, something rattled.  "Hey, monster. I know you won't come out or talk in daylight. You're worse than the closet creature like that. But you can hear the television from here, right? You know what's coming?"
She waited for a reply, because it was a polite thing to do. Somewhere nearby, sirens wailed and dogs howled like bad back-up singers.
"Here's the thing," she continued. "I know you got a good home in these bags, but you should come to the basement. I'll be there with a bunch of people and the closet monster, too. There's room for you."
An odd clicking sound caused Jakayla to glance indoors. The living room was dark, the room quiet. "Oh. The power went out. No more TV." Her voice suddenly sounded high-pitched. Scared. But she had to be brave so the monsters stayed calm. She took a few deep breaths, like Grandma did before she left.
"I need to go," she told the pile of bags. "I want you to be okay. You live in Uncle Jerry's trashed stuff, so you're kinda like family." A pop-pop-pop sound like fireworks carried from way off in the distance.
How soon until the rocks fell near here? She pictured the map from the news. The news lady had said something about her city being in a red zone. Red was Jakayla's favorite color, but a red zone didn't sound so good. That meant she needed to be fast, "lickity-split, zoom-zoom!" like the bird in her favorite cartoon. She had to go to the old church down the block to warn the gargoyles, then dash to the park on Howard Street to tell the shadow in the sewer pipe, then get home, all before Grandma got back.
She ran through the house. First of all, she had to visit the closet again. She hoped the monster there wouldn't mind if she borrowed Fluffinator the Stuffed Unicorn. She needed her favorite unicorn with her as she warned her other friends about the awful things to come.
The basement would be crowded tonight, with lots of family and monsters, but that was okay. Grandma said they'd all be together. They'd make it through. In the end, that's what mattered.
---
© 2019 by Beth Cato
Author's Note: I wrote this story as part of a Weekend Warrior flash writing contest on Codex. I don't recall the exact prompts that inspired this story, but I really wanted to show a child's compassion in the thick of a terrible crisis.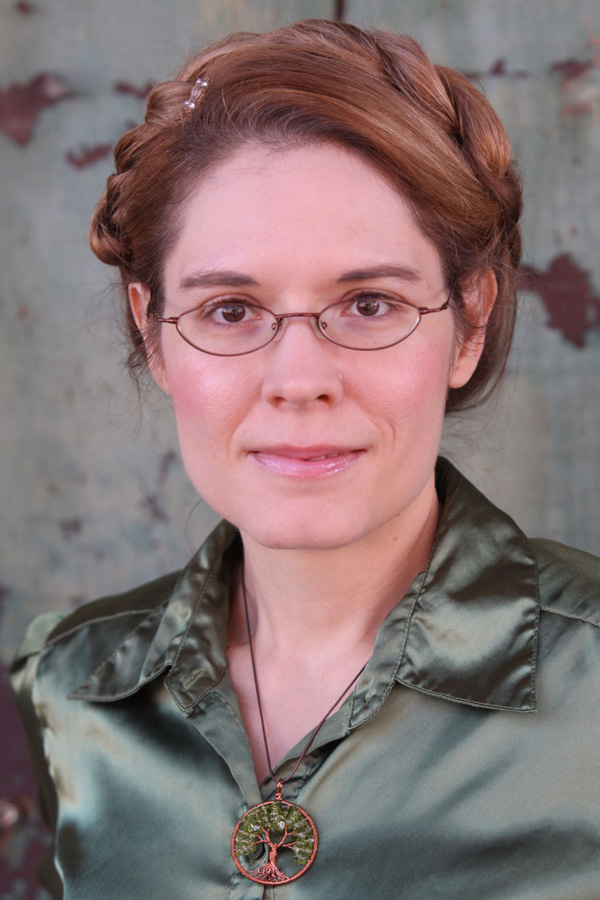 Nebula-nominated Beth Cato is the author of the Clockwork Dagger duology and the Blood of Earth Trilogy from Harper Voyager. She's a Hanford, California native transplanted to the Arizona desert, where she lives with her husband, son, and requisite cats. Follow her at BethCato.com and on Twitter at @BethCato.
---
If you enjoyed the story you might also want to visit our Support Page, or read the other story offerings.