written by David Steffen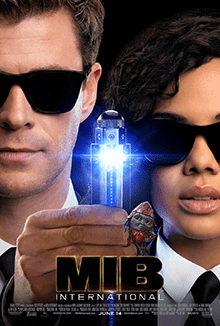 MIB International is a science fiction action/comedy movie, the 4th and most recent movie in the Men In Black series about a secret government agency that keeps the world safe from intergalactic security threats as well as ensuring that extraterrestrial residents of Earth can live in peace and secrecy among us. When someone joins the Men In Black, they give up all remnants of their former life to devote their lives to the cause.
As with previous movies, this one follows a pair of MIB agents working together against some new threat against the world. This time the agents are Agent M (Tessa Thompson) and Agent C (Chris Hemsworth), working under the leadership of High T (Liam Neeson) in the London office of the MIB.
Agent M had been Molly Wright, who witnessed her parents meeting with the MIB after an alien snuck into their house. Molly's parents thought that she was asleep, so her memory of the event did not get wiped like her parents' did. She committed her life and extraordinary academic career into seeking out the Men In Black and finally earned a position in them.
Agent C is a living legend, having fought off an invasion of The Hive with High T using only their wits and Series 7 De-Atomizers. His ways are unorthodox, to say the least, much looser than the usual stiff MIB protocol, and probably only tolerated because High T is the leader.
There's a new threat to the world, a new excursion of the all-subsuming Hive and it's up to Agent M and Agent C to stop it.
I love the series, and this one had a lot of potential. I love both Tessa Thompson and Chris Hemsworth to bits, and I thought that they did an exemplary job with the parts given to them, but I felt like the parts given to them were a little 2-dimensional. The movie was all right but I wanted more from it, especially since this is #4 in the series, the novelty can't carry it at this point and nothing spectacularly new was done with the premise. So, not bad, it was fine, I loved seeing the two lead actors in particular, but I felt like it didn't reach its potential.