written by David Steffen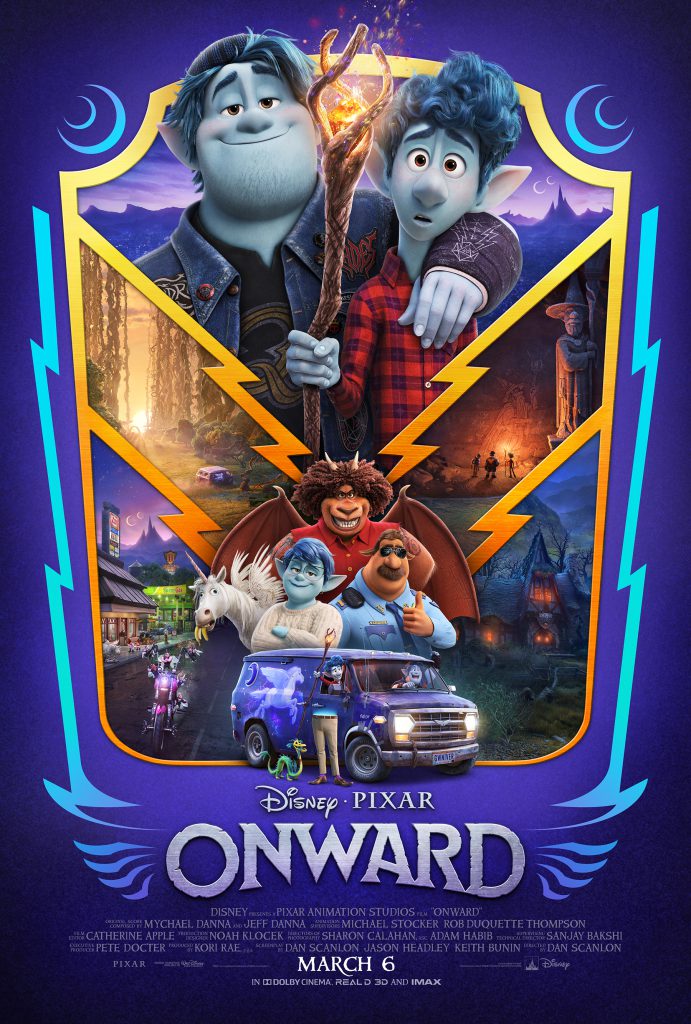 Onward is a March 2020 CG-animated fantasy action/comedy film from Disney/Pixar. It had a brief theatrical release, but its lower ticket shows were attributed to shelter-in-place orders from COVID-19, and as a result it was published on digital streaming services much earlier than usual (we watched it on Disney+).
Ian (Tom Holland)and Barley Lightfoot (Chris Pratt) are brothers. Ian is a shy, self-conscious high-schooler, trying to build a life for himself but finding that his fear of everything holds him back. Barley is his older brother, graduated from high school and still living at home, full of confidence but not a lot of ambition for doing anything in the real world, focused almost exclusively on his role-playing games which are historically accurate from the time before the magic faded from disuse, displaced by technology. They live in a world with many elements that we would recognized as fantastical–they have a pet dragon that has the size and behaviors of a dog, their mom's boyfriend Colt Bronco (Mel Rodriguez) is a centaur police officer. But magic itself is absent, until their mom (Julia Louis-Dreyfuss) gives them a package from their father (Kyle Bornheimer) who passed away when he was young, who had asked that it be given to them when they were both sixteen.
It's a magic staff and the instructions for a spell to bring their dad back for just one day to meet his sons. But the spell goes wrong and only half works, and their dad is reincarnated with only the bottom half of his body, from the waist down. They only have 24 hours to find a way to finish the spell if they want to be able to look him in the eye and have a conversation. With a book of spells and lots of determination, they set out on a quest to do whatever they can to reunite briefly with their father.
Onward is very much up to the high Pixar standard, full of fun and funny moments and feeling very much like the RPG story it's meant to parallel but with a modern angle: pixie biker gangs, centaur police officers, my favorite character: an ex-adventurer Manticore (Octavia Spencer) now running a children's restaurant. There are tearjerker moments too, of course, this being a Pixar movie and being about trying to magically reconnect with a deceased father.
Highly recommended, check it out if you can!