written by David Steffen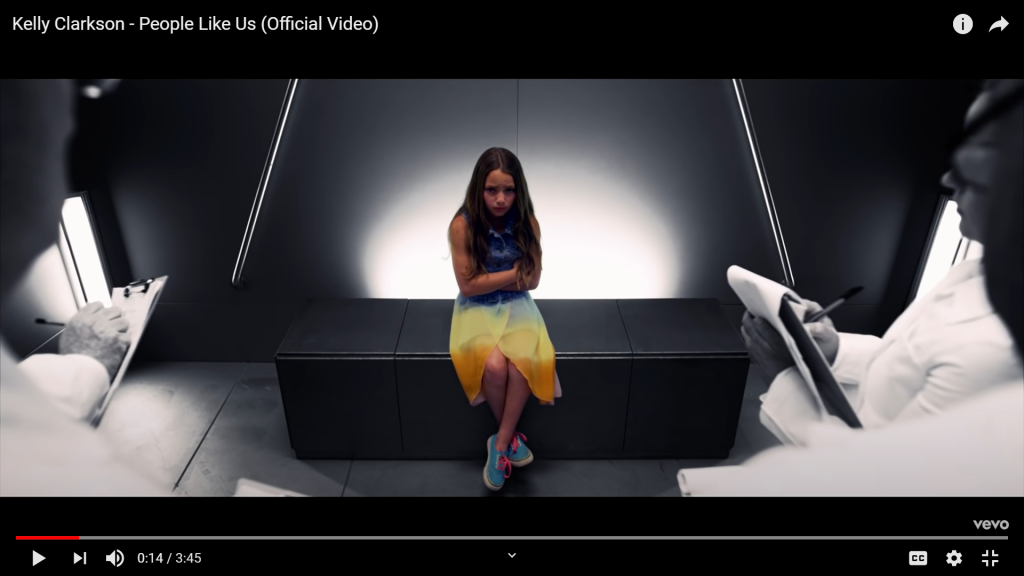 This is one of a series of articles wherein I examine a music video as a short film, focusing on the story rather than the music, trying to identify the story arcs and characters motivations, and consider the larger implication of events.
The film this week is People Like Us by Kelly Clarkson, a fantasy/SF thriller about a little girl imprisoned in a research facility.
As the film begins we see our protagonist, a young girl in a rainbow-colored dress, sitting on a metal examination table and looking scared and worried while men and women holding clipboards study her. She is remarkable in this initial image because everything else is black-and-white, completely without any other colors, and she has the rainbow dress and what we would consider ordinary skin and hair tones. As the scenes go on we continue to see her in enclosed spaces being asked questions, being watched from windows while she looks at an abacus while she is stared at by monochrome children who sit apart from her.
One of the researchers (Kelly Clarkson) acts differently from the others. Of course, since she has the same face as the non-monochrome singer in the refrain who sings "People like us, we gotta stick together", so we already have the dramatic irony that this woman is like the girl, even before she pulls out her bright yellow phone to take full color pictures of the girl. This action is, admittedly, rather baffling. That she wants a picture might make sense, but why wouldn't she be a little more discreet about it, and why would she pull out that phone in front of the other researchers–even if they weren't paying attention at that moment, that bright yellow is eye-catching even in our chromatic world let alone in a world with no color.
Later when the girl is by herself, the yellow-phoned researcher visits her room alone. She takes off her glasses, and takes the girl's hand to brush across her face, the first friendly moment or contact the girl has experienced in the film (and who knows how long she has been here!). Where the girl's hand touches, the researcher's skin returns to a healthy flesh color instead of the monochrome makeup she had apparently been wearing. They share a smile as the girl realizes she finally has an ally.
Again with this moment, it leads to the question of "why?". For the second time the girl's would-be-rescuer, the woman with the yellow phone, has made an extremely risky choice without clear benefit. I mean, it's a clear benefit to let the girl know she is like her, to gain her trust for her participation in the escape. But why the face? Why not roll up her sleeve and show her there where the skin can be covered up again before they leave the room. Perhaps the woman with the yellow phone knows that whatever cover story she has given will be blown as soon as the girl is out of the room, so there's no point in covering it up anymore? Or maybe the woman with the yellow phone is more moved by a flare for the dramatic rather than being a strategist.
In any case, soon alarms are blaring and men in suits are chasing, but they escape to their bright red BMW, with men in suits in hot pursuit. (For the third time, again, why didn't they get a black car or a white car, what is the point of the risk of a red car where anyone would be able to spot them such a long way away as an anomaly in a monochrome landscape!). In the car, the woman with the yellow phone is now in full color again, perhaps there is some aura of color trapped within the car, like the air in a submersible.
They travel through a tunnel and emerge on the other side into a normal chromatic world, where they stop the car and are joined by a crowd of other people in full color.
The men in suits emerge from the tunnel and as they exit their car they stare in wonder at the world of color all around them. Again, I have questions–are they not concerned that these guys in suits won't panic or continue on with their tasks to try to take the girl by force, perhaps using guns. Unless their continued monochromatic state implies that they are powerless in this world that is not their own–perhaps their guns won't fire, perhaps they are as ghosts. Or perhaps the woman with the yellow phone is not alone in her flare for needlessly risky dramatic gestures, and maybe that's inherent in this world of colors.
Next up in the Music Video Drilldown series will be Radioactive by Imagine Dragons.