written by David Steffen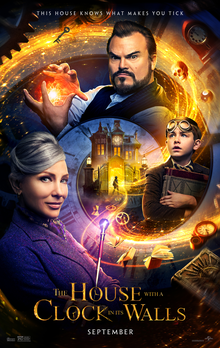 The House With a Clock in its Walls is a 2018 fantasy film based on a 1973 book of the same title by John Bellairs.
In 1955, after his parents die in a car crash, ten-year-old Lewis Barnavelt (Owen Vaccaro) moves in with his weird uncle Jonathan (Jack Black), and meets the neighbor Florence Zimmerman (Cate Blanchett). At night he hears a strange ticking in the walls that he can't find the source of, and as he looks for the source he finds his crazed uncle smashing through a wall with an axe and various objects in the house have taken a life of their own. His uncle confesses he is a warlock, and Florence is a witch, and the clock in the walls is a dark and dangerous secret the previous owner of the house had left there.
This is a fun premise for a movie, and Black as the exuberant and weird uncle, and Blanchett as the kind and interesting neighbor are very good in their roles. I felt that overall it was good, but felt like the final act of the movie was its weakest so it felt like a little bit of a let-down, but it's still a fun watch, and a good one for the kids.