written by David Steffen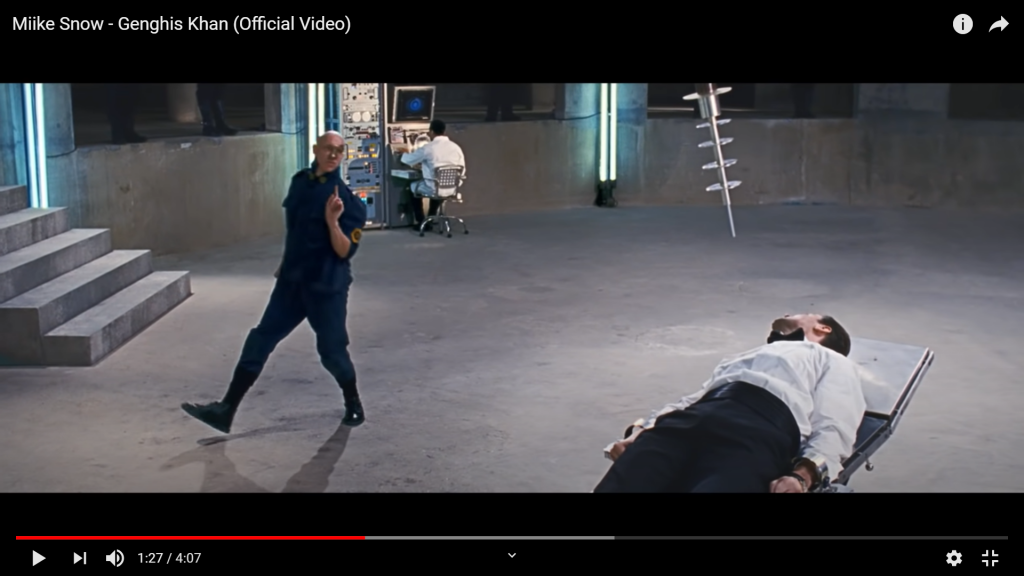 This is one of a series of articles wherein I examine a music video as a short film, focusing on the story rather than the music, trying to identiy the story arcs and characters motivations, and consider the larger implication of events.
The film this week is Genghis Khan by Miike Snow, an action/spy movie turned romance.
The film starts with a line of men in military uniforms standing at attention as their commanding officer (who is dressed in military garb also and has a very distinctive metal prosthetic nose) walks past them to the center of the room large concrete room where a man in a bowtie and a tuxedo shirt is strapped to a table with a giant laser mounted on the ceiling pointed directly at him. The scenario calls to mind the third act of a James Bond film where the villain has captured bond and it is just about time for Bond to make his escape, but this time the villain is our protagonist.
And, of course, next is the monologuing, which the villain does to the music, seeming to be in a happily vindictive mood, taking little dancing steps in celebration at the imminent devise of his rival. Only knowing what we have seen so far in the film, the choice of monologuing topic is a bit odd, saying that he "gets a little bit Genghis Khan" and doesn't want him to "get it on with nobody else but me". Is there a romantic, or at least sexual, history between these characters? James Bond has certainly had trysts with women villains before in his films, but this could be an interesting new angle to it.
A scientist in a white coat delivers a remote control to our villain, and with great relish from him and great fear from his captive he poises his finger to press the button but is interrupted with a buzzer that announces that it is 5pm, and apparently the supervillain bunker workday is over and it's time to go home. This is a particularly interesting moment in the film, because clearly he has been looking forward to this moment for a long time, it's surprising that he would go home just because the clock struck. Perhaps he has felt strongly about work-life balance and it's important to him that he leave on time and leave his work at the office. Perhaps he gets paid for supervillainy only during his work hours and killing the spy when he's not getting paid for it would make him a chump in his own reckoning. Perhaps it's an insurance/worker's comp thing where he could get in trouble for working outside of working hours. Perhaps his family expects him home at a particular time. In any case, with a roll of his eyes, he heads home, leaving the spy strapped to the table overnight.
At home he is greeted by his lovely wife and his children: a young boy and girl. He smiles when his daughter waves to him, but the manufactured smile quickly slips. As they eat dinner together he stares blankly and his wife seems to notice something is amiss, but doesn't say anything, and later in bed she is sleeping soundly while he sits up in bed (stilling wearing his uniform) and continues to mull.
The next day, back at the supervillain office, he continues his monologue to the spy again, if anything with more vigor, and his energy seems to be contagious as well, even soldiers passing through the scene say "ooh" along with the song. The laser is powered up again and there seems to be nothing keeping the spy from his doom. But he hesitates, and monologues about wanting to make up his mind but not knowing himself, and instead of pushing the big red "KILL" button he pushes the big green "RELEASE" button.
The spy leaps up from the table and within seconds a squad of soldiers faces him down with automatic weapons, but the villain orders them to let the spy go, and the villain turns away to let the spy make his escape. But, instead of leaving, the spy carries on with the same monologue about not knowing himself, and he turns back, and sees out loud the main monologue again about getting a little bit Genghis Khan. The two join hands, and perform a series of cute pair dance moves together.
Flash forward to a scene at the villain's home again. This time he has a more genuine smile as the kids come to greet him, and the spy (now in more casual clothes) is just putting dinner on the table. They have happy conversation and they share a romantic look over the table between themselves, and later they are both reading in bed in a quiet and pleasant moment as the villain smiles to himself and everything seems to have ended happily…
Until we see that this bedroom is being surveilled by none other than the villain's ex-wife, who repeats the mantra about being a little bit Genghis Khan and not wanting him to get it on with "nobody else but me", and ominous music plays as the film ends.
This one is really interesting and fun in its subversion of the superspy-and-villain nemeses trope. Even if someone hasn't seen many James Bond films, there are so many parodies and homages that you can't help to have absorbed some of it, and so it is a clever way to set up a short film. "I know what this is" you say as you see the giant laser, and just a little bit of set-dressing sets up your expectations, before dashing them and going a different direction. Spy movies rarely (if ever) show a villain having a stereotypical family life at home, so that in itself is a new angle on it, and the reversal at the end with a new villain promises potential for a sequel–apparently living with him all these years has taught her some tricks. What role will our erstwhile villain play in the next story? Will he continue his previous villainous ways even though he is happier at home? Or was his happiness at home inextricably tied with his villainy? Has the spy turned his allegiance's as well, is he exiled from his home country for fraternizing with the enemy, or is this development still a secret from them. I look forward to seeing the sequel to find out!
(Next up in the Music Video Drilldown series will be She's My Man by Scissor Sisters)