Content note(click for details)

Content note: domestic violence
Max found the box that fit absolutely everything when he was clearing space for Roderick to move in. They had agreed he'd pare down to a single bookshelf, so he drove by the local rental place and bought a half dozen boxes.
By the end of the first round, he'd cleared half of one bookshelf. There were still three and a half more he'd committed to losing. He had enough to start filling boxes, though, and he could use a mental break from the triage.
Max knelt on the super shag and sorted. Hardcovers he only ever bought from the remainder bin by the register. That's where he met Roderick.
"Remaindered just means something big and fancy got overhyped and under-delivered." Somehow Roderick made derision feel exotic. Enticing.
"Or the people who love it couldn't cover the cost?" Max said. He felt pinned under the amber of Roderick's gaze. He didn't know yet that Roderick's eyebrows didn't have a high natural arch, that he was just always judging you.
Roderick shrugged wide shoulders sheathed in stretch cotton.
"I say if you value it, you find a way to pay what it's worth." As Roderick's knuckles brushed the back of Max's hand, he felt worth more than he had in a long time.
Max stacked the hardcovers — biggest on the bottom — in the box. He could have sworn that alone should fill it, but there was at least half a box empty, so he must have been wrong. Wouldn't be the first time.
It took one coffee, two drinks, and one dinner date for Max to give up on the remainder bin. If he couldn't afford the price, he didn't want it enough, now did he? Roderick wasn't fond of the oversized trade paperbacks that took their place.
"They're all over the place." His corded forearms wrapped around Max from behind. "I mean, they're a mess, all different heights and widths and what's the point of a book shelf if it looks like a junk drawer? It should be precise. Crisp and clean."
Crisp and clean. Like Roderick. Even when he was trying the scruffy look, he trimmed his stubble every morning to the perfect length for defining his jawline. Max didn't mind the rug burn he got when they kissed, because kissing, and the rash on his shoulder, reminded him where Roderick rested his chin, the way the bruises on his upper arms reminded him of Roderick's strong hands.
"Artistic integrity?" Max offered. "This was the way they wanted to present them, so—"
Roderick shook his head.
"Everybody's got a vision," he said. "A visionary shapes the world instead of letting everyone else do it for him."
The trades were a more challenging puzzle to pack, but Max eventually found himself satisfied that he'd not wasted any space in the matrix he shaped atop the hardcovers.
Still half a box to fill. And he'd been so certain this time.
The low-end paperbacks had been in milk crates to begin with.
"If you're going to keep them, you gotta show off what you have." Roderick was naked, idly sorting through the crate. His sweat smelled like warm cinnamon and chamomile. Max never smelled like that when he tried Roderick's cologne. Then again, he always washed it off right after because Roderick hated people touching his stuff.
Roderick's brows arched past their usual curve, which meant he was judging extra hard.
"These don't even have front covers," he said.
"That means they're well-loved," Max said, wrapping his arms around Roderick's bicep and snuggling in.
"It means they're out of shape and ugly," Roderick said. Max pulled the sheet up over his belly. "Or stolen," Roderick continued, leaning onto Max. He was solid and heavy, but Max found the weight of him comforting. "You know that scam, don't you? Bookseller tears off the cover for a return and gets a full refund. They're supposed to get rid of what's left, but they keep it, the greedy little shits, and sell it 'used' to some guy thinks he's getting a bargain. But I guess if you have them on a shelf, no one can tell since the spine's intact."
Max bought the shelves the next day.
The paperbacks slid off the oak (Roderick never would have let him live down pressboard) as well as they had slid on. Max set them in the box, spines up, in an effort to save space. But when all that was done, the paperbacks still didn't fill anything. Well-creased titles stared up from the bottom of the box. Just as more books did when he cleared another row. And, emboldened, two more. Max picked up the box, which had heft but nothing close to an entire bookshelf's worth.
He smiled and started tossing books in at random. He kept out his treasured LeGuin and Butler, since after Max's fangasming, Roderick would notice if they disappeared. Otherwise, he stopped worrying about what went in the box, because it all fit. When he was done, he scrawled his name on the side.
He went to shove the box into the back of his closet, but the floor was already covered with unpaired shoes and old t-shirts and a bin of ratty notebooks, all thrown in the dark when Roderick turned up his beautiful Roman nose at them. Max opened the box and dumped everything in, then slid the cardboard home. That night, Roderick practically swooned.
"I thought we'd be fighting about this for weeks," Roderick said. Roderick was a big proponent of moving forward. Evolving. Never live in the past, he liked to say.
Max shrugged and smiled and took advantage of Roderick's alacrity to get him to wear his chaps when they had sex.
The other boxes he'd bought from the rental company didn't seem to work the same way, so Max exercised their no-questions return policy and got his money back.
Max never told Roderick about the box. Not when Max agreed to clear his old Robot Army toys from the wall shelves so Roderick could use the space for his orchids. Or when they got a plasma screen after Max … lost his balance … during a discussion and cracked the screen on his old tube television. Definitely he didn't mention it when Roderick insisted a few tiny blood drops from Max's split lip meant they should replace the quilt his grandmother made.
Expired medication. Cosplay that didn't fit anymore. The 10,000 piece jigsaw puzzle of Ani-Han Hero Team. Boxed.
The apartment was clean and bright and organized and unblemished the way that kept Roderick content, and Max didn't stress losing anything because it was all in the box in the back of the closet if he ever needed it.
Max blamed himself for not realizing that, when everything Max had that Roderick didn't like was finally in the box, the only thing left for Roderick to consider was Max. Cut as Roderick was, Max was never cut enough. He couldn't box himself, though, and much as he tried, he couldn't change himself enough to make Roderick happy living with him.
There was more room in the bathroom after that, without the extra gauze and butterfly bandages and the concealer Roderick helped him find that smoothed everything out so you almost didn't notice bruises, even up close. Max packed away Roderick's detritus so he wouldn't have to remember. He couldn't bring himself to throw any of that away, but he didn't want to see it anymore. Never live in the past might be a good philosophy, after all.
In the end, it seemed better to move than to stay where he was; he couldn't seem to pack enough away to really, finally forget Roderick.
Part of Max wished he could pack the whole apartment in the box, so he could pull it back out and live in it again when he was ready. Every roleplay system told you, though, that you couldn't pack a space inside a space. That was just madness.
There was still plenty to take, and the box held it all. Max had to be a touch more strategic this time. He didn't want to unpack everything all at once, so he made sure that the main cookware and a few dishes and his toiletries and work clothes were on the top, over everything else. He worried for a moment what might happen if his cologne leaked in transit, but the cardboard seemed to hold scents as well as it did everything else. Had a decent vapor barrier, to boot, so he could take his time washing whatever might need washing on the other side.
Unfortunately, Max wasn't quite as good at strategic packing as he thought. Once his clothes were out at the new place, he realized he needed the steamer. When everything had been on hangers, and without Roderick to cock his head and ask if it was really good enough, Max hadn't used the steamer much. Between the folding and the odds and ends piled on top of his clothes, though, even Max noticed how unsightly things were.
Max knew he'd packed it. He'd packed everything. It's just that he was also certain it was one of the first things he'd thrown in. So much for not everything at once.
Out came the clothes that might fit when Max finally went back to the gym and the bullet blender he was planning to start using and the never-opened sliders he'd intended to attach to the couch feet at the old place for the hardwood. Max hefted the stack of not-all-expired coupons and lobbed a half-empty sunscreen onto the stack of ratty beach towels.
His keys fell into the box as Max's hand wrapped around the steamer's handle, because of course they did. They clattered through the layer of baby gates bought for a dog he never brought home. Max swore.
He'd been planning to make copies tomorrow. Max didn't want to dig any further, but he figured it was a better option than going to the landlord. She'd already given him the side-eye when he showed up with just the one box and some stray furniture. It didn't sting nearly as badly as Roderick's disapproval. Still, Max decided to pull out the gates, grab the keys, then slide the gates back into the box and be done for the night.
Except moving the gates shifted the decorative boxes the keys had landed on. Another jangle. Another thing to pull out. And again, when his old cookware that lost its Teflon slid and scooped and dumped the keys down yet further. He tossed aside the curtains with the broken cords. Started yanking things out faster so he could be done with it, but then he was knee deep in winter scarves, sifting after the muffled clink of metal.
They were Roderick's scarves. Roderick loved scarves. He wrapped his neck in stripes and chevrons and houndstooth and even one with polka dots. Winter opened up a long, woolen set of new decorative options for the world, so Roderick always welcomed the snow. Max rolled each one neatly again and laid them outside the box. The last — a black one with a single, thin pink stripe — he used to borrow from Roderick when he wanted to cover his own neck. It had wriggled one end deeper into the morass. Max had to pull much harder to free it. He worried that the wool wouldn't come back from the stretching, but as it slipped loose, a flash of metal caught his eye. He looped the scarf around his neck and forgot about worrying.
Max pushed aside the boxer briefs, steadfastly trying not to think about how well they fit Roderick. He tossed aside the chaps. Roderick had only worn them three times since he bought them for him, anyway.
The keys kept eluding him. Max pulled out his phone and tapped the flashlight on as he sifted past every patterned sock in as many color combinations as Roderick had been able to find. Grabbed handfuls of dried Valentine's Day and anniversary bouquets. Flipped over the frames with pictures of them together. The first time Max went skiing, when he learned how to fall instead of crash. The beach, where Roderick always took on an enviable bronze and smelled like coconut and Max prayed he wouldn't himself turn into a lobster because every hit hurt worse on a burn.
Max couldn't tell now if the metal sound was frame or keys as he clattered past pictures of Roderick's nephew and sisters and the time his mom visited. Accidentally crushed one of the bulbs on the wreath Roderick's aunt sent him last Christmas. So much stuff, all of it sliding and tilting the wrong way every time Max got close. Until he found the watch.
The third anniversary is supposed to be leather, but given how uninspiring Roderick found the chaps, Max bought a watch. It was a classic windup, the not-kid-stuff kind of retro Roderick could enjoy. The band was the leather bit: custom cut and tanned, hand-stitched. Max had paid extra to get M + R burned into the strap.
The spring wound down long ago. Now, the band was loose. The box did well to keep out moisture, so Roderick was relatively preserved, but time ravaged a body even inside a dry box, it seemed. Roderick's skin had taken on a sallow tone that made it hard to see the bruises on his neck, but Max could still make out where he'd wrapped the curtain cords. When Roderick's strong hands throttled him. When the price lurking in the dark sluicing in from the edges of Max's vision had been a price he wouldn't pay.
The key ring was hooked on Roderick's bony thumb. Max picked it up gingerly, afraid to break off a digit. He wasn't sure he knew how to mask a break on someone else.
Something about the atrophy made Roderick look colder, even wearing that soft sweater Max wanted to lay down and snuggle against. Max took off the scarf he'd draped on himself earlier. Gently wrapped the slightly-stretched black wool with the thin pink stripe around the saggy skin at Roderick's neck. It covered Roderick's bruises as well as it had Max's.
Max cupped Roderick's cheek in one hand, kissed him on the forehead, and climbed back out of the box. Holiday decorations and picture frames and socks and scarves and underwear and the broken curtains all fit back in the box where they belonged. Where they would always be at hand if Max needed them.
He closed the lid and carried the box upstairs. Slid it in the back of his new closet like he'd had it in the old one. Out of sight was almost like out of mind. One step away. Eventually Max would be ready to move on completely, he was sure.
Not quite yet, though. For now, he thought it best if he steamed the wrinkles from his outfit for work in the morning and called it good. Roderick never could stand to see Max wrinkled.
---
© 2020 by Jason Kimble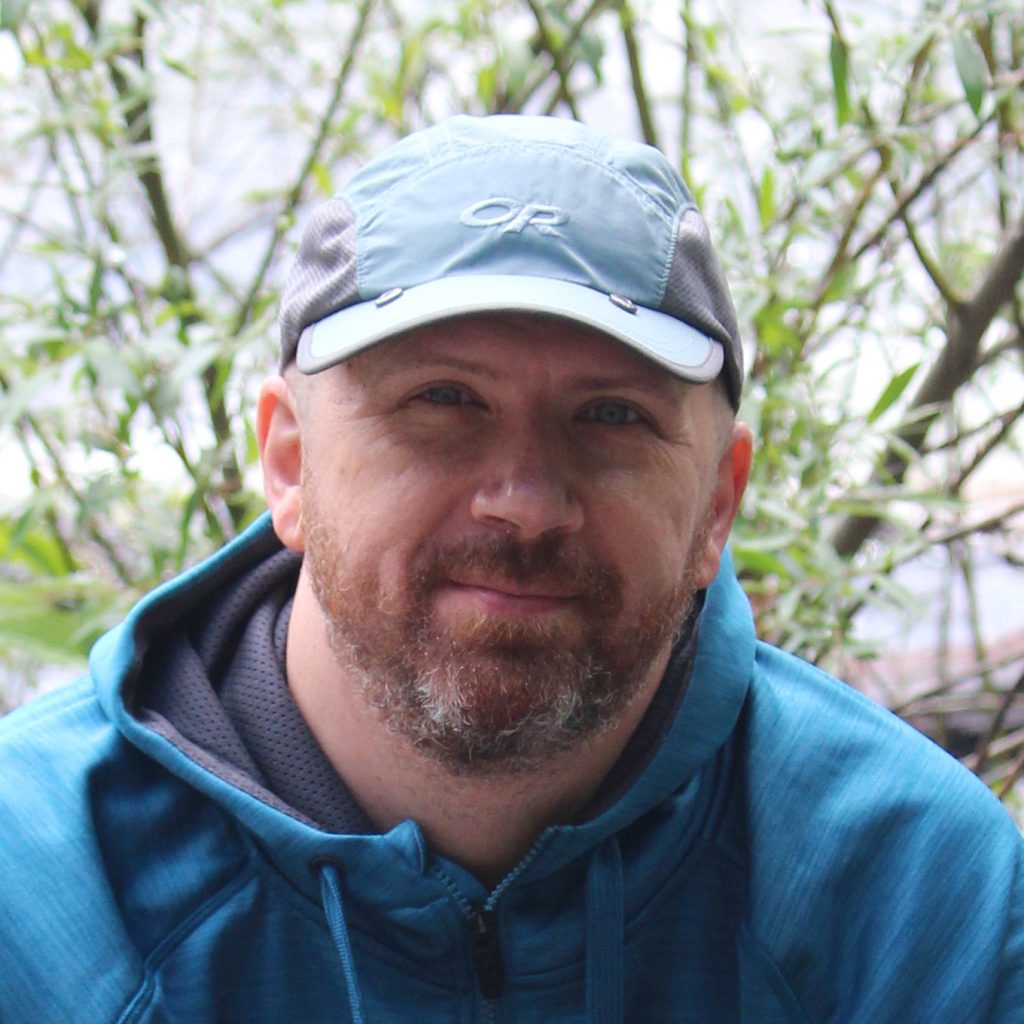 Jason Kimble left the tornadoes of Michigan for the hurricanes of Florida, because spinning air is better when it's warm. He lives there with his finally-legal husband. His work has appeared or is forthcoming in Cast of Wonders, Escape Pod, and Speculative Masculinities. You can find more of his nattering at processwonk.wordpress.com or by following @jkasonetc on Twitter.
---
If you enjoyed the story you might also want to visit our Support Page, or read the other story offerings.