written by David Steffen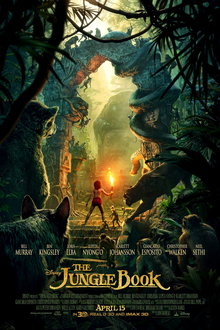 The Jungle Book is a 2016 live action plus CG action/adventure film by Disney Studios which is based on the 1967 animated Disney film of the same title which is in turn based on a collection of stories with that same title published in 1894.
Mowgli (Neel Sethi) is a "man cub", a human boy who was separated from his family when he was just a baby and raised by the wolves Raksha (Lupita Nyong'o) and her pack after he was brought to her by the black panther Bagheera (Ben Kingsley), who still visits them as a friend.
Mowgli lives peacefully among the animals for a number of years, until one year while at the watering hole during a drought they encounter a fire-scarred tiger Shere Khan (Idris Elba) who has a vendetta against humans for disfiguring him. He tells the wolf pack that if the boy isn't gone by the end of the drought then he will kill Mowgli. The pack debates what the best thing to do is, but Mowgli decides that he should leave for the benefit of the pack and Bagheera offers to guide him to the nearest man-village.
Shere Khan hunts them as they try to travel safely and Mowgli makes new friends along the way who help him on his journey, including Baloo the bear (Bill Murray). Mowgli's clearest route to safety is to be returned to a man-village, but he doesn't know their language or any of their ways and he doesn't want to leave the wolf pack who have been his family his whole life.
This movie has a great set of voice actors, and it's fun to see these actors apply their voice talens to a familiar franchise, though, as with many of the Disney live/CG remakes it did sort of leave the question "why did this need to be remade? Wouldn't the time and effort have been better spent on something new?"