written by David Steffen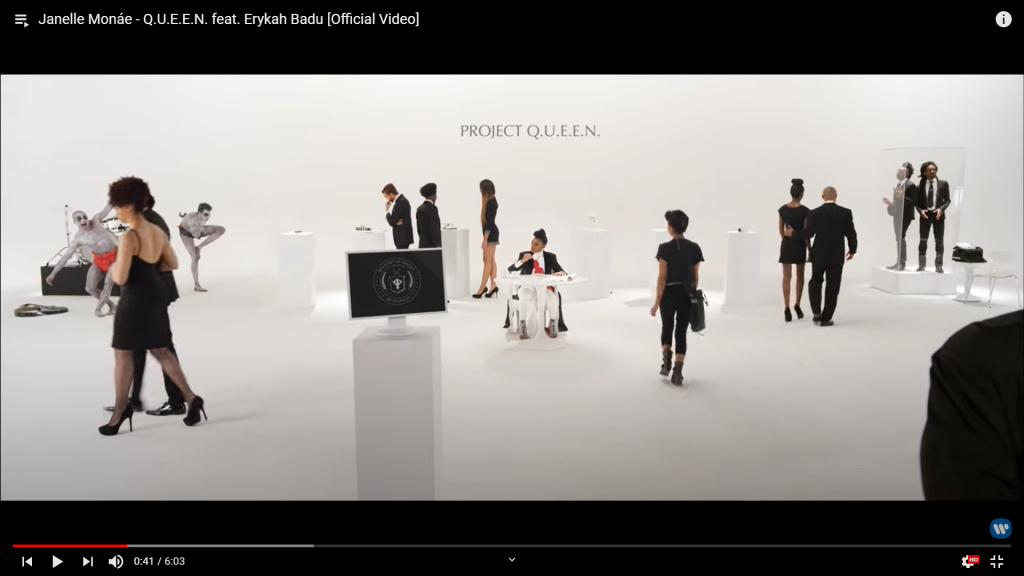 This is one of a series of articles wherein I examine a music video as a short film, focusing on the story rather than the music, trying to identify the story arcs and characters motivations, and consider the larger implication of events.
The film this week is the 2013 film Q.U.E.E.N. by Janelle Monáe, a freedom anthem in a science fiction dystopia, part of a series of interconnected films based in the future city (city-state?) of Metropolis, and in particular The Ministry of Droids of Metropolis.
Note that I covered one of Janelle Monáe's films previously in Music Video Drilldown #1 about her film Tightrope. Tightrope has a number of similarities to Q.U.E.E.N. and although I think one could make an argument for them being part of the same continuity (more on that later), I don't see anything that makes it obviously meant to be related from the films I've seen so far.
"It's hard to stop rebels who time travel. But we at the Time Council pride ourselves on doing just that" a recorded video introduction welcomes visitors as they enter the Living Museum, with mellow string music playing the background.
An emblem in the background of the video gives us a great deal of information about the setting. Around the edges of the circular emblem is written "MINISTRY OF DROIDS" and "METROPOLIS". Neither of these names is further mentioned in this film, but this makes clear continuity connections with other Janelle Monáe films like Many Moons which will be a subject of a future Music Video Drilldown. In the inner circle of the emblem the motto is "Vita En Machina"–I am no Latin expert, but I think it means something like "Life to a Machine" or "Life Within a Machine" which makes sense as being related to the Ministry of Droids which create artifical humanoids. And at the bottom of the inner circle, the year they were established, which at least on my screens is a little bit too blurry to read, but I think it might be in the 2700s, perhaps 2710?
This is no ordinary exhibit, as the narrator explains, "rebels throughout history have been frozen in suspended animation". The particular exhibit that we are viewing is titled "PROJECT Q.U.E.E.N.", featuring the rebel group Wondaland and their leader Janelle Monáe (played by Janelle Monáe herself, naturally), as well as her accomplice Badoula Oblongata (Eryka Badu). Project Q.U.E.E.N. is described as a "musical weapons program in the 21st century", the nature of which is still not understood (at least, by those who prepared this exhibit). It mentions that they are still hunting the various "freedom movements that Wondaland disguised as songs, emotion pictures, and works of art." So this is not only an exhibit about Janelle Monáe, what strolling museum visitors are looking at is actually the Janelle Monáe themself who has apparently been captured and is being held prisoner here. Within this first half-minute or so the film has set the stage for multiple interconnected films, establishing Janelle Monáe as both an actor and a character, and largely establishing her goals to fight the establishment.
Two young black women enter the scene. Unlike the other museum goers who are wearing formalwear (black suits and black dresses), they are dressed more casually. As the narrator finishes her spiel about disguised freedom movements, one of the young women pulls a vinyl record labeled "Q.U.E.E.N." and places it on a display with a skull record player, and starts it playing. The mellow instrumentals are replaced with a more jazzy beat (electric guitar). This change in music alerts the museum guards and the women act quickly to incapacitate the guards and duct tape their unconscious forms to keep them from interfering.
The music begins to wake Janelle Monáe and the other members of Wondaland, and Janelle Monáe begins to sing: "I can't believe the things they say about me", "they call us dirty 'cause we break all your rules now". She speaks on how they are criticized for not fitting into the roles that are expected of them, and muses aloud whether it makes her weird or makes her a freak to dance alone late at night. "And tell me what's the price of fame"–although Janelle Monáe came from humble beginnings in a working family, now that they have become a major celebrity in both music and film, what is the cost of that? How can she stay true to herself with all eyes on her, with the temptations of celebrity lifestyle that are available?
It's not only her identity as a Black person who has a strong sense of integrity at stake, as they reference their queer identity as well with lines like "is it weird to like the way she wears her tights". This is a segue to religion as she asks "Hey sister am I good enough for your heaven? Say will your God accept me in my black and white? Will he approve the way I'm made?" The colors of black and white are repeated multiple times during the song as well as the visual design: much of the exhibit is in stark black and white colors, and almost all of the costumes are entirely black and white apart from a red sash on Janelle Monáe's initial costume. Her conclusion to this self-reflective musing is the declaration: "Even if it makes others uncomfortable, I will love who I am."
These questions are asked from a different scene, rather than the Janelle Monáe at the museum, it features Janelle Monáe in a couple of different outfits with a group of Black women dressed in black and white striped clothes. Another analysis I read of Q.U.E.E.N. indicated that the character portrayed in at least one of those scenes is not meant to be the character Janelle Monáe herself but is instead meant to be the android Cindi Mayweather (who is not explicitly mentioned in this film, but who will be discussed at greater length in the next Janelle Monáe film analysis in this series, of the film Many Moons). It is entirely possible that that IS meant to be Cindi Mayweather, it's possible that there are some visual indications that this is Mayweather, or it's possible that Janelle Monáe has stated this in an interview or something, but the only ways I know how to differentiate Cindi Mayweather from Janelle Monáe visually is: 1. Cindi Mayweather's skin color is configurable, seeming to default to a chalky white, but she can configure her skin to look exactly like Janelle Monáe's skin, so this would only be a clear indicator if she did look chalky white. 2. She has a function button on her left temple as seems to be standard droid design in Metropolis, but in the scene in question her hair is covering the area where the button would be present.
At this point in the film, Badoula Oblongata rouses from her suspended animation and joins the song. In the exhibit at the beginning she is shown wearing a white coat that resembles a doctor's coat, worn as a dress, with golden forearm guards, accompanied by two men in pristine white suits and white berets overlooking a table that has a camera and some rolled up papers that might be blueprints. She is walking a gray standard poodle.
Badoula Oblongata has a solo section of song where she has a more mellow musical line with lyrics including: "Baby, here comes the freedom song" "There's a melody, show you another way" and coming to what seems to be the thesis statement of this section: "you gotta testify, because the booty don't lie". My interpretation of this is that she (along with Janelle Monáe who is dancing and lipsyncing along to this with supporting gestures) that the way to get through to people about matters of equality of justice is to incorporate it into music that is extremely catchy–so that people will be attracted to the music to sing and dance along to it, and will absorb the truth of the underlying lyrics as they do this. This ties into the museum's statements about it being one of a number of a series of what they consider to be "musical weapons programs". This is especially apt in a film which establishes the musician Janelle Monáe themself as a rebel who time-travels because this well describes Janelle Monáe's music which is incredibly catchy, especially when combined with the visuals from her films, but always (or at least always in the subset of their music that I have heard so far) contains an underlying message about equality and justice and the state of our world which is all the more effective at getting into your head through the medium of an "earworm" song that gets in your head and you find yourself singing the lyrics days or weeks after you last heard it–how can you help but consider and examine lyrics that are constantly repeating in your head?
As the music continues, one of the members of Wondaland sits at a typewriter and types the same line of text over and over again: "We will create and destroy ten art movements in ten years."
At this point in the film Janelle Monáe says "I don't think they understand what I'm trying to say" and changes musical format to finish the song with a rap, now wearing her iconic tuxedo for the first time in this song–talking about being part of a lost generation of people "add us to equations but they'll never make us equal". I think this may be referring to several things, but the first that comes to mind is Jim Crow laws and other societal structures that perpetuated the oppression of Black people even after slavery was officially ended. "They keep us underground working hard for the greedy, but when it's time to pay they turn around and call us needy" and makes it clear that she is tired of watching her people be taken advantage of. She ends the film with a call to action "Will you be electric sheep, electric ladies. Will you sleep? Or will you preach?"
In an interview with Fuse HQ Janelle Monáe explains the acronym of the title of this song:
"'Q.U.E.E.N.' definitely is an acronym," Monae explains during an interview at Fuse HQ. "It's for those who are marginalized." She says the "Q" represents the queer community, the "U" for the untouchables, the "E" for emigrants, the second "E" for the excommunicated and the "N" for those labeled as negroid. "It's for everyone who's felt ostracized," she adds. "I wanted to create something for people who feel like they want to give up because they're not accepted by society."
Back to Tightrope for a moment. There are similarities between the two films. They both star Janelle Monáe playing Janelle Monáe. Both films begin with Janelle Monáe held prisoner (in this case a museum, in Tightrope, an asylum), along with members of Wondaland, with music identified as the source of their power (in Tightrope dancing was outlawed because of subversive tendencies and that it leads to illegal magic). There might not be a clear contuity between the two, the powers that are holding her prisoner in each film appear to be very different… but given that Janelle Monáe is canonically a time traveler, it's entirely plausible that these are different organizations, perhaps in entirely different centuries or that one organization developed into the other over time. The only other clue to the connection might be the shoes on one of the pedestals at the exhibit which seem to be the same shoes Janelle Monáe and her entourage wore in Tightrope (although it's possible they wear the shoes at other times, I know Janelle Monáe wears tuxedoes many times especially in their earlier work but I'm not sure about the shoes). Are the shoes on the pedestal a hint that this is a single continuity? Or since this exhibit is about Janelle Monáe is that a hint that that was a music video made by Janelle Monáe in the history but not necessarily a historical record? Or was it just an Easter egg with no particular meaning?
Janelle Monáe is a master at doing exactly what is described within this song–writing songs that are catchy as hell, that make your foot tap, that make you want to dance (even for those of us who have never had a talent for dancing), that are full of truths about the problems with our social structure that you find yourself singing along to and getting in your head.
A future Music Video Drilldown will feature Many Moons by Janelle Monáe. I am greatly looking forward to that one because that one has clear connections with this one–not least of which that both take place in Metropolis and involve the Ministry of Droids, but that one stars the android Cindi Mayweather, which to this day is referenced in the dual name of Janelle Monáe's Twitter account.
The next Music Video Drilldown will be for the film Firework by Katy Perry.