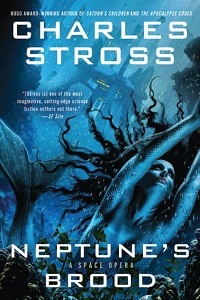 This is the first year that I've actually managed to read all of the nominees in the Hugo novel category, at least a portion of each. Charles Stross's Neptune's Brood is the last of the batch, and I only got my hands on it mid-July when I borrowed it from a friend–the publishers decided not to put it in the Hugo packet, and neither Stross nor Penguin were interested in providing a review copy so I had been intending to just skip the book until the opportunity to borrow it came up. I haven't finished reading the whole book yet. I'm at about page 150 of 340. But the Hugo deadline is tomorrow and this is the last posting slot I have before the deadline, so if I want to share my review before the deadline it's got to be a partial. You can consider this part 1 of the review; I'll write up the rest when I've finished the book.
The voting deadline for the Hugo Awards is tomorrow, July 31st, and I've read as much of the Hugo content as I'm going to have time for. So, the time has come for me to cast my ballot and put awards aside until next year. As I've done the last couple years, I've publicly shared what my ballot is going to look like, as kind of a final section of my Hugo review that is kind of an overarching look at what I thought of the categories. I didn't read work in all the categories, so I've abstained from voting in those that I had no familiarity with and left them off the ballot.
And the last of the shorter categories for the Hugo this year, covering stories from 17,500 to 40,000 words. The longer categories are often misses for me because I feel they have a lot of word bloat, but when I do like one of them they have so much space to grow.