written by Frank Dutkiewicz
Month # 14. If you ever took the time to browse through DSF's library and checked out the authors who have contributed, you'd see many of the same people who have had stories published at Daily SF are published in the same publications Locus and Tangent Online deem worthy to promote and review on a regular basis. I have pointed this out before but it is clear those two big boys could care less what I think. I can't let that stand.
I could continue to hammer away at Locus for their snub, but only one person reviews short material there (how Lois Tilton does it baffles me) and at least they did take the time to read one week's worth last year (even recommended a few). Still, Locus can't be taken completely off the hook – more on them later. The real injustice is Tangent Online's insistence that Daily SF is still not worth their attention, and this will not do.
In Tangent's own mission statement they have made a promiseâ€
"â€of reviewing as much of the professional short fiction venues in the fields of science-fiction and fantasy as possible."
It is a promise they almost keep. The editor, Dave Truesdale, has consistently maintained a fine staff of reviewers. Together, they have been able to review every SFWA magazine still in publication save Daily Science Fiction. To add insult to injury, Tangent has expanded beyond its mission statement to include semi-pro, non-SFWA publications and anthologies. Yet, you will not see a single mention of Daily SF anywhere in their pages. Not in their online publication or in Tangent's SFF.net news feed. As far as Mr Truesdale and Tangent is concerned, Daily Science Fiction really doesn't exist.
I am not going to guess on Mr Truesdale's motives, and he isn't interested in sharing his opinion with me, but the time has come for Tangent Online to either review something of Daily SF or change their pledge to accurately reflect what their true intentions in the field of speculative fiction are, because it can't be about "reviewing as much of the professional short fiction venuesâ€as possible" if they won't even acknowledge the existence of the fastest growing publication in the field today.
But alas, this hasn't been the first time I have sung this song. All of my bitching hasn't even raised an eyebrow of one of the "leading" reviewers of speculative fiction yet. But if can't beat them down, then I'll get them to join me.
I would like to invite our newest reviewer to Diabolical Plots, Carl Slaughter.ÂCarl has reviewed for Tangent Online for the pastÂtwo years. He was one of its leading writers, reviewing most of the material Tangent routinely covers. He is known for his hard hitting and in-depth reviews. He is a long time member of the Critters Writers Workshop and has seen (and predicted) the rise of many of its novice writers into the professional stalwarts authors of today.
Carl's separation from Tangent has granted him spare time to focus on his own writing, but reviewing is in his blood. So I begged himasked if he would like to join our team. Surprisingly, he never heard of Daily SF until I introduced it to him. So will Mr Slaughter think highly (as I do) of DSF? Or will he prove that Tangent's policy of ignoring the publication is justified because of inferior content? I was eager to find out, so I had Carl lead off with this month's reviews so we could all see for ourselves.
The Stories
"Dark Swans" by Terra LeMay (debut 11/1 and reviewed by Carl Slaughter) is about a girl who goes trick-or-treating. But she's no ordinary girl, so her parents know she can't do ordinary trick-or-treating or go to an ordinary Halloween party. So they make special arrangements. And this is no ordinary Halloween night for this girl zombie. It is a joyous occasion for her, but a bittersweet ritual for them. This is billed as fantasy, but it's better described as tragic horror. "Dark Swans" is a moving story with a creative premise. Highly recommended.
"Call Center Blues" by Carrie Cuinn (debut 11/2 and reviewed by Carl Slaughter) is a not very original service robot story with not very much content and a very predictable ending. Pass.
Time for a grandmother to depart this reality. She doesn't want to leave yet. She wants to continue contributing to the family. Her granddaughter has devised a way, though not to the grandmother's liking.
"Time to Go" by Erin Hartshorn (debut 11/3 and reviewed by Carl Slaughter) strikes me as amateurish. This science fiction story is definitely the runt of the litter. But it's only a few paragraphs, so taste for yourself.
"And The" by Alyc Helms (debut 11/4 and reviewed by Carl Slaughter) is a Dragon sacrifice story with a twist. The chosen girl spends a year in the dragon's lair learning her way around, then the two play a deadly game of hide and seek. The year includes many conversations full of intriguing banter. The first thing she discovers is that he's a dragon but not a dragon. Meanwhile, she spends a lot of time in his library. Then there is the mysterious amber orb and the rhythmic humming, both of which, of course, are the key to the game. The premise and the conclusion are so obvious, yet so elusive. If you're a description lover, the first scene is a feast. If not, you may want to skip to the dialog. The story is a bit too long but enjoyable and the ending is very satisfying. Don't miss this one.
A man questions a professor on his speech in "Geniuses" by Christopher Kastensmidt (debut 11/7). A man who attended the protagonist's lecture on geniuses interrupts the professor, while enjoying a beer at the local bar. The man makes a wager with the professor that he can't name 10 geniuses of this century.
The story is of lost geniuses. Most of the geniuses, in the man's wager, are people who were lost to tragic events before their brilliance can ever be realized. Frustrated with the futility of the strange man's bet, the professor leaves.
I found "Geniuses" to be a frustrating story. The identity of the wage-maker ended up being a mystery. He could have been an angel, time-traveler, or alien , we never found out. What I found particularly puzzling was what could the professor possibly do with the information? If mystery man knew these people were to be saviors of mankind, why didn't he do something to make sure they lived to their full potential? For a guy who knew an awful lot about geniuses, he didn't appear to be very bright.
A fallen king seeks revenge on the prophet who misled him in "A Great Destiny" by Eric James Stone (debut 11/8). Groshen, now a deformed commoner, finds the man who prophesized his victory over the Emperor, when he was still a king. The prophet's two predictions ended disastrously for Groshen, believed to be dead (and lucky to be alive), he corners the prophet in alley. Just as his about to exact his revenge the prophet has one last prediction for him.
"A Great Destiny" is short, yet is well-constructed story with an intriguing premise. Not his best, but Mr Stone again demonstrates why he is one of the top writers in speculative fiction today.
Ned the Neanderthal pays a visit to the doctor in "Ned Thrall" by Amalia Dillin (debut 11/9). Ned is the first viable Neanderthal to walk the Earth in a very long time. Dr Habber, his creator, is checking on his progress.
"Ned Thrall" is a tongue-and-cheek story set in a future where genetic altering is a common practice. I found the tale cute and funny but incomplete. It read like a first scene to something much larger.
"Trading the Days" by M. E. Castle (debut 11/10) is a person's contemplation of a day's worth. The protagonist describes a bad day, and wonders if he/she should discard it, but some days are the days you wait for, and any given day lost, cheapens any day worth saving.
If my assessment of "Trading the Days" confuses you, than I did my job of explaining what I got out of this piece. I am not sure if this was a metaphorical exercise, or if trading one's days in is a possibility in this difficult to grasp premise.
A teacher must determine how far a pair of apples have fallen from their tree in "Fields of Ice" by Jay Caselberg (debut 11/11). Marsius has the task of determining if the fallen Tyrant's children share his dark talents in magic. Prince Sten has his father's looks, and his cocky attitude as well, while Princess Antalya is withdrawn. It is Marsius's job to determine if these two are spoiled offspring of the privileged, or a dangerous threat.
The formerly royal children of the fallen tyrant are prisoners. Marsius instructs the children on the basics of magic. Prince Sten is eager to show off his limited talents while Antalya sits quietly and watches, cautious as a young girl locked in a prison would be. Their future depends on how they perform in these tests. And Marsius's future depends on how well he does on his test.
"Fields of Ice" is told from the perspective of a man who must decide if two children are innocent or potential monsters. The Tyrant had power that must never be unleashed again. If an inclining of his talents has been inherited, than drastic means will become necessary. Marsius must be sure. He is the judge and executioner, and such a task is not easy when it involves children.
"Fields of Ice" is a very good stand-alone tale that looks as if it was pulled from a much larger story. Not the grandest of tales from DSF but well worth the read.
Celeste has a chance to explore the stars in "Silver Sixpence" by Craig Pay (debut 11/15). She will be gone for years while her husband and daughter remain behind. The relativity time difference will mean she will age slower than her family, but it is only one trip and just a few years. How much could she miss?
"Silver Sixpence" is a story of a woman's ambitions in conflict with her family responsibilities. Celeste's husband and daughter are forced to take a backseat to her drive and desire to see new worlds. The story is a new twist on an old premise; a family divided because of a workaholic's inability to recognize what is important.
"Everyone Loves A Hero" by Fran Wilde (debut 11/16 and reviewed by Dustin Adams) covers a lot of ground in this short story about a hero – and his heroic live-in. She cooks, she cleans… she pays the bills. The hero is too heroic to receive payment of any kind – from anyone.
But what is credit card debt compared to saving the world? The answer may surprise you. I know I was, pleasantly so.
This story – very well written and great for a grin. I rated it 6 of 7 rocket dragons.
In "The Last Necromancer" by Thomas F Jolly (debut 11/14 and reviewed by Anonymous), a wannabe necromancer has located all the ingredients required to complete a complex spell to raise the dead. Who better to try it on than the spell's inventor, a long dead famous necromancer. The find the crypt housing the dead necromancer and cast the spell to bring the dead back to life, and the corpse reanimates. The old (and recently dead) necromancer has a question for the two who brought him back to life–a question about the specifics of the spell.
I thought this story was the exploration of a concept (an interesting one), but I wondered if more could have been done with it. It was nicely written, but didn't wow me. I would give it 5 out of 7 dragons.
"Everyone Gets Scared Sometimes" by Ari B Goelman (debut 11/17 and reviewed by Dustin Adams) is a story about a girl, exact age unknown, who has reintegrated into society after living many years in the "Dead Zone". The dead zone being where the zombies are.
An interesting twist on the zombie genre, because life has returned to normal, or at least as normal as it can be for those living in the city – but still living with fear.
The girl, known only as She, seems helpless, and able to be taken advantage of. Though not as clearly drawn as I would have liked, we find out this isn't at all the case.
I rated this story 5 out of 7 Rocket Dragons.
To completely review "Meet Archive" by Mary E. Lowd (debut 11/18 and reviewed by Dustin Adams), would be to give away plot points that reveal themselves as expertly and flawlessly as the rings of an onion. So I will merely hint, and urge you to read this wonderful story for yourself.
Archive is a story teller. He spends his time in the All Alien Cafe, regaling those who listen with "stories about his world… Though he never knew it." We hear bits and pieces, enough to leave us wanting more, but the true tale lies in who – or what – Archive really is, and what he means to the one who loves him.
This is the epitome of a short story. Brilliant. I gave this story 7 out of 7 Rocket Dragons.
Recommended
In "Safe Empathy" by Ken Liu (debut 11/21 and reviewed by Anonymous) a young woman is leaving a party with her partner. He hasn't had a great time and he wants to 'share' his negative feelings with her as a way of unburdening himself. In the story, the mechanism of sharing is kept vague, but appears to be a more direct experience than simply talking about problems.
The girl ruminates that in the past he would share his triumphs and happiness as well as his sorrows, but nowadays he only seems to want to share his sorrows. She doesn't appreciate such a negative diet and consequently uses 'protection'–a kind of condom for the heart. It isn't clear how this works either.
The story talks about classes at school where these condoms for the heart were shown to the kids and their use explained.
This story didn't really work for me. It was well written with nice clear prose, but the main elements–the sharing of emotions and the 'protection'–were left vague. The plot was pretty thin and can be summed up as follows; she was unhappy with her partner–reasons were given–and so she left.
As the title to "The Bicycle Rebellion" by Laura E. Goodin (debut 11/22 and reviewed by James Hanzelka) implies this is a modern day fable about the day bicycles rebel and attempt to overthrow humans as the dominant species on earth. Set in Australia it follows the growth of the rebellion and the determination of one bicycle repairwoman to set it right. Can she accomplish her task in the face of the determination of the mechanical mobs and the interference of humans looking to their own interests?
I think someone has been spending too much time with their bicycle. This tale is well written and drew me in despite the fact that it's not exactly my cup of tea. The author did a good job of taking a premise that is silly on the surface and making it sound believable. It's worth a read, even though it might not sound like your thing.
"Daddy's Girl" by Leigh Kimmel (debut 11/23) is the tale of a daughter who clings to her father's love. The protagonist lives a harsh as punishment to her father's sins. She has held true to her promise to always remember that he loved her. She endures the injustice of guilt by association so she would one day join him in heave.
"Daddy's Girl" is a long set up for a final scene in the afterlife. The author successfully makes her protagonist a sympathetic girl forced to live a life of torment. Her father is known for his cruelty and is remembered as one of the most evil in history but to her, he was always the apple in her eye.
The ending becomes an indictment, one that made me uncomfortable. It turned a sweet tale into an awkward moment.
A goddess is on the prowl in "Venus at the Streetlight Lounge" by Cheryl Wood Ruggiero (debut 11/24). Venus stalks an unfaithful man nuzzling with a young lady in a bar. She gets him alone, where she learns all is not as it seems.
"Venus" is a modern day telling of a Roman Goddess. It is short and has a twist. Not grand but worth a read.
"Sand-Child" by Marie Croke (debut 11/25 and reviewed by Carl Slaughter) is a coming of age story. A barren woman, at her husband's insistence, creates a child from sand. But she gives him only positive emotions. There is much agonizing by all 3 about who blames who for what. A recurring theme is the mother's nagging doubts. She is concerned that her child has a crucial flaw.
"He has all he needs to be happy," she said, more confidently than she feltâ€despite all her labor, she worried. Useless misgivings, she told herself, but that did nothing to ebb her feelingsâ€She bit her lip, not wanting to admit how badly she felt something was amissâ€She wished she had his steadfast belief. She wished her insecurities could be smoothed as easilyâ€Abi cringed inside at Akelbi's faith, her mind reeling in her worry that perhaps she had not created him as strong as she thought she hadâ€She wanted to scream the answer at him, but it hid in the recesses of her mind, burying itself somewhere she could not reach so that Kel would not know, leaving only a tendril of dread that refused to be pacified by words, no matter how smooth they sounded.
Through tragedy she discovers that her fears were justified. Through pain, she mends the flaw. A well written story containing many lessons about life, relationships, and humanness.
A desperate girl searches an online dating service for a knight in "Looking for a Knight in Shining Armor" by Sylvia Spruck Wrigley (debut 11/28). The protagonist takes note of silky webs growing in the snow-covered pines. "Wyrms," is what the old crazy guy claims and hands her a can of spray to take of them. But as in an infestation, you never get them all, and there are only two ways to take care of a dragon.
This story was quite cute. Very amusing and well written.
An old boyfriend appears at Mia's door in "A Puddle of Dead" by Grayson Bray Morris (debut 11/29). It has been 15 years since Henry left Mia for drugs. Mia went on with her life but Henry's reappearance has rekindled old emotions. Henry is clean, looking better than Mia remembers. He has come to spend one last evening with Mia, a goodbye he didn't give her before.
The story dives us right into the middle of an older Mia's next chapter of her life. She has married and has children, but tosses them aside the second she sees Henry again. It isn't until after dinner, and a bit of romance, the subject of their split up is brought out into the open. And just as he appears out of the blue, Henry leaves, but Mia has no intentions of just letting him go and tails her long lost love. She discovers that people don't change as easily as a they appear on the surface, and finds out what lengths of sacrifice the people we love will make to make us happy again.
"A Puddle of Dead" is meant to be a moving story of love and sacrifice, but anger is the emotion it spurred from me. The two characters in this piece do indeed love each other but their actions are of selfish and needy people who have no regard of the people who have given everything they have to them, unconditionally. It made me furious that Mia would fall into a man who took her love for granted 15 years prior, at the risk of ruining her loving family. Worse, Henry's loving final goodbye is nothing more than a passive aggressive gambit. How dare he drop in like that to disrupt her life, one last time. If he truly loved her, he would have just left well enough alone and allow the love of his life to live hers without additional complications.
A new breed of hog drops in London in "The Butcher's First" by Seth DeHann (debut 11/30). Strange ships from the sky crash into a pre-20th century England. The cargo they carry are of animals similar to pigs. The local butcher takes advantage of the new beasts, crafting cuts of the latest delicacy to hit London.
The story is an impressive take of a dedicated butcher presented with a new product. Not sure if the animals were extraterrestrial livestock, or something more. I felt the ending of this piece left the story incomplete.
â€And about the other guyâ€
Locus has posted their award poll for 2011. It has asked its readers to vote for the favorites in a variety of categories. You'll find few of the authors listed as contributors to Daily SF, but sadly, none of the stories printed in DSF made their list. A bummer, but the real injustice is their category for favorite magazines. Locus has compiled a list of 34 publications of short fiction to choose from. Daily Science Fiction did not make it. The next category for their awards is for best editor. 40 people have made that list but you won't find a Jonathan Laden or Michele Barasso anywhere on it. So what gives? How can this be? I used to complain with a tongue planted firmly in my cheek that a conspiracy was afoot when it came to embarrassing absence of Daily SF. Could this be a simple oversight? I can't fathom how, but this will not stand.
If you are reading this, you likely find something special about Daily Science Fiction. Locus has allowed write in votes for all categories. For the sake of fair play, I am asking all to please visit Locus's voting page http://www.locusmag.com/Magazine/2012/PollAndSurvey.html and write in Daily Science Fiction for favorite magazine and Jonathan Laden and Michele Barasso (separately) for Best Editor. And if there was a story you thought was extra special, by all means write that in as well.
A common premise in speculative fiction is of individuals making a difference in their world. This is a time when your simple action would make a big difference. Jon and Michele have bent over backwards for providing us all a venue to read fresh material from our favorite genres. It is time we all show them a little of that love back.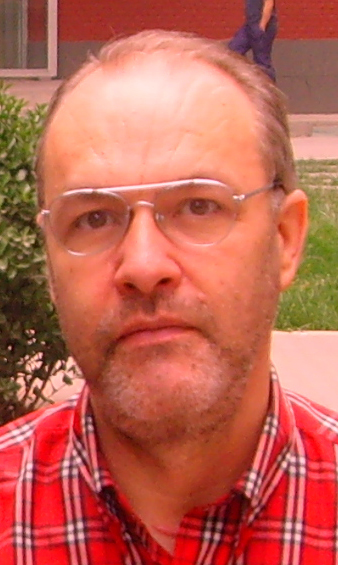 Carl Slaughter is a man of the world. For the last decade, he has traveled the globe as an ESL teacher in 17 countries on 3 continents, collecting souvenir paintings from China, Korea, Thailand, Vietnam, and Egypt, as well as dresses from Egypt, and masks from Kenya, along the way. He spends a ridiculous amount of time and an alarming amount of money in bookstores. He has a large ESL book review website, an exhaustive FAQ about teaching English in China, and a collection of 75 English language newspapers from 15 countries.
His training is in journalism, and he has an essay on culture printed in the Korea Times and Beijing Review. He has two science fiction novels in the works and is deep into research for an environmental short story project.
Carl currently teaches in China where electricityÂis anÂinconsistent commodity.
Welcome aboard, Carl.