written by David Steffen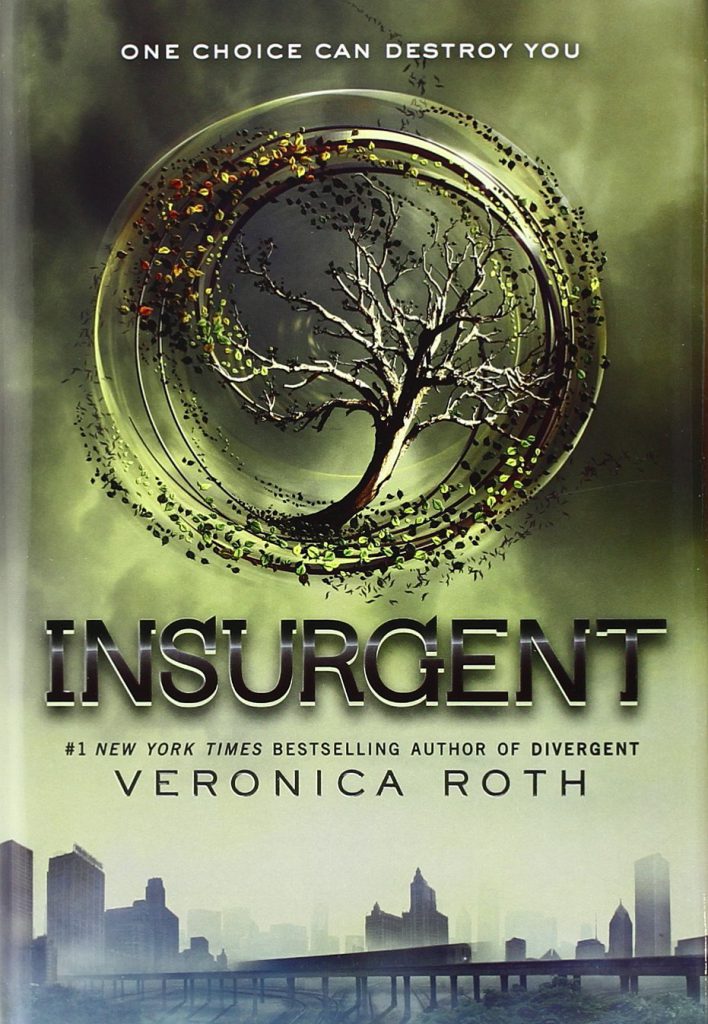 Insurgent is a 2012 dystopic science fiction novel by Veronica Roth, the sequel to Divergent (reviewed here) and the second in the Divergent trilogy.
These stories take place in a future Chicago which is walled-off from the rest of the world and has been split into five factions: Candor (who value truth, Abnegation (who value selflessness), Amity (who value harmony), Dauntless (who value courage), and Erudite (who value intelligence). This order has existed for a long time, relatively undisturbed, but now the world is reeling from coordinated attack masterminded by Erudite that involved turning much of the deadly and well-trained Dauntless into mindless killing drones. Now the remnants of Dauntless are scattered and trying to figure out how they're going to fit in in the new shaken order.
Tris Prior was born Abnegation but chose to switch to Dauntless when she turned sixteen, the one opportunity anyone has to switch. Although she is officially Dauntless, she has shown tendencies that seem to say she is actually "Divergent", which means she has aptitudes for more than one of the factions. This is considered very rare, and very dangerous–others have died for even being suspected of being Divergent. This unusual trait may have saved many lives because she was able to resist the conditioning that turned much of the rest of Dauntless into mindless killing machines.
She and many of Dauntless are now hiding out in Amity, trying to find their next plans. It is a troubled truce with Amity, who value harmony and thus do not get along well with the violent and impulsive Dauntless. But their refuge isn't going to last very long anyway, because the other members of Dauntless, the ones who sided with Erudite after the original conflict, are coming.
Another quite good book, Tris is an interesting and compelling protagonist, though she is very hard on herself for some of the things she did when she was trying to save Dauntless in the first book and it is hard to see her tear herself down that way when her decisions were understandable in the circumstances. She makes a good pair with Four, also from Dauntless, who is now her boyfriend. Solid book, well worth reading.