written by Maria Isabelle
The future of mankind is dark, desolate and generally pretty frightening. At least, that is what dystopian fiction like The Giver and The Maze Runner would have us believe. Dystopian fiction pictures a future world where many of our current problems are escalated to extreme proportions.These fictitious works are set sometime in the future after we have continued down our current path of destruction and the end result is a world overrun by violence, greed and sometimes even a creepy monster or two. There is an overarching presence of oppression by some sort of political force in all these works of fiction, and it is when citizens of these dystopias realize the system they live in isn't the one they want to live in, that the story typically begins.
This is not a new genre of fiction, but it has seen a rise in popularity in recent years, especially in the growing young adult market. While there may be many reasons for this rise in YA dystopian fiction, the fact that many of these stories feature an oppressed hero ready to fight for freedom speaks directly to the oppression many teens feel as they grow up. Unfortunately, this oppressive feeling also highlights what is really lacking in many dystopian works including the minimization of racism, sexism and a number of other issues plaguing modern society.
While issues such as technological dependency, government control, and environmental destruction get A-list exposure, real problems teens (and adults) face on a daily basis are mostly ignored. Right now, there is a big discussion happening on the role both racism and sexism play in YA dystopian fiction. Hit properties like the Divergent series actually go right for societal separation, which one would think is the perfect place for a discussion on racism and equality. Instead, Divergent (and its sequel Insurgent – streaming info for both here) avoids all of that messy real-life drama and instead chooses to base its separation on virtues instead of race, which is unfortunately far more likely the way our evil future-selves would run things.
Along the same thinking, The Hunger Games features a predominantly white world with little room for race issues. Sure, there are some minority characters in the film, but not too many fans likings. During casting of The Hunger Games, it was announced that Willow Smith may play Rue, a young girl that was written as a minority in the books, and the internet went wild.
All over Twitter, blogs, and forums fans of the series were coming out in droves to bash the casting of an African-American girl as Rue. These comments varied from the downright hateful to the more passive-aggressively racist, but the general sentiment was the same. Following the movie's premier, the comments continued and even though Smith did not play the role of Rue, Amandla Stenberg put forth a sensational portrayal of the character even the harshest of critics couldn't ignore.
It comes as a surprise to many that in comparison to other dystopian fictions, and actions movies in general, the main protagonists in these films are strong female characters. Jennifer Lawrence and Shailene Woodley have been dominating screens in these films for a couple years now openly challenging gender stereotypes. The underlying tone of female empowerment present in these series is great for the young girls that are typically fans of the genre. But rarely are the serious issues many women face on a daily basis like discrimination and harassment addressed.
While most dystopian fictions feature some element of racism or sexism, they barely scratch the surface of the issues and their repercussions in the real world. By tackling these major issues in young adult fiction, we are encouraging the youth of today to openly discuss the real-world problems they face now and will in the future, possibly opening up the genre to a whole new reading and viewing public. Ignoring these real-world issues are akin to simply saying they do not exist or are not important, and we all know that is not the case.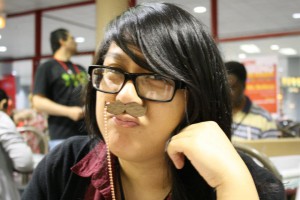 Maria is a writer interested in comic books, cycling, and horror films. Her hobbies include cooking, doodling, and finding local shops around the city. She currently lives in Chicago with her two pet turtles, Franklin and Roy.