In order to prevent contamination on the space station, all the members of the shuttle crew have to be thoroughly sterilized. This means systematically cleansing themselves and their skin of all potential contaminates, including their hair. All crew members have to be completely shaved and waxed before launch. Despite this being her seventeenth mission, Yukino Kojima is always stunned at how easily her hair falls away beneath the barber's clippers, gathering around her ankles like strands of silver fog and leaving a gray fuzz to be waxed off.
The launch is scheduled for her twenty-fifth wedding anniversary, so she gathers a lock of the shorn hair and places it in a black lacquered inro with a sprinkled gold, silver, and mother-of-pearl design as a present for her husband. He insists that the launch day is auspicious, and will tell anyone who would listen how honored he is that his wife, the renowned solid-state physicist, will soon hold the record for most recorded flights and for being the oldest astronaut in Japanese history.
To fill their personal preference kit, each crew member is allowed to choose up to 650 grams of personal items. Most of the crew choose less than this–a tablet computer and a few pieces of jewelry or other mementos. Some crew members take a good luck charm, a kotsu anzen or Daruma doll. Kenta Fujioka, the pilot, jokes that he could smuggle a carton and a half of cigarettes on board. Nobuyuki Koizumi, commander of the mission, laughs, and asks what Kenta will smoke the other 340 days they are on the space station. Yukino's tablet is loaded with not just the usual books and music, but also with photos of her and her husband together. This being her seventeenth flight, she has little else that she needs in the way of luck or privacy.
Therefore, she is surprised to find a package wrapped in red tissue paper floating weightlessly up from the nylon bag of her kit after the shuttle docks with the space station when the crew has time to settle in before getting to work. She finds out later that Kenta and Nobuyuki gave up some of their kit weight to smuggle in a present from her husband for their anniversary. With tears in her eyes, Yukino unfolds the paper, and finds a deep mahogany kimono of the lightest, most ethereal silk with a shochikubai design embroidered upon it. Yukino fingers the delicate pattern, the dark viridian swirls of the pine trees, the slender stalks of the bamboo, and the blushing blossoms of the plum. Along with the kimono is a lacquered kushi, a hair comb, along with a matching hana kanzashi in the shape of a deep pink plum blossom.
Yukino presses the silk of the kimono against her lips, feels its cool weft. Holding the kushi to her head, she opens her locker and looks in the small mirror on the back of the door. The comb's smooth shell and the variegations of its teeth are cold and scratch the stubble that is already growing back on her scalp. She puts it back gently, then holds the hana kanzashi above her temple. The soft fabric of its petals is like wind against her skin, and she weeps, remembering the smell of the ocean, the warmth of her husband's hand in her own.
---
© 2016 by Joshua Gage
Author's Note: I was inspired to write this story when I learned about Kishotenketsu plots via the StillEatingOranges blog. I was intrigued by the idea of a plot without conflict, and wrote a few stories to attempt that. This was one of them. I love the idea that a story can move forward merely by juxtaposing two things against each other, as opposed to having them in conflict with each other. I think that idea really appeals to my poetry sensibilities.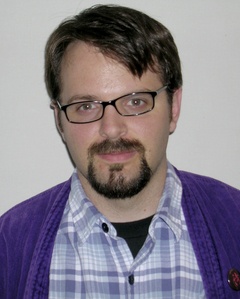 Joshua Gage is an ornery curmudgeon from Cleveland. His first full-length collection, breaths, is available from VanZeno Press. Intrinsic Night, a collaborative project he wrote with J. E. Stanley, was published by Sam's Dot Publishing. His most recent collection, Inhuman: Haiku from the Zombie Apocalypse, is available on Poet's Haven Press. He is a graduate of the Low Residency MFA Program in Creative Writing at Naropa University. He has a penchant for Pendleton shirts, rye whiskey and any poem strong enough to yank the breath out of his lungs.
---
If you enjoyed the story you might also want to visit our Support Page, or read the other story offerings.