interview by Carl Slaughter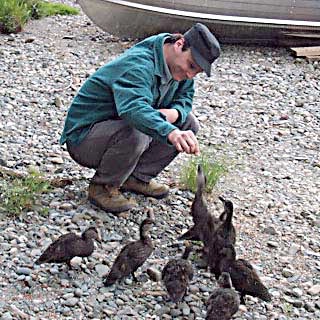 Karl Bunker sold "Gray Wings" to Asimov's a few months ago and followed it almost immediately with "The Women From the Ocean." One the heels of his first two stories to Asimov's, he sold "This Quiet Dust" to Analog. Three stories to the two leading science fiction magazines in rapid succession. Has he arrived? Diabolical Plots inquires about this and more.
YOU'VE JUST SOLD 2 STORIES ALMOST BACK TO BACK TO ASIMOV'S, FOLLOWED BY YOUR FIRST SALE TO ANALOG. DO YOU FEEL YOU'VE ARRIVED?
Well, the amount of success I've had so far certainly seemed like a fantasy back when I started writing. But I haven't received any awards yet — no Hugo, no Nebula, no Pulitzer, no Nobel — so I feel like I've still got a lot of "arriving" to strive toward and fantasize about.
YOUR TWO ASIMOV'S STORIES ARE CHARACTER ORIENTED. YOUR ANALOG STORY IS SCIENCE PREMISE ORIENTED. YOUR INTERZONE STORY IS HALF ALIEN AND HALF FABLE. YOUR FAVORITE OF YOUR STORIES IS THEME ORIENTED. WHICH SUBGENRE IS YOUR BEST? WHICH DO YOU PREFER? WHICH DO YOU PLAN TO EMPHASIZE?
I guess most writers would say this, but I like stories about people — about human feelings (though it may not be "humans" who are doing the feeling). But I'm also drawn to old-fashioned gosh-wow, sense-of-wonder science-fictional ideas. SF lets us writers come up with strange and wonderful situations, and then look at how people (human or otherwise) might react to those situations. It's that latter part that makes a story worthwhile, in my opinion. My upcoming Analog story is unusually idea-oriented for me, but even with that one I see the core of the story as being about feelings — about hope and curiosity and love overcoming fear. In terms of sub-genre, I'm drawn to post-singularity as a theme, but of course post-singularity stories are hard to write, since (by definition) they're about a future that can't be straightforwardly extrapolated.
WAS IT EASIER FOR YOU TO GET OUT OF THE SLUSHPILE AFTER WINNING WRITERS OF THE FUTURE? WAS IT EASIER FOR YOU TO GET ON THE RADAR AT ASIMOV'S AFTER SELLING TO INTERZONE, EASIER TO GET ON THE RADAR AT ANALOG AFTER SELLING TO ASIMOV'S, ETC?
The answer to both questions is "I don't know." Ideally of course, I'd like to think that I made more sales as I went along because I was learning to write better, and that's the end of it. I know that when I'm looking for a story to critique on Critters, I try to find something that looks like it's going to be interesting and well-written, and as I scan through the first few paragraphs of a batch of stories it's easy for me to make that judgement without being distracted by whether or not I recognize the author's name. So I assume professional editors can do the same. But there's no way to know what goes on in the minds — and perhaps the subconscious minds at that — of editors, so my opinion is that it's best not to worry about that.
HAS IT BEEN EASIER FOR YOU TO GET A COMPLETE READ WITH FUTURE STORIES AFTER SELLING TO AN EDITOR? HAS IT BEEN EASIER TO SELL TO THE SAME EDITOR ONCE THEY'VE PUBLISHED YOU? HOW MUCH FEEBACK DO THEY GIVE YOU FOR REJECTED STORIES?
After selling a couple of stories to F&SF, it appears that I can count on a personal reply from Gordon Van Gelder. With Sheila Williams at Asimov's, I got a lot of wonderfully encouraging personal responses from her before she ever bought anything from me. Now that I've sold them a couple of stories, she doesn't have as much praise and encouragement for me, either in acceptance or rejection notices. So that's kind of funny; I guess she figures that I've "arrived," as you put it, and so she doesn't have to coddle me any more. With Analog, I never got anything other than form rejections up until I sold a story to them. I haven't had anything to submit to them since that first sale, but I'll be curious to see if I still get that (rather insulting, IMO) "how to write SF for dummies" form rejection of theirs.
SO FAR, YOUR CAREER HAS EMPHASIZED QUALITY BUT NOT QUANTITY. DO YOU GET WRITER'S BLOCK, DOES IT TAKE LONGER TO FINISH A STORY, DO YOU REVISE MORE, OR DO YOU JUST HAVE LESS TIME TO DEVOTE TO WRITING THAN YOU'D LIKE?
I do suffer from a sort of low-grade chronic writer's block. In all of 2012 I think I finished only two stories and sold one. I've been a lot more productive so far this year, but I don't think I'm "cured" of writer's block yet. It may be that writing will always be slow and painful for me. At a rough estimate, I've probably finished fewer than 30 short stories in my life.
ALL YOUR STORIES ARE SHORT FICTION. ANY NOVELS IN THE WORKS?
I don't have any novels in the works, and i'm not sure I ever will. It's perhaps a misfortune of mine that I have a tremendous love and respect for the short story as an art form — more so than the novel. I much prefer reading short stories to novels, and the prospect of writing a novel feels to me like a horrible grind of a chore that stretches off to infinity. And that's too bad, because it's awfully rare for an author to make a name for him/herself solely from short stories.
RELATIVE NEWCOMERS LIKE KEN LIU AND LEAH CYPESS, AS WELL AS VETERANS LIKE IAN CREASEY AND CARL FREDERICK, RUN ALL THEIR STORIES THROUGH THE CRITTERS WORKSHOP, EVEN AFTER WINNING A HUGO/NEBULA. SOME OF THEM MAKE MAJOR REVISIONS BASED ON THE FEEDBACK THEY GET FROM CRITIQUERS. WHAT HAS BEEN YOUR EXPERIENCE WITH WORKSHOPPING?
I sometimes wonder if I'll ever reach a point where I feel that critique groups are superfluous for me. I know I still learn a lot every time I put a story out for critique, and critiques have often saved me from embarrassing blunders. They've also sometimes convinced me to completely rework a story, or to give up on one, and even on one occasion to believe in a story that I was ready to call a failure and give up on. And I still feel that I have a lot to learn from writing critiques, and a lot to learn _about_ writing critiques. All parts of the process — reading something with writing a critique in mind, writing a critique, reading and making good use of critiques about one's own work — all of these things are complex and difficult skills in themselves, and there's a lot to learn and know about all of them. Of course I often get "bad" critiques, where I feel that the critiquer is just totally clueless about how to read, or how to read for a critique, or how to think about writing, or how to write a critique, or all of the above. But for the time being anyway, it's hard for me to imagine giving up on critique groups.
IF YOU COULD TRAVEL BACK IN TIME AND TALK TO YOUR YOUNGER SELF, WHAT ADVICE WOULD YOU GIVE YOURSELF ABOUT WRITING?
I can't really think of any advice to give my younger self. Writing was something I had to learn — and still am learning — and I think I'm doing okay with that learning process. On the other hand, I'm quite shockingly old to be a "new" writer, so perhaps it would have been good for me to start working seriously at writing several decades earlier in my life. At least then my fans (if I ever have any) will have a longer body of work to look forward to. But on the other other hand, it's good to be working on something new in one's life, regardless of one's age.
IF YOU DON'T HAVE ANY ADVICE FOR YOUR YOUNGER SELF, WHAT ABOUT OTHER BEGINNING SF WRITERS? ANY THOUGHTS FOR THEM?
Perhaps one thing: For god's sake, don't just read within your preferred genre. For SF writers in particular, I would wish that they would read literary fiction, and learn to appreciate and love it. It's my feeling that that's how real quality and richness will be brought into the genre, and into each writer's writing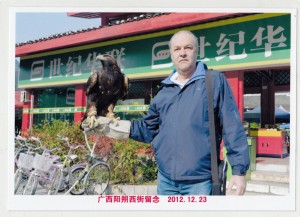 Carl Slaughter is a man of the world. For the last decade, he has traveled the globe as an ESL teacher in 17 countries on 3 continents, collecting souvenir paintings from China, Korea, Thailand, Vietnam, and Egypt, as well as dresses from Egypt, and masks from Kenya, along the way. He spends a ridiculous amount of time and an alarming amount of money in bookstores. He has a large ESL book review website, an exhaustive FAQ about teaching English in China, and a collection of 75 English language newspapers from 15 countries.
His training is in journalism, and he has an essay on culture printed in the Korea Times and Beijing Review. He has two science fiction novels in the works and is deep into research for an environmental short story project.
Carl currently teaches in China where electricity is an inconsistent commodity.