The Backlands prison barge dropped me where Riverway 53-A-Lesser splits off Riverway 53-A. There, a small break in the tree canopy made farming possible, in theory. I was told to build a homestead.
I don't think the Eternal Bureaucracy expected much from a political exile like myself. Back in the districts, I was a Vice-Commissioner of Grains and Necessaries, a literal bean-counter, spending my days in granary offices and my evenings in tea shops, hiding from sunlight and pollen. The bargemaster saw the unlikelihood of my success, and he gamely committed to bring more subsistence rations.
The dark forest extended from my sunny patch to an infinite depth, so that looking into it felt a bit like standing between two mirrors. The ground was unbearably flat. so flat it was difficult to understand distances or directions. The only feature, the only landmark to use to define "location" at all, was the river, and even that, I knew, split and split ad infinitum as it flowed toward some sea yet undiscovered, confounding explorers, cartographers, and even the Bureaucracy's pet gods.
Alone, outside my old environment, I had lost a sense of myself. I found myself staring—into the water, into fire, into the sky. I often lost track of what was I doing. I felt hemmed in by the dark and the riverbank. Before long, I found myself clutching an ax with aching hands, wasting time hacking away at the ironbarks, trying to expand my circle. It didn't work. There was a constant sense that I had just had an important thought and forgotten it. It was loneliness. It was exhaustion. It was the geography.
The extreme privacy had some advantages. The first night, I opened a politically sensitive letter that I had been holding secret since the camps. It was written in a sharp, deliberate script. In the lamplight, the words looked like they were cut into the page. The letter assured me that I still had friends in the Bureacuracy, and that if I could only hold on until a less politically dangerous time, I would be reinstated with honor.
*
On the third day, while using the washbasin, I saw my face had become asymmetrical. As I watched, the left side fattened. I put a hand to it and felt the bones below shift. The left side soon contaminated the right, and my face became someone else's. It looked at me with eyes not my own.
I tried to speak. With effort, I reclaimed my lips. They thinned and tightened back into my old nervous mouth. I made them speak. "Hello," I said. My voice was fearful and fearfully polite.
My mouth transformed back into that of the Second Face. "Hello," it said.
"What are you?" I asked.
"I don't know," he said. "I used to be you. I remember being you."
The transformation became easier. My face snapped back together as I said, "But you're not, anymore."
"No," said Second Face. "I'm less, now, somehow. I'm only a part."
I thought for a moment. There was a lack in my mind, an empty space, but I couldn't remember what had been there. "You split from me," I stated.
Second Face contorted into being and replied, "Yes."
"Do you remember everything I remember?" I asked.
"How would I know?"
We shared a smile, one superimposed on the other. Mine faded faster. Panic set in. I asked, "Do you remember our childhood?"
"Vividly."
More vividly? I thought. I worried I was less than Second Face, ready for replacement. I asked, "How about our first kiss?"
"Under the rubber tree, with Selena." With a playful grin, the Second Face asked me, "Do you remember walking home after, the smell in the air, that sense of being connected, of being part of the kissing bulk of humanity?"
"I can't." My voice quaked.
"I guess that's what I am. Or part of what I am."
I walked outside out of an instinct to be by myself, to think. Of course, Second Face came with me. It gamely tried a smile, and I wrenched control away and frowned, heavily. What was missing?
"You took my sense of wonder," I accused.
"Oh, please. I'm too small for that, even I can tell that. I got a cluster of wonder-related memories, at most. Also, some muscle memory, I think." Then, his expression softened. "Chin up, friend," he said. "I'm still here! It's not like I can walk off on my own. Let's work. Let's get our minds off this."
We did work. That day, I cleared shrub from under the trees to make way for climbing beans. This would normally be miserable work, but Second Face made the time pass quickly. He joked, he laughed, he pointed out beauty. "Look at the river! It's so blue in the sunlight," he would say, or, "I wonder if that sound is a bird or an insect?" His voice was so unlike mine; it was slow, deep, and relaxed. As he narrated the forest, it seemed less dark and eternal, but instead vibrant and homey. His voice even comforted me at night. "Being an exile here isn't the worst fate," Second Face cooed. "We might even meet someone else, someday. It's an adventure!" I felt lighter, just listening to him. I stopped resenting Second Face's existence. After all, I reasoned, people have come back from the Backlands. Maybe there's a cure. I drifted off to sleep.
*
The next morning, I felt even better. It was as if during the night, something rough and abrasive and stuck in my heart had been surgically removed. Its absence felt euphoric. That is, until it started talking.
"Miss me?" said Rough Thing. Its face, cruel yet pained, appeared over my own. "No? I hurt."
I hurt, I would learn, was not so much a description of mood as a statement of being. Rough Thing hurt, both in the adjectival and verbal sense. It had taken memories I was glad to lose: memories of old unhappy far-off things, cupboards and switches and silences. It liked to remind me of them, every now and then. As I planted a bean, it remarked, "Your father never loved you. It's not that he was incapable of love. He just chose not to exercise that capacity towards you." When I started turning the soil in my main plot, it said, "Hot, isn't it? It's very hot, you know."
Second Face overcame its fear and came out. Our mutterings became three-way, as Second Face explained its interest in certain painful sensations, and Rough Thing showed Second Face dead birds in the forest. Soon, we lived peaceably enough, passing the days in sweat and sun, watching our first crops start to grow.
*
The next time the barge arrived, I ran into the shallows, waving a little letter, begging the bargemen to take it. Instead, they poled further into the middle of the river, glancing at me with embarrassment and fear. Maybe they were unnerved by Rough Thing, which punctuated my urbane pleas with honest but unnerving comments such as, "Hope is everything!" and "I'm pathetic!"
I gave up and watched as the barge passed. On deck was a new exile, a woman. She did not look at me as she feebly tried to keep her hair arranged, despite the wind. A metropole type, I thought derisively. Less fancy now, aren't you?
Almost as soon as she was out of view, Second Face said, "We should go find her. They probably don't want to travel too far before they drop her off."
"Why?" I asked.
"I… don't know."
"You didn't split off with a lot of forethought, eh?" I teased.
Second Face just said, "It just feels like we should find her. We need…" his voice trailed off.
Suddenly, Rough Thing took violent control of my mouth and lungs, fully absorbing my face. It said, "Company. We need company."
"Do we?"
"Yes. You are not good at understanding us. I am. We're lonely. Trust me."
"Why would I trust you?" I retorted, and Rough Thing was, even more so than usual, hurt.
Partly to mollify him and partly out of curiosity, I took a gift bundle of beans and some foraged fruit and set off down the riverbank.
*
After three days of walking, I found the newcomer's homestead in the middle of a buzzing meadow. The level of campcraft was surprising for a metropole woman; the shelter was made very practically, her bent-staff traps, leaning over the meadow grass like farmers pulling weeds, had already snapped up a pair of rabbits.
Rough Thing said, "Figures that the prison barge would drop her off where there's so much game and soil and leave people like us in the woods." I nodded vigorously.
The woman appeared on the meadow edge, carrying a bundle of kindling. She didn't see me immediately. I ducked down and said, "Second Face, take over for a bit."
"Why?"
"You're more likeable."
We popped into view, Second Face beaming, shouting, "Welcome to the Backlands!"
The woman dropped her bundle and ran to her ax. Second Face held my hands up. "It's alright. We're unarmed."
What followed was a tense and lengthy explanation of what, precisely, he meant by "we." The woman, Luciana, was less alarmed than I expected. "I knew about the faces. But I didn't expect them to be so…vibrant," she said, causing Second Face to blush until I took control again.
"Fascinating," she said. "The change—it isn't painful?"
"No."
She reached a hand out, then stopped herself. "May I?" she asked. I nodded. Her hand lay on my cheek, and I allowed a shift to Second Face, and then, briefly, to Rough Thing. "It's fascinating," she remarked.
The only tension arose when I explained my plans for returning to favor. "Oh, you sweet man, they will never have us back," she said, causing me to harrumph until she felt compelled to say, "I suppose it is possible your allies will help. I suppose. Possible."
She tried to revive the conversation, but I cut it short. "It will be getting dark soon," I said. "I'd better start back."
"Oh." She leaned to one side, looking quite girlish for a woman her age. "I thought that maybe you'd spend the night?"
I tried to hide my surprise and failed. "You did?" We hadn't seemed to have much of a connection.
She gestured all around. "It's not as if either of us have other prospects. And," she grinned mischievously, "I've never been with three men at once."
Courtship in the districts moved much more slowly than this. I gulped and said, "Maybe another time." Luciana pouted, and her pout was echoed by Second Face. "I'm going to go."
As I left, Second Face, called back, "Just follow the river to find me. Come soon."
"I will!" called Luciana in response.
*
I returned to my homestead and spent a week alone. Luciana stayed in my mind. I wasn't quite infatuated with her, but the absolute lack of other human company had lent her a certain desirability. I fantasized often.
I split twice more, creating Joaquin, who was convinced he was a ghost possessing me, and The Otter—not an animal face, just a human, whose name is too long a story to relate. The other faces also became more physical. Rough Thing sometimes manifested on my chest and remained there for hours. The faces demonstrated an alarming degree of control, sometimes taking control of my arms or legs and moving me like a marionette. We started to snap at each other.
Fortunately, Luciana made good on her promise. She came up the fruity path, calling out, "I have news!" I ran to meet her. I ran up the bank to her, surprised at my vigor. I gave her a kiss, a more lingering one than was common between friends. She seemed blissful, radiant even. "I have someone for you to meet," she said. Then, she told me her story.
Luciana grew up in the metropole; she was educated in the central academy. Her first assignment was in god control, and she failed at it spectacularly. She fell in love with her target, the Brushfather, the Ancestor-Spirit Class deity of a string of remote villages.
"No one believes me," said Luciana's first face to me, some time later, "but love at first sight does exist." Her mind rebuilt itself, with the Brushfather at the center as well as the edges. "It was like Bureaucracy re-education," Luciana once said, wistfully.
"The Bureaucracy sent in the army, of course. They did their level best to destroy the Brushfather. They might have succeeded. I don't know. I never saw him again. Until last week." Suddenly, her face rippled into that of a serene older man.
*
Luciana's memories of the Brushfather formed the core of a split. It was not the real god, but it was a very good memory of him. And I, like Luciana, fell in love on first sight.
We ran through a complex web of introductions, using the finest Bureaucracy etiquette. "Joaquin, I present you to Luciana,"…" etc., etc. Yet, my mind never left the Brushfather. Eyes as old as time, a smile as addictive as innocence—he had something I had been craving all my life.
That night, all of us lay and held each other. Luciana, Second Face, me, the Rough Thing, we all basked in the love of a god. "It's lonely out here. Let's live together," I said.
Luciana and the Brushfather replied, two faces speaking an overlapping voice, "Yes, let's." It was the happiest moment of my life. Until the morning.
In the morning I had a split, or maybe an integration, or both. Rough Thing had changed, taken in more of me. It was urbane. Its eyes were hard. Not like the Brushfather at all. More like my actual father.
He savagely took control of my head and turned it to look at Luciana, lying naked and asleep in the shelter. I struggled to regain control, but all I could get was my left ring finger. I flapped it frantically. Rough Thing looked down at the counter-revolutionary finger and laughed. "The Brushfather doesn't love you," it said. "None of them do."
I waited for Second Face to take over. I felt sure he would have something positive to say, something like, "He could, someday. It's early, so who knows?"
Rough Thing used our arm to roughly shake Luciana awake. "What?" Luciana asked. A few faces cycled onto her head, all of them groggy but happy. I waggled my ring finger in warning.
"You don't care about me."
"What?" Luciana's first face registered confusion.
"You haven't tried hard enough. You're old and soft and tired. Life out here isn't like the metropole, is it?"
The words were familiar. I realized I'd said them, we'd said them, to lovers over the years. A lifetime of petty, stupid resentments flashed into my mind. Rough Thing had a part of the core of me. It had what I had always used to manage relationships.
Luciana's faces and Rough Thing proceeded to have a three-way shouting match. Her first face was indignant, shocked that faces as plain as ours could feel entitled to so much more. Luciana tried to de-escalate the conversation and directed her arms' efforts toward getting dressed and staying near the door. But the Brushfather just showed sadness, deep and real grief. He clearly had no armor, no way to understand that Rough Thing's words had nothing to do with him, that they were just expressions of pain. He took Rough Thing's words seriously, and my heart broke to see how he hurt.
When the damage was beyond repair, Rough Thing let Second Face take over. Second Face simply whined, "This was supposed to be better," he said. "Why isn't it better?"
Luciana's faces showed an incredible amount of patience, so much that I think maybe they liked us more than I'd guessed, but finally she left in disgust.
Rough Thing sat us down, alone, in the dark. Only then did he let me speak.
"Why did you do that?" I asked.
"Because you wouldn't."
"I mean, why was it necessary at all?"
Rough Thing took my left hand and placed it, comfortingly, on my right. "I think you know."
"I don't."
"I do," said the Otter. "Rough Thing needed to say those things because they were true. To him."
Rough Thing flickered in, saying, "You hit the nail on the head. Precisely so. I am the only one of us who values the truth."
I said, "Your 'truth' isn't the truth, Rough Thing."
"Is yours? Do you want to talk about why we're in the Backlands?" Rough Thing puppeted us to our feet. It walked us to the door, looked out at the southwest, as if he could see the districts. "I was there, you know. The other faces didn't know they existed yet, but I did. I remember. I remember your meeting with the Yellows. Their agendas, their dreams, their ideals. I felt the danger from what is now Second Face."
Rough Thing launched into a cruel impression of Second Face. "Maybe we can chaaaaaaange the wooooooorld. Maybe they'll like us mooooooooore. Maybe I won't be so boooooooored." Its normal voice came back. "And we wrote that damned memorandum."
Our body rushed to the river. We looked at each other face to face, overlapped and reflecting. "Don't you understand?" it yelled. "I kept us safe! You all hated me, but I saw the dangers. There were dangers in rising too fast in the Bureaucracy. There were dangers in making our opinions known. And there are absolutely, beyond a doubt, dangers—"
"In being happy," I finished.
"Yes."
I took a deep breath, then said, "Rough Thing, I have never said this before to you. Thank you. Thank you for keeping us safe, all those years. But now, it's time to go."
Rough Thing offered a steady string of counterarguments, from the rational ("Where am I going to go? Your back?") to the emotional ("You think you're safe now?"). However, I could not be budged. All I did was repeat, again and again, "It's time to go." I willed all my thought into this one demand, repeating it like a meditation. Time slowed and the world came into focus, and still I repeated it. "It's time to go. It's time to go." My diaphragm ached from speaking and still I repeated it.
Rough Thing appeared on my chest, a raised face. I took off my shirtwaist so he could hear me better. Inch by inch, he emerged from my chest, an ugly crab shedding a beautiful shell. Rough Thing's mouth bit the ground and pulled, wrenching a small body out of my flesh. When it finally separated from me, I lost consciousness.
*
The next morning, Rough Thing had gone. It had taken with it a great number of memories and capabilities, as well as about two stone of muscle and fat.
I saw it every now and then, foraging in the forest. It had grown to an adult size, but its body that looked like it was drawn without the use of a live model—a body painful to inhabit. Usually, I waved. It never waved back.
I returned to my farming and tried to focus on taking care of vulnerable little Second Face. The summer passed drowsily. Then, near the time of my first grain harvest, a barge came without a prisoner."Hail, sir," said the bargemaster—the same who had ignored my waving letter. I briefly looked backwards to make sure someone more important hadn't arrived. "Letter from the metropole." He handed me the envelope and I held it like a precious stone.
Dear Arturio,
Joyous tidings! The tyranny of the Greens is no more. The whole Bureaucracy is Yellow—yellow like new blossoms, yellow like the dawn! You shall be reinstated and promoted. The bargemaster has been instructed to bring you back immediately.
Yours, Silvio Velez, Acting Minister of Justice and Appropriate Displays of Patriotism
"Ready?" asked the bargemaster.
"What—" I stammered. "What about…" I let Joaquin and the Otter flicker on my face.
The bargemaster was stoic. "They reabsorb in the districts. We've rehabilitated prisoners before. No one will know you were a monster if you keep quiet about what happened here."
"I…" I said. "I need to get my old clothes." I ducked into the shelter… then ran out the back, into the forest. I ran until I wheezed, then I walked. I walked past Rough Thing, digging for tubers, and past Luciana's perfectly-laid trap lines. I walked into the great beyond of the Backlands.
I didn't know myself at all before I was sent to the Backlands. I can't go back. Not until I know myself better.
---
© 2020 by Lee Chamney
Author's Note: I've always felt "personality" is a group project, made up of a whole bunch of mental processes, some of which are dysfunctional as hell. Looking at and understanding the processes is useful, and terrifying, and kind of fun. I'd been meaning to write a story about it for awhile when a fellow writer proposed "many-faced monsters with many loves" at a prompt party. That prompt, years of rumination, two pints, and some new-parent sleep deprivation all came together and became this story.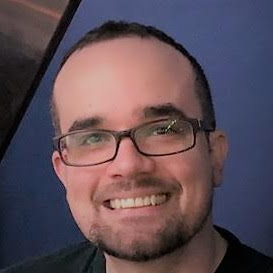 Lee Chamney is an education writer and is new(ish) to fantasy. He writes stories that  have dry humor, humanist tones, and a lot of weirdness. One of his bosses once described him as having "an awkward charm," which is at least half right. You can keep up with his publications and play one of his choose-your-own-adventure games at www.leechamney.com.
---
If you enjoyed the story you might also want to visit our Support Page, or read the other story offerings.