The summer that God came to Whartonville, I ended up trapped on the drugstore roof with only half a peanut butter sandwich and a seraph to keep me company.
The sandwich part is true! Hell, all of it is true. I'd eaten the rest of my lunch on the bus, before God's approach hit the news. I can always buy more lunch in the hospital cafeteria. When the cafeteria and the rest of the city aren't under three feet of water, at least. I know it was bad, and people died, but I'm still glad we got a flood instead of the plague of locusts that just hit Fargo. Two months later and you still can't step outside without a crunch, is what I hear.
Anyway the seraph must have flown up before the rain really started coming down, and I managed to climb up onto the street light and from there to the roof. So there we were together in the middle of the storm. "I thought He didn't do this shit anymore," I said to the seraph. They shrugged, or at least I thought they did. It's hard to read body language on someone who's seven feet tall with six wings and a dozen mouths, but I've had practice lately. You know they can't really speak for themselves? Sure, they talk, but everything they say is an echo from the Almighty's own lips. Or at bare minimum from one or another of His prophets. So body language turns out to be kind of important. "There was a covenant or whatever."
I pushed away from the ledge. I still had my umbrella at that point, I think, though with the way the rain was blowing I probably wasn't any dryer for it. You've seen pictures of the flooding? They don't do the wind justice. "I guess you probably can't just fly us up and out of here, either." The seraph's burning wings were too drenched to do more than smolder. They shook their head, and a hospital ID card rattled around their neck. I knew we had a few angels working in the morgue. They liked to stay out of sight, and everyone else liked it that way too.
"Damn," I said, because I didn't have anything else to say. When we said we wanted heaven for everyone, you know, this wasn't what we had in mind. We unlocked the doors and flung them wide open, but heaven didn't let us in. Heaven came to us. "The storm's getting worse."
"YOU HAVE BEEN CAST DOWN, YOU THAT ONCE LAID LOW THE NATIONS," said the seraph, and my teeth rattled in my skull. That voice had been created to level mountains and humble the mighty. I wasn't that mighty and it didn't make me feel humble, just headachey. I told the seraph not to rub it in and that I was pretty well aware by that point just how low I'd been cast, and they looked down at their bare leathery feet. And then I wasn't so sure just who they'd meant.
That was when I heard the screaming. A little break in the wind, maybe. No, don't call it the eye of the storm. What was at the center of that squall had a lot more than just one eye. But I'll get to that. Just sit tight.
The screaming was a woman down on the street. Well, not on the street itself. The street was a riverbed by then. She'd grabbed a door somewhere, one of those interior jobs with the cork core to make it float. Might've been okay on a lazy river or something, but a trip down Almond Street meant real whitewater rafting.
The seraph leaned down next to me to get a view of her. They shook their head, and the long silver chains of their hair scraped against their guttering wings. "THOU SHALT NOT KILL."
"You're the angel," I told them. "Do something." But I don't need to tell you how that rankled. I didn't go to medical school for a million years because I like just standing around and watching people die. Did you know that most of the hospital staff were Paradisists? I don't know the exact numbers, but upwards of eighty percent for sure. You see that many people die, you see that many people live badly, you're going to want change. Well, we got it. First, do no harm, we said, but it turns out you can't crack your way into heaven without screwing things up something serious.
Where was I? Oh, the woman. So the current was sweeping her down the street right in front of the drugstore and I thought, you know what? I'm already wet. So I grabbed the downspout and slid down and probably would have about broken both my ankles if there hadn't been three feet of water to slow my fall. I'm tall but three feet of water is tall too, and it knocked me right over, and my first thought was, well, this lady and I are going to die together.
Then this huge splash, practically a tsunami, right next to me. The seraph took a cannonball right off the roof. Lucky they didn't land on me or this story would be a lot shorter and also you'd have to hear it from my wandering soul. Assuming I'm heavenbound in the first place. That might be a big assumption for any Paradisist, I don't know. They came down between me and the lady on the door and I was glad for that, I was halfway to the suburbs by then but at least I didn't take the plunge for nothing, I got off the roof to save her and if my swan dive didn't accomplish anything besides getting that seraph in gear, that's okay.
I was underwater more than I was above, but I saw them grab her. They put her up on their shoulders like a kid riding piggyback. And then the last thing I saw before I went under again was them spreading their wings wide. And when I say wide—have you ever seen a seraph in flight? Their wingspan half filled the street. Diverted some of the water around the corner, onto Pierson Avenue—my apartment's down that way, but that was the last thing on my mind at the moment, let me tell you. Not enough to stop the water, but enough to slow it down. I got my feet under me again, and I got to the seraph. "Now what?" I asked, because it was still raining too hard for their wings to light up. Not that a takeoff in gale winds probably would have been a great idea.
Well, that seraph picked me up like a rag doll and set me on top of the roof across the street, just a single story, and lifted the woman up right next to me. Then they started climbing up too, but lord, were they heavy. They tried stepping on the windowsill and ripped it clean out of the façade. We tried to heave them up, the two of us together, but like I said: heavy. And just then, guess who decided to come cruising around the corner? Yes, the Almighty Himself, a thousand blazing eyes and a hundred tongues professing His very own glory. You could see the rain sloughing off Him, rivers of the stuff. Literal rivers. I didn't know then that January Lake had already burst its banks. That's what happens when a man-made lake meets a heaven-made catastrophe. But still: could've been a plague of locusts.
After all of it, there's still a part of me that wants to take a swing at the big guy. A stupid caveman gut reaction. You can't punch a cloud, even one chock full of eyeballs. But you can want to punch it, and boy do I.
Anyway Almond Street had become Almond River at that point, really, and all we had was to hang on to the seraph like their life depended on it. Maybe it did. We hung on, together, just the three of us alone in the world for all we knew. That seraph held on so tight they broke my wrist, can you believe that? Still hurts when a storm's coming. But we held on. That was all that mattered just then. And eventually the storm died down, and the river dried up, and the seraph lifted us down from the roof like the infants we were.
The woman looked around. "It's still raining," she said. "I thought it would have stopped by now. I mean—He's gone, isn't He?"
But I ignored her. Not at my best form just then. "It's not fair," I said, which was a damned stupid thing to say, because fair was never the point, was it? The idea of heaven for everyone wasn't fair, it was just right. It was just … just.
The seraph spat a giant loogie onto the wet street. "RENDER UNTO CAESAR," they said, and jerked a pair of wings in the general direction of where God had gone.
"You're mad at the big man?" My wrist hurt like hell, but I remember the thing that bothered me most was that my shoes each weighed about a thousand pounds. Never occurred to me to just kick them off. "We're the ones who pulled you down here into the mucky-muck."
"We" was more literal than the seraph might guess. Or maybe they did know? It's not like I've ever made a big secret of it. Doctors are supposed to help people, aren't they? But they weren't looking at me. Their stare drifted along the street, where the marble façade had come off the old theater and the windows had blown out of Martinelli's. There were a dozen bodies left behind where the river had been.
I wondered then, what it was like in heaven before we brought the walls down. Which way the anger blew when He'd promised He wouldn't turn it earthward again. Well, we wanted heaven for everyone. Maybe we just weren't clear enough on the details of what heaven was supposed to look like, or who exactly counted as everyone.
The storm had passed, but there was still wreckage to clean up. Some of it human. "We'll make things right," I said. As right as they can be, after all this. "We've done harder work than this," I said.
The seraph raised one wing. Sheets of rain slashed off the edges of their brass feathers, but I ducked underneath, and the woman—Karen, did I say that yet? Her name was Karen—anyway, she did too. They closed their wings around us and we huddled together until the last of the Almighty's wrath had passed. Shared that PB&J, too, even if it was a little soggy, and before the rescue teams came through I gave the seraph my number in case they wanted to check out my lab. Maybe get out of morgue work. As for the Almighty, I think He headed north out of Whartonville, but I forget if that's the summer He hit Winnipeg or Regina.
---
© 2018 by Aimee Ogden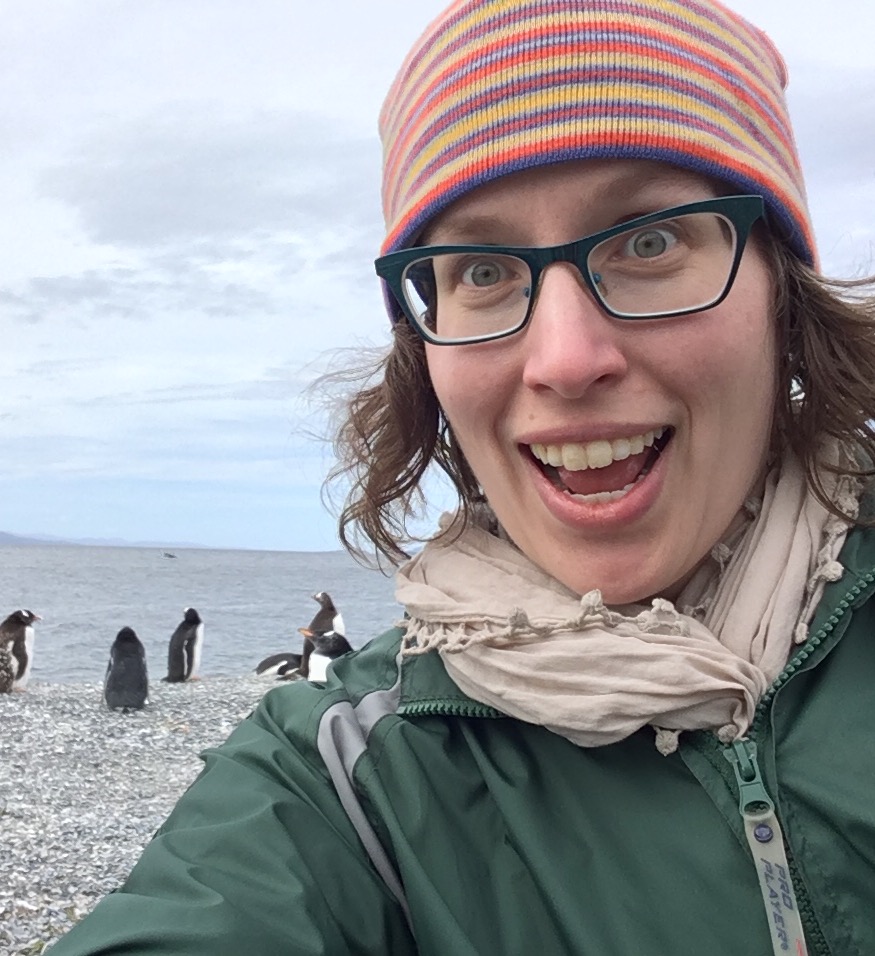 Aimee Ogden is a former software tester and science teacher; now, she writes stories about sad astronauts and angry princesses. If she went to Hogwarts, she would be a Ravenclaw, and her patronus would be She-Hulk punching a nazi in the face. Her work has also appeared in Shimmer, Apex, and Analog.
---
If you enjoyed the story you might also want to visit our Support Page, read Aimee's previous story "When One Door Shuts", or read the other story offerings.